13th Annual Buddy Walk Hosted by the Lowcountry Down Syndrome Society Returns with a Healthy Twist on October 6
(SAVANNAH, GA) The Lowcountry Down Syndrome Society (LDSS) held their 13th annual Buddy Walk on Saturday, Oct. 6, in Forsyth Park.
Individuals of all ages and abilities — and their pets — were invited, especially those in wheelchairs, carriages and strollers.
LDSS officials said they drew more than 5,000 people to this year's walk to support individuals with Down syndrome and their families.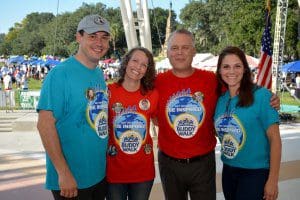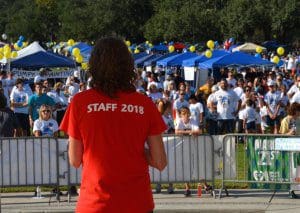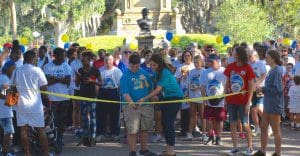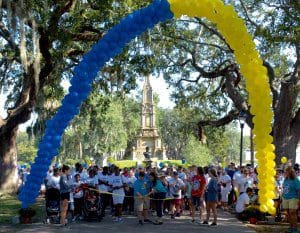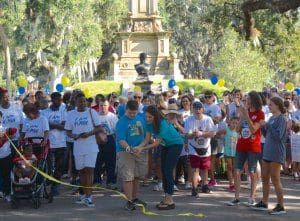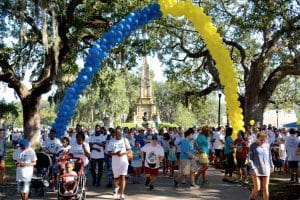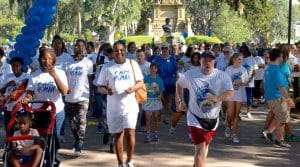 "We hold the Buddy Walk every year in October as part of National Down Syndrome Awareness month," said Tom Kenkel, president of LDSS. "Our primary goal, however, is to make positive changes in local and national policies regarding Down syndrome. This event does a phenomenal job of helping us do just that."
A new element this year was a focus on healthy lifestyles, Kenkel said.
According to research studies in the US Library of Medicine, children with Down syndrome are at an increased risk for obesity. This could be due in part to physiological expressions of Down syndrome but also to common environmental factors.
With that in mind, LDSS, with participation from Healthy Savannah, Coca Cola, NLAWS Produce and EmployAbility, provided more nutritious lunch options and additional health education during the event.
"We are taking small steps to eventually host the first Buddy Walk in the country that brings attention to healthy lifestyles as part of the event," Kenkel said.
A festival followed the walk featured face painting, pumpkin painting, the BOO Boutique, bouncy houses, games, music, refreshments and the Border Pawtrol disc dog team.
Sponsors of the 2018 Buddy Walk include NLaws Produce, Joe Marchese Construction, Marlow Elementary School, Coca-Cola and Holton Plumbing.
For more information on the Buddy Walk, contact Candy Bogardus at 912-436-3626, buddywalk@ldssga.org or visit www.ldssga.org.
ABOUT THE LOWCOUNTRY DOWN SYNDROME SOCIETY
The Lowcountry Down Syndrome Society (LDSS) is a family support group to benefit people with Down syndrome and their families through local leadership, outreach, education and advocacy to champion and celebrate acceptance and inclusion. Meetings are held every fourth Tuesday of the month, typically with a guest speaker and social time for families to meet and interact with one another. LDSS encourages people to bring their children. LDSS is an affiliate of the National Down Syndrome Society. For more information about LDSS, visit http://www.ldssga.org/
CONTACT
Kayla Johnson
Lowcountry Down Syndrome Society
912-436-3626
kjohnson@ldssga.org
10701 Abercorn St., #60786
Savannah, GA 31420
MEDIA CONTACT
Cynthia Wright
Carriage Trade PR
cynthia.wright@carriagetradepr.com
912.856.9075