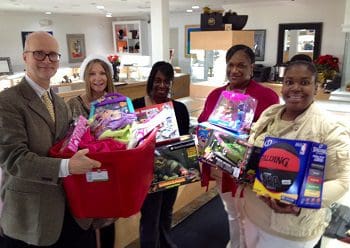 A&C Gold and Diamonds Donated New Toys to Children to Wesley Community Centers
(SAVANNAH, GA) Wesley Community Centers representatives picked up four bins stacked high with toys on Thursday, December 18 at the A&C Gold and Diamonds office located at 9 W DeRenne Ave. Craig Burgess, owner of A&C Gold and Diamonds, collected children's toys for two weeks.
The mission of the Wesley Community Centers of Savannah, Inc. is to promote the economic, educational, and spiritual growth of women, children and families. Located in inner city Savannah, Wesley serves more than 7,800 homeless and low income women, children, and families each year.
"I wanted to select a local charity in Savannah to hold a toy drive for this year," said Burgess, "Wesley Centers are so important to this community and underprivileged citizens that it was a natural choice to hold a fundraiser for their children during the Holiday season. We hope to give Wesley's children some of their Christmas wishes."
Wesley Community Centers of Savannah has two nationally-accredited Early Childhood Centers: Wesley Early Childhood Education and Development Center and The Lady Bamford Early Childhood Education Center. In total, the programs have 124 children with over 100 children on the waitlist. Children can start in the program as early as six-weeks-old and attend until they are entering Kindergarten around the age of five.
Burgess donated toys such as barbies, hot wheels, baby dolls, coloring books and educational kits. There were also clothes donated and hygienic products.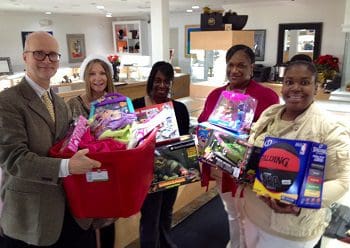 MORE INFORMATION ON A&C GOLD AND DIAMONDS
A&C Gold and Diamonds is a buyer and seller of fine items and collectables, primarily precious metals and gems such as diamonds, gold, silver, platinum, estate jewelry, heirlooms, coins, rare currency and more. Owned and operated by Craig Burgess, with locations in Savannah, GA and Bluffton, SC, A&C Gold and Diamonds combines 35 years of knowledge and an expansive network of industry contacts and connections that are unsurpassed in the region. For more information, call Craig Burgess at 912.224.3247 or visit www.acgoldandsilver.com .
CONTACT
Valeria H. Flowers
Women's Center Director
Wesley Community Centers
vflowers06@aol.com
912.236.4226
Tammy A. K. Mixon
Executive Director
Wesley Community Centers
912.236.4226
MEDIA CONTACT
Marjorie Young
Carriage Trade PR, Inc.
marjorie@carriagetradepr.com
912.844.9990
Cecilia Russo
Cecilia Russo Marketing, LLC
info@crussomarketing.com
912.665.0005