Savannah's
COMMUNiTY HEADLiNES
The Local Newswire
---
---
 GIRL SCOUTS OF HISTORIC GEORGIA-QUESTFEST
(SAVANNAH, GA) Registration for the "Quest" part of QuestFest is closed, but due to high demand, the sign up is open for a handful of add-on events, including the Coastal Discovery Tour. Book now at 
https://gsquestfest.org/
---
LSEGA 2019 CALL FOR NOMINATIONS
(SAVANNAH, GA) Leadership Southeast Georgia, a leadership development program for professionals in a 10-county region, is calling for nominations for its 2019 course. The deadline to nominate is 
Friday, Aug. 3
. Applicants may be nominated by Leadership Southeast Georgia alumni or regional leaders, or they may self-nominate. Residents of Bryan, Bulloch, Camden, Chatham, Effingham, Glynn, Liberty, Long, McIntosh and Screven counties are eligible. Nominations may be submitted on the Leadership Southeast Georgia website (
www.lsega.com
).
---
OGLETHORPE DRIVING CLUB HOSTS CARS AND COFFEE
---
 APPLICATIONS SOUGHT FOR FREE MOUTH-GUARDS 
---
DID YOU KNOW? FACTS ABOUT SKINCARE
(SAVANNAH, GA) Low Country Dermatology shares skincare facts: "Experts say you only need 1oz, or 1 shot glass worth of sunscreen each application. That's about how much it takes to cover exposed skin areas." To learn more about Low Country Dermatology, visit 
https://lcderm.com/
---
YOUNG WOMEN RECEIVE DAWN'S DAUGHTER LEADERSHIP AWARD
(SAVANNAH, GA) Fifty-six young ladies from Chatham, Bryan, Liberty and Effingham Counties received a Leadership Award for completing the 2017-2018 Dawn's Daughter Leadership Academy. The accomplishment was celebrated on June 2 at The Club at Savannah Harbor on Hutchinson Island. Dawn's Daughter, Ltd. is a program founded by WTOC news anchor Dawn Baker dedicated to empowering high school girls of all backgrounds and abilities to set big goals and make positive life choices that will enable them to maximize their full potential. To learn more, visit 
https://www.facebook.com/dawnsdaughterltd/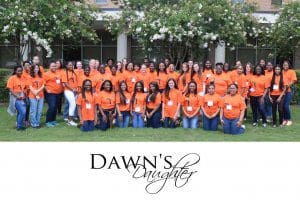 ---
DR. CANFIELD PERFORMS HEALTH SCREENINGS 
(SAVANNAH, GA) Dr. Angela Canfield of Sandfly Family Dental will be at the second lecture of the 2018 Encourage Health Education series on 
Tuesday, June 26
, performing free health screenings for all attendees. For more information on Dr. Canfield, please visit 
http://www.sandflyfamilydental.com/
 For more information on the Encourage Health Education series, please visit 
www.healthysavannah.org
or 
www.enmarket.com
.
---
INTERNATIONAL DAY OF YOGA AT FORSYTH PARK
(SAVANNAH, GA) Join Lululemon for International Day of Yoga at Forsyth Park Thursday, June 21st from 6pm-8pm. All proceeds will go to support Performance Initiatives youth programs. Bring a friend, yoga mat and bug spray and have fun! For more information, visit 
https://www.facebook.com/events/182508255676720/
---
WHAT IS YOUR GOAL?
(ENTREPRENEUR) Why do you do what you do? This is the question that can really set you apart from your competitors. Make sure you answer it. Everywhere. For more 2018 marketing and PR tips, check out this article: 
https://www.entrepreneur.com/article/307118
---
"QUICKBOOKS ONLINE" HOSTED AT GEORGIA SOUTHERN UNIVERSITY
(STATESBORO, GA) The UGA Small Business Development Center at Georgia Southern University in Statesboro, will host QuickBooks Online 
Tuesday, July 24 from 9am – 4pm.
 Cost $169. Visit 
www.georgiasbdc.org/southern
 o
r call 912-651-3200 for more info.
---
CORNERSTONES OF HEALTHY LIVING-LECTURE TO BE LIVESTREAMED
(SAVANNAH, GA) Megyn Jefferson, CEO and Health Coach of Flux Nourishment, will present a free lunchtime lecture on 
Tuesday, June 26
, during the second of four 2018 Encourage Health Education Series events in Savannah. Jefferson will speak on "Cornerstones of Healthy Living," which looks at simple lifestyle changes that lead to a fulfilled life above the line of wellness. Registration has been filled for this presentation, but the lecture will be livestreamed on Healthy Savannah and the Enmarket Facebook pages. For more information, please visit 
www.healthysavannah.org
or 
www.enmarket.com
.
---
LOCAL COALITION TO SPEAK AT NAT'L CONFERENCE

(SAVANNAH, GA) Members of the local community organizer coalition, The Political Rascals, have been invited to speak at the national Netroots Nation 2018 conference in New Orleans. Their proposal, Moving the Ball Forward in the Deep South: Why What Works in Your Town Don't Work in Ours, was selected out of 300 proposals and will be one of the main events at the three-day conference. For more information or to donate to their campaign, visit the campaign fundraiser: 
https://www.facebook.com/events/239191990148096/
---
SCORE: "TOOLS TO GROW YOUR BUSINESS"
(SAVANNAH, GA) SCORE will present a key workshop on the planning factors and timing sequence necessary to successfully sell or transfer a small business. The workshop will be on 
June 28 from 11:30 a.m. to 1:00 p.m.
 at the SCORE office, 
111 E. Liberty St. Savannah
. Call (912)-652-4335 to register.
---
DEWITT TILTON GROUP GIVES UPDATE
---
BITTY & BEAU'S COFFEE COMING TO SAVANNAH
(SAVANNAH, GA) Bitty & Beau's, a Wilmington, North Carolina based coffee shop is expanding into the Hostess City.  Founder Amy Wright named the shop after her two children who have Down syndrome.  The mission of the organization is to employ those with Intellectual and Developmental Disabilities (IDD) including Down syndrome, autism, Cerebral palsy, and more.  The goal is to employ 20 people at the Savannah location, a majority of those will be people with IDD.  Visit 
http://www.wsav.com/news/local-news/more-than-a-cup-of-joe-bitty-beaus-is-coming-to-savannah/1240270216
to view the full story on WSAV.
(SAVANNAH, GA) Kole Management Co. (KMC), a Savannah-based real estate investment and management firm, has added two key executives. Hannah Moore, who has worked at Colliers International in Atlanta, is KMC's new director of talent management. Katie Davis, the company's new director of marketing, previously worked as a sales executive with RentPath in Savannah and has 10 years experience in marketing. For more information visit
---
PERFORMANCE INITIATIVE LIFTERS
(SAVANNAH, GA) Eleven Performance Initiative weightlifters compete at 2018 Youth National Championships.  They brought home 3 National Championship titles, 1 silver medalist, 1 bronze medalist, 1 female 13U Best Lifter and 3 national records set. For more information visit 
https://www.facebook.com/PerformanceInitiatives/
---
PORSCHE'S 70TH ANNIVERSARY CELEBRATION
---
THEY'VE GONE BANANAS
(SAVANNAH, GA) Enmarket is offering a free banana to customers. Download the Enmarket app for the coupon. Visit
---
GOLF OUTING TO BENEFIT HOSPICE 
(SAVANNAH, GA) The 15th annual Robbie Smith Golf Outing benefiting not-for-profit Hospice Savannah, Inc. will be held on 
Saturday, August 11, 2018
 at The Club at Savannah Harbor. Robbie Smith was a vibrant, fun, sports-loving young man who was diagnosed with brain cancer in 1992. For fifteen years his family and friends have organized a fun-filled day of golf in his memory and in gratitude for the care provided by Hospice Savannah during the last months of his life. This year's outing has a 
9:00 a.m.
 shotgun start with a four-man scramble (captain's choice) format. $100 per person includes lunch, prizes, and beverages on the course; $125 per person also includes two Mulligans, one raffle ticket, Tee Buster on Hole 14, Eagle Putt on Hole 7, and a "Fantasy" scratch-off card for a chance to win a complimentary round of golf. Players may register at 
www.RobbieGolf.com/register
 or call Kevin Ainsworth at 912-655-1933. Proceeds will help sustain the life-enriching programs and services of Hospice Savannah, Inc.
---
DEDICATION OF LITTLE FREE LIBRARY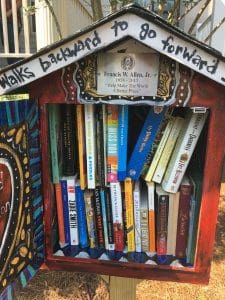 ---
(SAVANNAH, GA) Learn more about Lowcountry Down Syndrome Society's Camp Buddy happening this month. Watch the interview with the camp coordinators, Molly Marchese and Pam Hussey, as they talk about what to expect at camp. 
http://www.wtoc.com/clip/14398867/camp-buddy
For more information about Chatham Camp Buddy, contact Pam Hussey at (912) 220-6429 or pbjhussey@gmail.com. To learn more about Effingham Camp Buddy, contact Molly Marchese at (912) 213-9127 or mollymarchese@windstream.net. To learn more about the Lowcountry Down Syndrome Society, visit http://www.ldssga.org/
---
 TACO TUESDAYS FOR PARK PLACE OUTREACH
(SAVANNAH, GA) Bull Street Taco has selected Park Place Outreach as the June non-profit for Taco Tuesdays. Every 
Tuesday
 in June, Bull Street Taco, 
1608 Bull Street
, will feature a special menu from which a portion of the proceeds will be donated to Park Place Outreach, a temporary residential shelter for runaway, homeless, and at-risk youth ages 11-17. Follow this link 
https://www.facebook.com/events/625341961142718/
 for more information on Taco Tuesdays.
---
AUTISM SCHOOL ACCEPTING APPLICATIONS
---
FREE AND EASY ACCESS TO CUSTOMERS
---
SAVANNAH TRIBUNE CELEBRATES 143 YEARS
(SAVANNAH, GA) The Savannah Tribune is hosting A Biscuit Brunch and Sneaker Ball to celebrate their 143rd year of operation and 191st year for the Black Press on 
Saturday, August 11
, from 
11 a.m. – 1:30 p.m.
 at The DeSoto, 
15 East Liberty St
. More information is coming soon on the event to include ticket prices, a special salute to journalists and ways to support a charitable organization all in honor of this anniversary celebration. Read The Savannah Tribune online at 
https://savannahtribune.com
(SAVANNAH, GA) Tipper is a male orange tabby currently living at Coastal Pet Rescue. This 8 week old kitten loves cuddling and belly scratches and would be a great addition to any home. To view Tipper and other pets for adoption, visit 
http://coastalpetrescue.org/adopt/view/2018-c-057-tipper/
---
---