(GARDEN CITY, GA) The Garden City Homestead Association's community garden will share its fourth harvest with the community at 11 a.m. Saturday, June 5, in a program that will include food demonstrations and education sessions. The Garden City public is invited to share in a spring vegetable harvest to be held at the garden, 4115 Second St. in Garden City.
Dorothy Dupree, MS, RD, LD, who is the school food nutrition coordinator and registered dietician with Savannah-Chatham County Public Schools, will use produce from the garden to showcase how to create a simple cool cucumber and tomato salad.
Belinda Baptiste, owner of Unforgettable Bakery, will be on hand to demonstrate "Let Food Be Thy Medicine"—a stir-fry presentation on keeping the nutrients without sacrificing flavor—utilizing cabbage, tomatoes, and snap beans from the garden.
Local families have been concerned about getting food on their tables in the past year, and have been reaching out to local organizations for help. During the first 11 months of 2020, food assistance was the top service people sought using the online health and social services network HeroHelpMe.com, with 627 searches. Another 97 searches were for Farm Truck 912's Full Plate Program, demonstrating food security concerns undoubtedly exacerbated by COVID-19.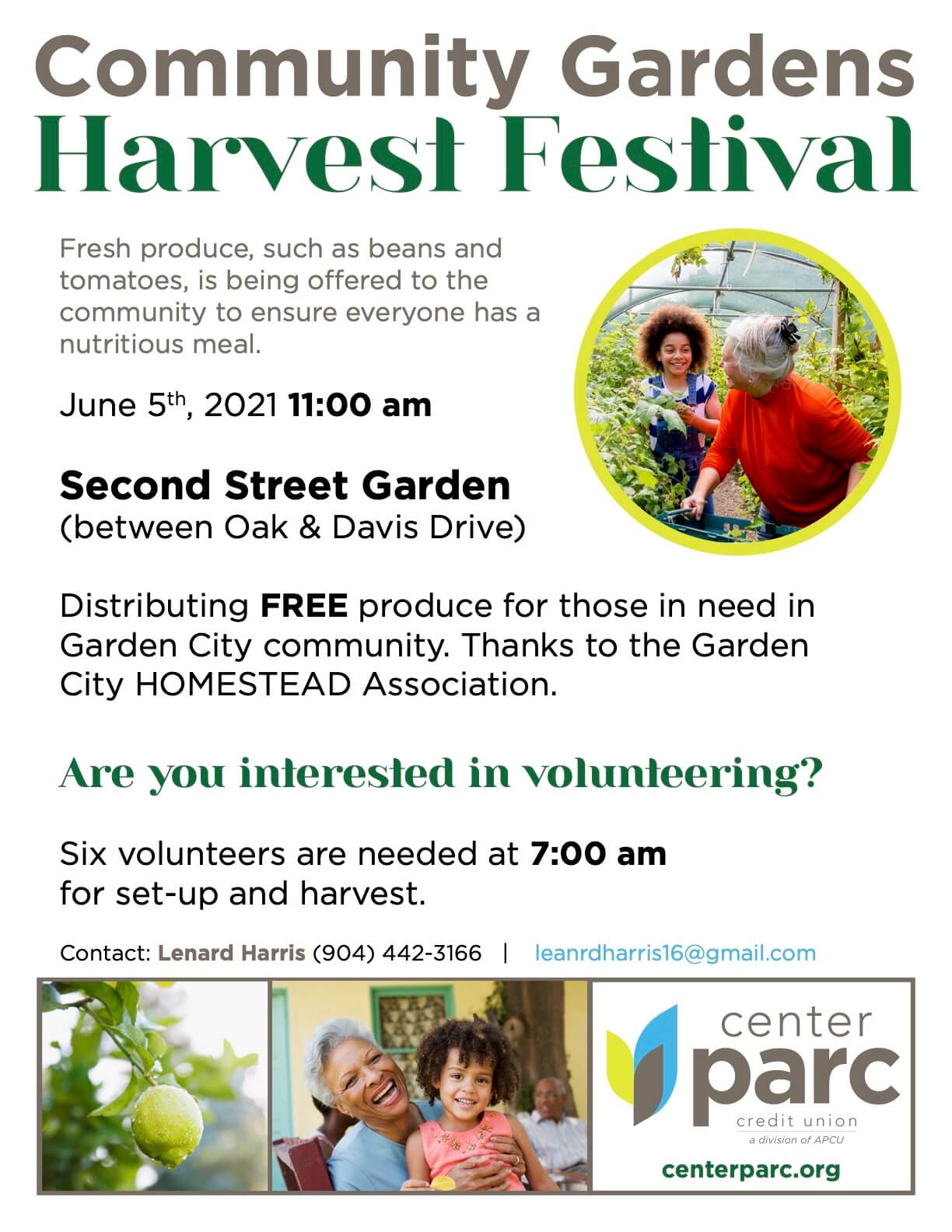 "Between January and November, herohelpme.com had 8,618 visits with 6,384 searches. The top five searches were for food assistance, rent and utility assistance, coronavirus help, housing and childcare," said Ella Williamson, Director, St. Joseph's/Candler African-American Health Center and lead developer of the Hero database.
Further illustrating community need, since its launch in 2016, the YMCA's Fresh Express program has distributed just over 40,000 pounds of fresh food to an average of 200 people a month in Savannah. Fresh Express, a YMCA of Coastal Georgia program operating in partnership with Second Harvest of Coastal Georgia, holds monthly free produce and bread distributions at two locations. The program dates to 2016, in the wake of a study that found 17.6 percent of Chatham County's population and 21.8 percent of the county's children are considered food-insecure. For more information, visit https://ymcaofcoastalga.org/freshexpress.
The Garden City Homestead Association garden is one of nine community gardens throughout Chatham County to which Center Parc Credit Union has donated approximately $22,500 in sponsorship dollars. Representatives of the non-profit financial institution will be on hand for Saturday's program. Center Parc also plans to launch its own community garden this year.
"Community gardens are becoming increasingly popular and can help communities increase their supply of fresh, healthy produce," said Donna Williams, community development liaison for Center Parc Credit Union. "We embraced the concept even before the COVID-19 outbreak, and the pandemic has only made this project more important."
In addition to increasing access to fresh food, community gardens beautify neighborhoods, encourage physical activity and educate the public about nutrition, Williams said.
For more information about supporting the garden as a volunteer or through donations, visit the Garden City Homestead Association Facebook page at https://www.facebook.com/Garden-City-Homestead-Association-101228345002337.
ABOUT CENTER PARC CREDIT UNION
Center Parc Credit Union is a division of APCU, the oldest credit union in the state of Georgia. In September 2020 two new Center Parc Credit Union locations opened in the Savannah area: at the Pooler Walmart, 160 Pooler Parkway, and the Savannah Walmart, 6000 Ogeechee Road. The company is also planning to open a free-standing flagship branch in Savannah in 2022. An ongoing community gardens program was launched in August 2020. The member-owned, not-for-profit financial cooperative is dedicated to helping hardworking people save money and prosper. Each member's funds are insured for up to $250,000 by the National Credit Union Administration (NCUA). For more information, call 800-849-8431, email info@centerparc.org or visit online at www.centerparc.org
CONTACT
Donna Williams
Community Development Liaison
Center Parc Credit Union
dwilliams@centerparc.org
www.centerparc.org
MEDIA CONTACT
Marjorie Young
Carriage Trade Public Relations® Inc.
912.844.9990
www.carriagetradepr.com
marjorie@carriagetradepr.com