Explore local trails along with Healthy Savannah's team members on New Year's Day and every Tuesday.
(SAVANNAH, GA) If your New Year's resolution is to have a healthier you in 2023, get a head start every Tuesday morning, rain or shine, with Healthy Savannah team members. Join Paula Kreissler and Armand Turner as they head out to explore local trails and walkways.
The upcoming Healthy Walk schedule also includes a special walk on New Year's Day:
Dec 27: Chief of Love, 7:30 a.m., 6811 Chief Of Love Rd, Savannah, GA 31419
Jan 1: Scarborough Sports Complex, 8 a.m, Skidaway Road at Bona Bella Ave, Savannah, GA 31406
Jan 3: Laurel Grove South Cemetery, 7:30 a.m., 2101 Kollock St, Savannah, GA 31415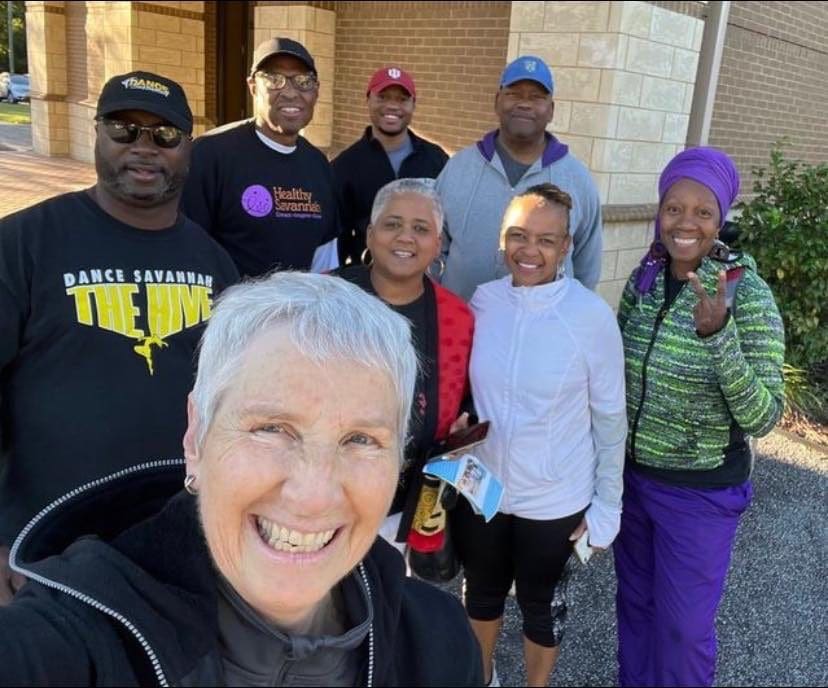 Over the past two years and through the pandemic, Kreissler and Turner have led these weekly walks throughout Savannah and Chatham County, often offering perspectives about the area's history while providing an opportunity to remain active.
"It's amazing to get out and experience areas you may never have seen before while enjoying a healthy activity with new friends," shared Turner, who is the Physical Activity manager of the Racial and Ethnic Approaches to Community Health (REACH) grant team, administered by Healthy Savannah and the YMCA of Coastal Georgia.
"Whether you join our Healthy Walks or explore trails on your own, we encourage you to get out and get healthy."
As part of the REACH grant funding from the Centers for Disease Control and Prevention, Healthy Savannah and the YMCA of Coastal Georgia are participating in the national initiative, Active People, Healthy Nation, to help 27 million Americans become more physically active by 2027.
According to data from the CDC, only 1 in 4 adults and 1 in 5 high school students fully meet physical activity guidelines for aerobic and muscle-strengthening activities.
There are many options for ADA-accessible trails throughout Savannah and Chatham County, including the Truman Linear Park Trail, of which about 3 miles is completed from DeRenne Avenue to Lake Mayer Community Park. When fully constructed, the Trail will be approximately 6 miles long and will link 827 acres of existing parkland in Chatham County by connecting Lake Mayer to the 77-acre Daffin Park. Including the Daffin Park trail loop and the Lake Mayer trail loop, the total connected pathway will be approximately 9 miles.
Healthy Savannah offers a Healthy Walks map (https://healthysavannah.org/healthy-walks-2021/) online that shows trail routes and Turner encourages trail users to share walk experiences by tagging photos and videos with #HealthyWalk and #ActivePeople.
The #HealthyWalk is also featured on Healthy Savannah's Instagram page at officialhltysav.
For more information on upcoming Healthy Walks, and to watch live streams of their walks every Tuesday morning, visit the Healthy Savannah Facebook page, https://www.facebook.com/healthysav.
ABOUT THE YMCA OF COASTAL GEORGIA/HEALTHY SAVANNAH GRANT FOR RACIAL AND ETHNIC APPROACHES TO COMMUNITY HEALTH: In September 2018, Healthy Savannah and the YMCA of Coastal Georgia were awarded a five-year, $3.4 million grant called Racial and Ethnic Approaches to Community Health. Awarded by the Centers for Disease Control and Prevention, the funding is being deployed in an "upstream" approach by the Savannah/Chatham County project team to foster sustainable health equity among Black residents in low-wealth neighborhoods. The aim of the local project, called Healthy Opportunities Powering Equity, or HOPE, is to increase the availability of high-quality nutrition; promote physical activity through creating greater access to safe places to walk, run, bike and play; and foster stronger connections between people and the healthcare providers who serve them. Working with more than 200 community partners and organizations, the team is committed to elevating the health and wellness of the community through policy, systems, and environmental change. In July 2022, Healthy Savannah received the CDC's 2022 REACH Lark Galloway-Gilliam Award for Advancing Health Equity Challenge. The award recognizes extraordinary individuals and entities whose work has contributed to advancing health equity.
healthysavannah.org ymcaofcoastalga.org.
MEDIA CONTACT
Marjorie Young
Carriage Trade Public Relations® Inc.
912.844.9990
www.carriagetradepr.com
marjorie@carriagetradepr.com