Cone Art Exhibit Reception to Benefit Anderson Cancer Institute Announced for May 18
Savannah Artist Unveils Paintings, Drawings and Sculptures at 24e Design Co.
(Savannah, GA) The Savannah artist Jim Cone announces a fine art exhibition with the opening reception to be held on Thursday, May 18 from 5:30 p.m. to 7:30 p.m. at 24e Design Co., located at 24 E Broughton St, Savannah, GA 31401. The exhibition will be showcased at 24e and run from Thursday, May 18 until Sunday, June 25.
Showcasing different fine art works such as drawings, paintings, sculptures and mixed media pieces, this art exhibition will be a rare opportunity to view Cone's work as he does not often publicly show his art. Proceeds from the event will benefit the Curtis and Elizabeth Anderson Cancer Institute (ACI) at Memorial University Medical Center. ACI provides cancer screening, diagnosis, surgery, chemotherapy, radiation, support services, and long-term follow-up for cancer patients.
Cone has been creating art for over 40 years, but after a recent bout with cancer, he has been energized with creativity and decided he wanted to use his talent to help others.
Ruel Joyner, owner of 24e Design Co., has known Cone for a number of years and feels honored to showcase his work at 24e Design Co., calling Cone's work a pure form of passion. "Jim has painted for pleasure for over four decades. He started his artistic works in his spare time while working a full-time job at Georgia Power, and after his cancer he really focused on his talents. In a way, Dr. Guy Petruzzelli and the professional staff at Memorial gave him a new lease on life, and presented him with a new creative chapter in his life after cancer."
At the exhibit, somewhere between 100 and 150 pieces will be unveiled including, "Tybee Nudes" and "Street People". Street People, a series of paintings, was inspired by a found object (a round piece of metal) from the streets of Savannah, which had been bent into a shape that portrayed the image of a face. There are 20-plus "Street People" in the series to date.
"I offer the 'Street People' series as an artful way to introduce the viewer to a personality of a person living on the streets," said Cone. "I want you to really see that person as an individual and feel that person's struggle. We should all be inspired in our hearts to reach out and help the homeless street people in our community."
In his distinctive style, and with vibrant colors, Cone pushes cubism forward. Considered to be the first abstract style of modern art, Cubist artists try to piece together fragments from different vantage points into one painting. With the spirit of inclusion, one can see the incorporation of cubism in almost all of Cone's artwork. The bold expression of color often separates and defines Cone's cubist works from those cubist works by others like Picasso and Braque.
Cone said, "For me, there needs to be a perfect mixture of creative energy, thought and muse, along with colorful paint, and countless brush strokes onto a wanting canvas, all to bring about a wonderful work of art. It's making creative love."
For more information on the Anderson Cancer Institute, visit aci.memorialhealth.com
For more information and to see samples of the artwork, visit https://conecollection.com
To make a reservation for the May 18th art reception, visit https://www.conecollection.com/contact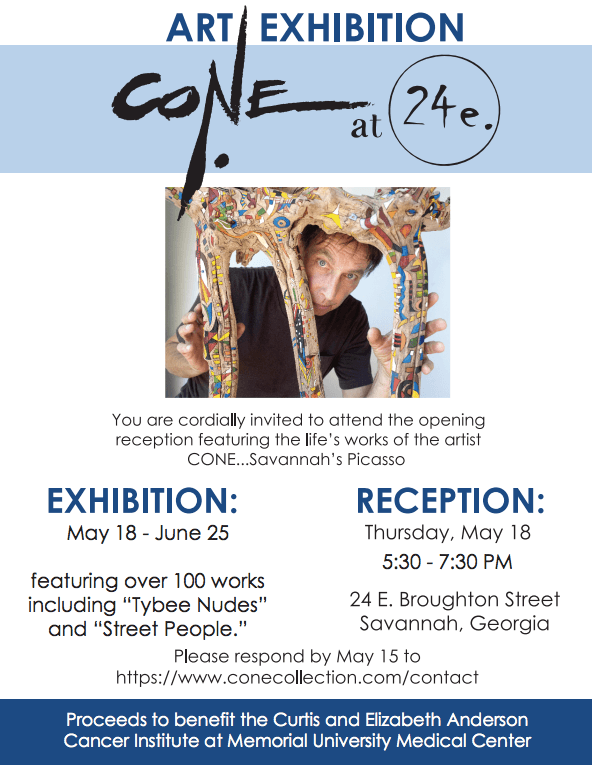 ABOUT CONE COLLECTION

Jim Cone began painting in the mid-'70s and works mostly with oil on canvas, often embellishing each piece with found objects such as paper, wood and metal. Inspired by nature and artists Picasso, Braque, Matisse and Cezanne, Cone's collection includes drawings, paintings, mixed media assemblages, sculptures, and art sticks. To view his work, visit https://conecollection.com
MEDIA CONTACT
Cecilia Russo
Cecilia Russo Marketing
info@crussomarketing.com
912.665.0005