Savannah's
COMMUNiTY HEADLiNES
The Local Newswire
ENMARKET CUTS RIBBON ON NEWLY RENOVATED DOWNTOWN MLK STORE
(SAVANNAH, GA) Savannah-based Enmarket cut the ribbon on the newly rebuilt and expanded kiosk on Martin Luther King Jr. Boulevard near the Interstate 16 on-ramp.The new state-of-the-art convenience store was renovated to integrate its appearance into the surrounding historic district. The design of the new 3,522-square-foot convenience store at 405 Martin Luther King Jr. Blvd. drew from the site's transportation-related history with its proximity adjacent to the Central of Georgia Railway and Georgia State Railroad Museum.The non-traditional design includes, among other things, an outdoor dining patio, a green space, and a bike service area. Enmarket contracted with a local artist to design and paint a community-themed mural on one of the exterior walls. For more information, please visit https://www.savannahbusinessjournal.com/news-categories/68-state-regional-news/9374-aug-9-enmarket-opens-newly-renovated-downtown-mlk-store-in-savannah-%E2%80%93-redesigned-with-community-in-mind.html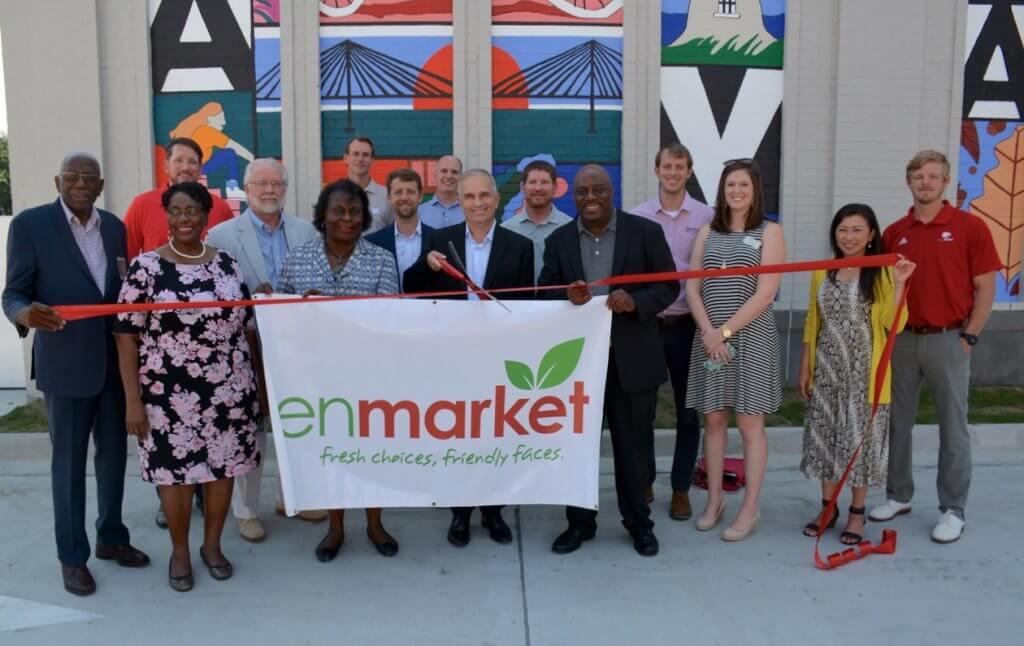 MCKENZIE PROMOTED AT ROTO-ROOTER PLUMBERS OF SAVANNAH
(SAVANNAH, GA) Roto-Rooter Plumbers of Savannah, a leading local provider of plumbing and drain maintenance, has promoted Mark McKenzie, a native of Statesboro, as Excavation and Construction Manager. Previously, McKenzie served as the Lead Service Technician.  Learn more at https://rotosavannah.com/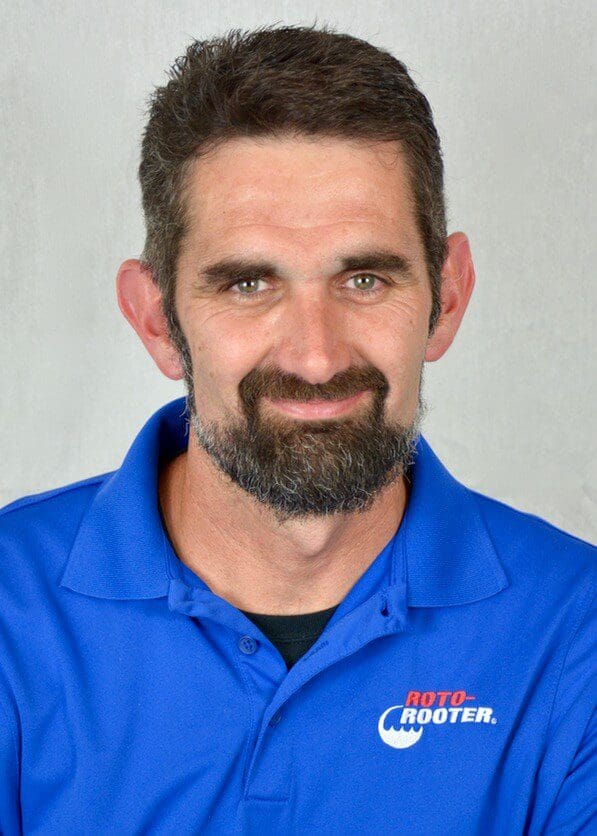 CHRIS TILTON PRESENTS AT AUGUST POWER HOUR LUNCHEON
(SAVANNAH, GA) Chris Tilton, co-principal of the Dewitt Tilton Group, presented "Metal Buildings: Modern Marvels? Businesses Turning to Budget-Friendly Options for State-of-the-Art Appearances" at the Savannah Area Chamber of Commerce's August Power Hour Luncheon on Tuesday, August 6.  Were you spotted there?  https://www.savannahnow.com/photogallery/GA/20190807/NEWS/807009990/PH/1?rssfeed=true&fbclid=IwAR09FgseGBEuQdthXt1wefHEebZj80uS-WkhO56P7gp3-59O32W9qfGJbZ8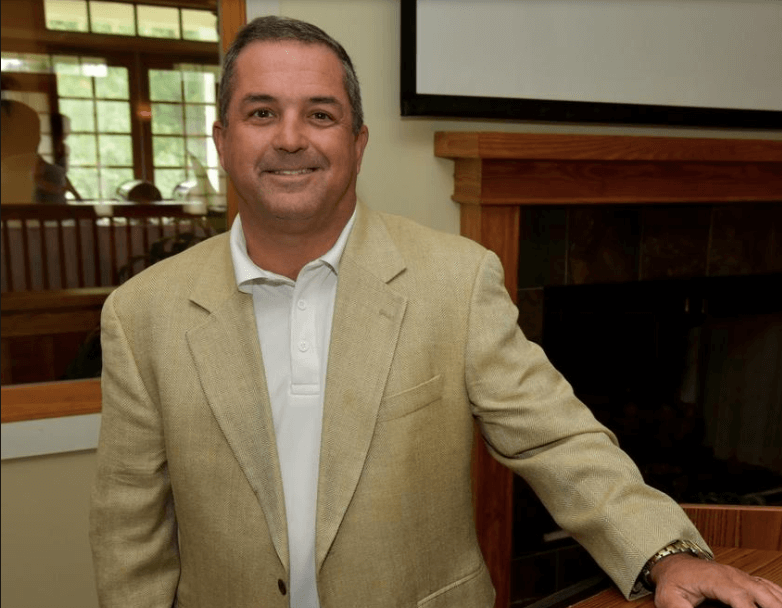 PARK PLACE OUTREACH HIRES TRANSITIONAL LIVING PROGRAM CASE MANAGER
(SAVANNAH, GA) Park Place Outreach Youth Emergency Services has hired Kevin Foard, who had worked as a case manager for the Basic Center of Park Place Outreach, as its transitional living program (TLP) case manager.Foard is responsible for providing case management services that include initial screening, record keeping, service coordination, ongoing assessments of residents, aftercare activities and other duties as needed. For more information, please visit https://carriagetradepr.com/park-place-outreach-hires-kevin-foard-as-case-manager/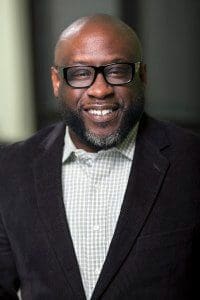 WANT TO BE MORE CONFIDENT?
(INC) Stop Saying These 7 Words.  Confidence isn't something you either have or don't. Rather, it's something you practice, grow into, and develop.  https://www.inc.com/melanie-curtin/want-to-be-more-confident-stop-saying-these-7-words.html?cid=hmside1
$1,000 ENCOURAGE HEALTH CHECK PRESENTED TO WEST BROAD STREET YMCA FOLLOWED BY VOLUNTEER DAY
(SAVANNAH, GA) Enmarket and Healthy Savannah presented $1,000 to the West Broad Street YMCA as part of the 2019 Enmarket Encourage Health Education Series. Following the presentation, representatives from Enmarket and Healthy Savannah remained on-site to volunteer in the community garden, as well as weed and spread mulch on the children's playground. For more information, please visit https://www.savannahbusinessjournal.com/news-categories/non-profit-organizations/9356-july-31-enmarket-and-healthy-savannah-present-%241,000-enmarket-encourage-health-check-and-host-service-day.html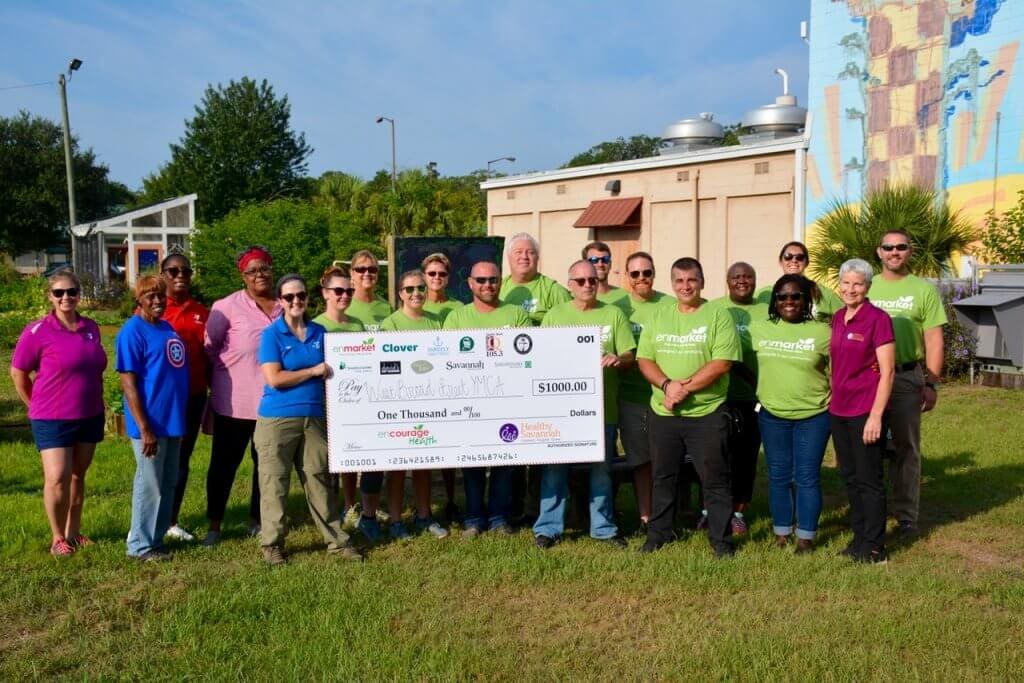 BETHESDA BOARD OF GOVERNORS ANNOUNCES 2019-20 OFFICERS, NEW BOARD MEMBERS
(SAVANNAH, GA) The Bethesda Union Society Board of Governors has chosen its 2019-20 slate of officers, with retired higher education executive William "Ted" Moore serving as chairman. Joining him as officers will be attorney Quentin Marlin, partner with Ellis, Painter, Ratterree and Adams, as vice chairman; Paul Pressley, director emeritus of the Ossabaw Island Educational Alliance and longtime headmaster of Savannah Country Day School, as secretary; and retired corporate executive Jim Trolinger as treasurer. Six other new members were appointed as well. For more information, please visit http://savannahceo.com/news/2019/07/bethesda-board-governors-announces-2019-20-officers-new-board-members/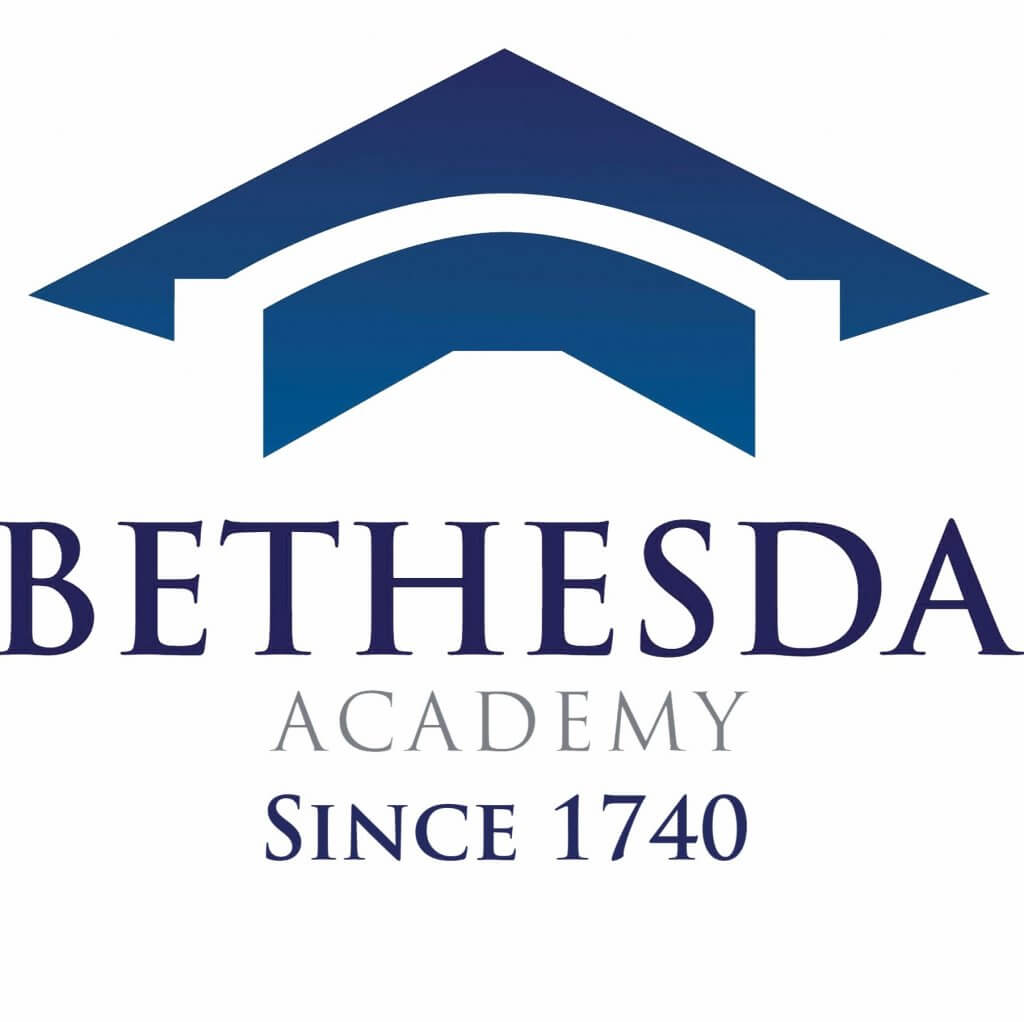 BO BOWEN TALKS ABOUT THE FIRST ANNUAL SAVANNAH FILM ALLIANCE HONORS GALA
(SAVANNAH CEO) Have you heard about the Savannah Film Alliance Honors Gala? The Gala will recognize and honor several key professionals for their invaluable contributions to the local film and television industry. The theme of the event will be "Old Hollywood" and will be held Saturday, September 28, at the new event venue, Victory North, located at 2603 Whitaker Street. This event is open to the public, and tickets are now on sale. Sponsorship opportunities, including the title sponsorship, are available at several levels. For more information on tickets and sponsorships, visit  www.SavannahFilmAlliance.org Listen to Bo Bowen, founder of the Savannah Film Alliance, talk about the upcoming event here: http://savannahceo.com/video/2019/07/bo-bowen-talks-about-first-annual-savannah-film-alliance-honors-gala/ 
ENMARKET TO RAISE FUNDS THROUGHOUT AUGUST FOR LLS' LIGHT THE NIGHT
(SAVANNAH, GA) All 124 of Enmarket's convenience stores across Georgia and the Carolinas will join the fight against blood cancers in August, marking the seventh consecutive year the stores have helped raise money during the Leukemia and Lymphoma Society's Light the Night campaign. The stores' month-long campaign will involve selling Light the Night paper icons for $1 each to support the non-profit's mission to cure blood cancer and to help patients and their families. For more information, please visit https://www.savannahbusinessjournal.com/news-categories/68-state-regional-news/9355-july-31-enmarket-to-raise-funds-throughout-august-for-lls%E2%80%99s-light-the-night.html 
JULY OPEN FOR BUSINESS® RECAP
(SAVANNAH, GA) Did you miss the latest episode of Open for Business®? In July, we covered 6 ways to up your storytelling game. Watch the recap and leave your questions in the comment section on Facebook! Don't forget, we'll be back on the last Wednesday of this month to cover another marketing topic! Watch the latest episode here: https://www.facebook.com/CarriageTradePublicRelations/videos/477818592787225/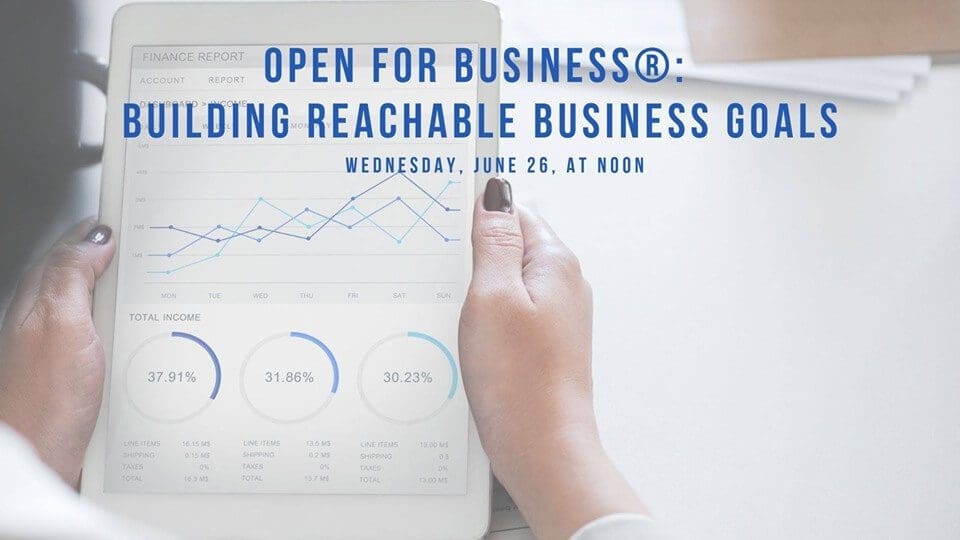 MATTHEW REARDON EARLY LEARNING ACADEMY OPENS IN SAVANNAH
(SAVANNAH, GA) The Matthew Reardon Early Learning Academy will open on August 14th, 2019 at 11500 Middleground Road, Savannah GA, 31419. The Early Learning Academy (ELA) is a place for all children to learn through teacher-guided intentional play, meaningful interactions, and inquisitive exploration. ELA's goal is to incorporate all children in safe, creative, language-enriched classrooms where learning becomes a fun daily experience. The program is designed to foster all educational and emotional developmental areas for toddlers (18 months) to pre-kindergarten (48-60 months).For more information please visit https://www.savannahtribune.com/articles/matthew-reardon-early-learning-academy-opening-in-savannah/ 
THE COMMUTE FEATURES PARK PLACE OUTREACH EXECUTIVE DIRECTOR
(SAVANNAH MORNING NEWS) Julie Wade, executive director of Park Place Outreach Youth Emergency Services talks about teen homelessness in Savannah on Savannah Morning News' The Commute. Listen to the episode here: https://omny.fm/shows/from-the-newsroom-savannah-now/the-commute-june-26-2019-amy-condon-on-teen-homele

DO YOU HAVE A BEST FRIEND AT WORK?
(FORBES) Building a more celebratory work culture can have the added benefit of building stronger friendships among colleagues, especially if they are cheering for each other.  https://www.forbes.com/sites/joyceearussell/2019/08/11/celebrating-each-other-to-create-an-enjoyable-work-culture/#e4b05bf39440

WTC SAVANNAH BOARD MEMBER ELECTED TO WORLD TRADE CENTER ASSOCIATION EXECUTIVE COMMITTEE
(SAVANNAH, GA) World Trade Center Savannah Board of Directors Chairman and National Office Systems owner Scott Center was elected to the World Trade Centers Association Executive Committee during the board's July meeting in Amsterdam, Netherlands. Center was also elected to the Nomination & Compensation Committee and re-elected to the Investment Committee. He has served on the World Trade Centers Association Board of Directors since 2017 and on the World Trade Center Savannah Board of Directors since 2012. For more information, please visit https://www.wtca.org/
EFFINGHAM CHAMBER OF COMMERCE SEEKS CEO
(EFFINGHAM CO, GA) The Effingham Chamber of Commerce is seeking a Chief Executive officer. The CEO provides overall supervision and direction for all activities related to administration, programs, finances and strategic plan of the Chamber. The CEO promotes economic growth and health in the Effingham County business community, in alignment with the Chamber's mission statement. Other key duties include membership cultivation, fundraising, marketing, and community outreach. The position reports directly to the Chamber Board of Directors. Salary range of $60,000-$70,000 with bonus opportunities, health insurance, retirement benefits, paid holidays, vacation/sick/personal days. All inquiries and resumes should be received by August 30th. Email your resume to: EffinghamChamberCEO@gmail.com
ENCOURAGE HEALTH LECTURE TO FOCUS ON FACTS AND FICTIONS OF CBD OIL
(SAVANNAH, GA) The facts and fictions of CBD oil will be the topic when Savannah chiropractor Michael Vaughn takes the podium at the third presentation in the Enmarket Encourage Health Education Series, set for Tuesday, August 27 at the Charles H. Morris Center. Attendance at the lecture is free and a healthy lunch is provided by Enmarket, but reservations are required at healthysavannah.org. The event begins at 11:30 a.m. at the Morris Center, 10 East Broad St. A regular feature of the program is the awarding of grants to nonprofit organizations, and at this session, Union Mission is the recipient. For more information, visit healthysavannah.org/encourage-health-education-series-august-27-2019/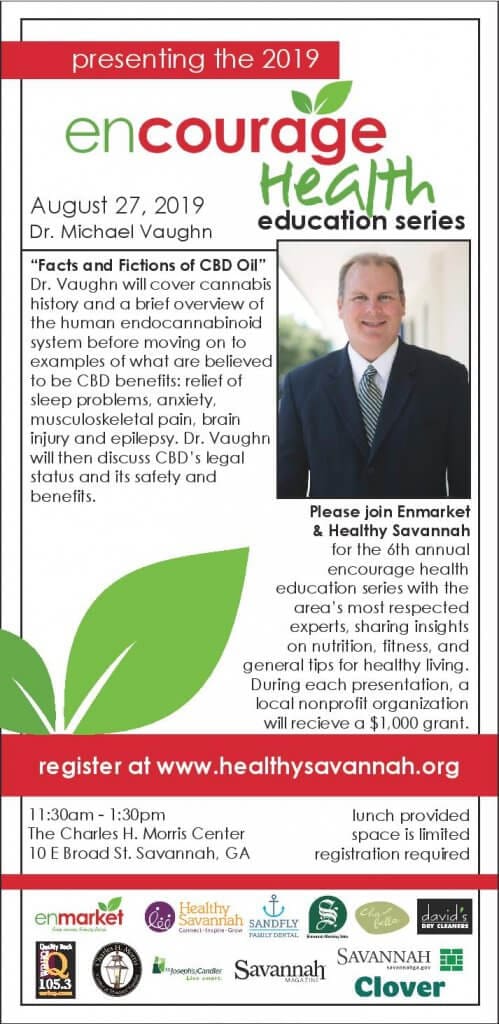 DOWN SYNDROME EARLY INTERVENTION SERVICES
(LOWCOUNTRY DOWN SYNDROME SOCIETY) The Individuals with Disabilities Education Act (IDEA) requires that early intervention services are readily available to babies and toddlers with Down syndrome. Early intervention addresses the areas most challenging to each child and offers language services, family counseling and training, physical and occupational therapy and audiology services to name a few. Follow the link to learn more about early intervention: http://www.parentcenterhub.org/ei-overview/ For more information on our local Lowcountry Down Syndrome Society visit https://ldssga.org
PEACOCK CHRYSLER JEEP DODGE RAM FIAT PRESENTS $5,000 TO KIDS & PROS FOOTBALL CAMP
(JASPER COUNTY, SC) Bluffton's annual Kids & Pros Youth Football Clinic kicked off on Saturday, July 21, with a $5,000 check presentation from Peacock Chrysler Jeep Dodge Ram Fiat. Jill Jauch, Peacock Automotive Marketing Manager, presented the donation to former Atlanta Falcons linebacker and five-time All-Pro selection Keith Brooking, former Atlanta Falcons player Buddy Curry, who is the organization's executive director, and Brad Schultz, Head of School for Cross Schools. For more information, visit https://www.kidsandpros.com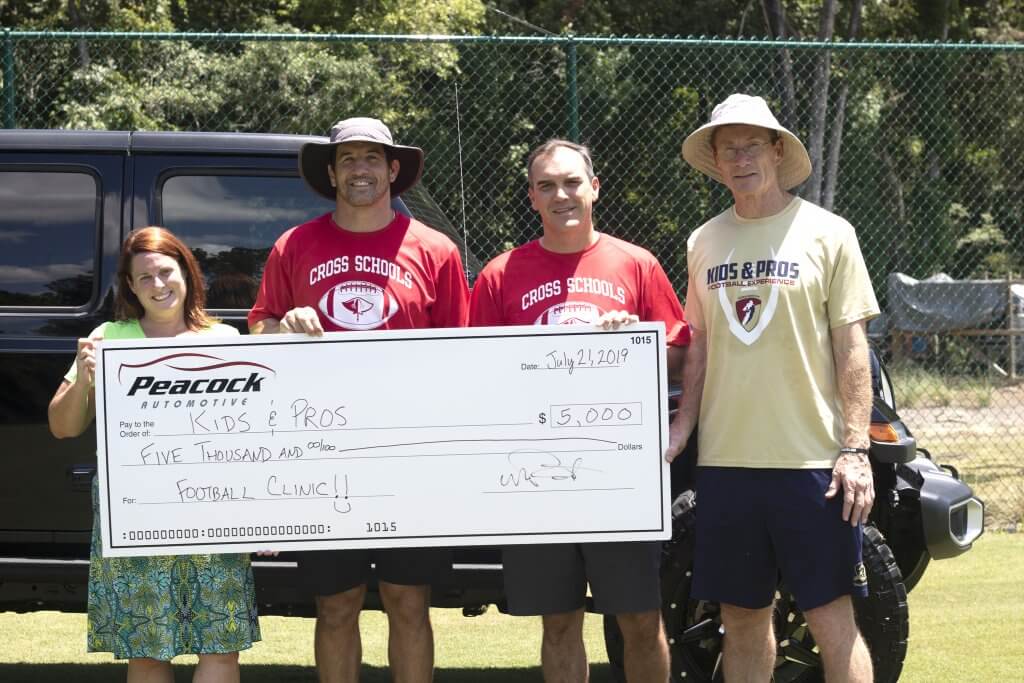 LEARN MORE ABOUT BEAUFORT DERMATOLOGY
(WHHI) Pinnacle Medical Group recently acquired Beaufort Dermatology adding its third practice to the group. Dr. Audrey Klenke is the owner of Pinnacle Medical Group and talks about the group as a whole and its newest addition in this WHHI interview: https://youtu.be/qGtTGgWGZYM 
DO YOU FEAR DIFFICULT WORK CONVERSATIONS?
(ENTREPRENEUR) Uncomfortable encounters can actually help open the door for growth.  Read here for seven ways to learn from them.  https://www.entrepreneur.com/article/336147
PLEASE MEET DEAN BURNETTE
(SAVANNAH, GA) Do you know Dean Burnette? Dean is the founder and managing broker of Best Business Brokers (B3), as well as, president of the Georgia Association of Business Brokers (GABB) and a member of the Midtown Pickers! A very talented businessman he is, and if you want to learn more, you're in luck! You can read Dean's "Please Meet" here: https://carriagetradepr.com/please-meet-dean-burnette-the-founder-and-broker-at-best-business-brokers-b3/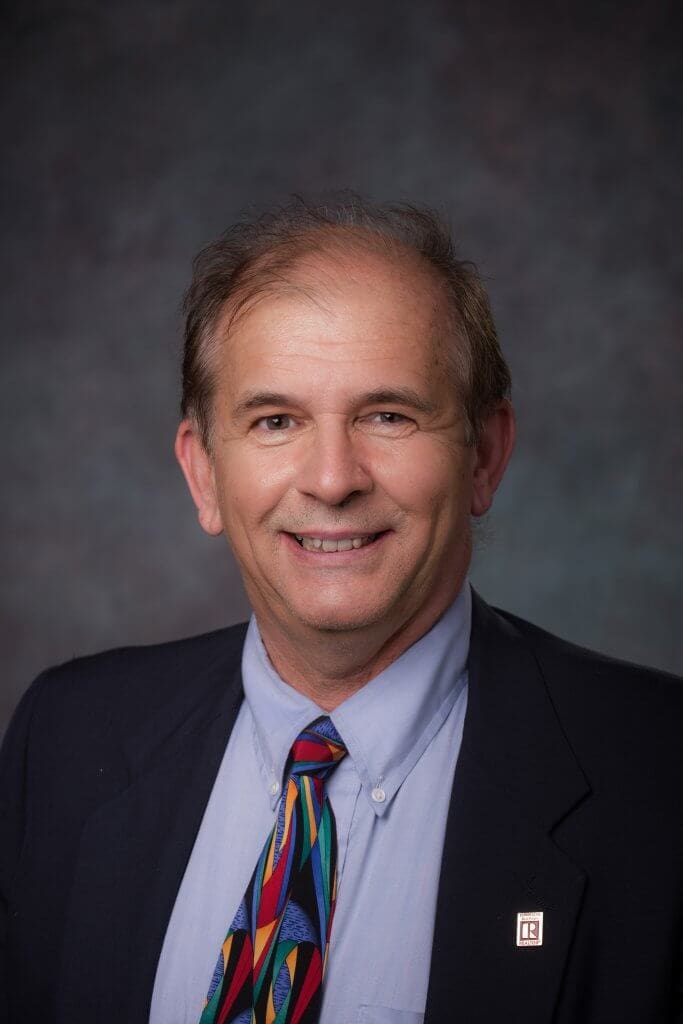 DO BABY TEETH MATTER? YES!
(SAVANNAH, GA) Forty-two percent of children aged 2 to 11 have had cavities in their primary teeth according to the National Institutes of Health. Sandfly Family Dental offers a comprehensive set of dental services specifically for children. For more information, visit http://www.sandflyfamilydental.com/dentistry-children-teens/
WELLNESS INSTITUTE CELEBRATES FIFTH ANNIVERSARY WITH SECOND LOCATION
(BLUFFTON AND HILTON HEAD ISLAND, SC) As the Wellness Institute prepares to mark its fifth year in business, it is opening a Hilton Head Island satellite office and announcing that all three of its physical therapists have qualified to the fellowship and/or board-certified level. Hours for the new 1,300-square-foot Hilton Head location at 1 New Orleans Road, Suite E, will depend on the demand from its clientele but will start with four afternoons a week. The Wellness Institute is a multi-faceted healthcare facility, headquartered at 100 Okatie Center Blvd. North, that offers physical therapy, rehabilitation, wellness instruction, personal training, massage, Qigong and martial arts instruction, yoga (both group and individual) and physical conditioning for golf and tennis.For more information, visit https://wellnessinstitutesc.com/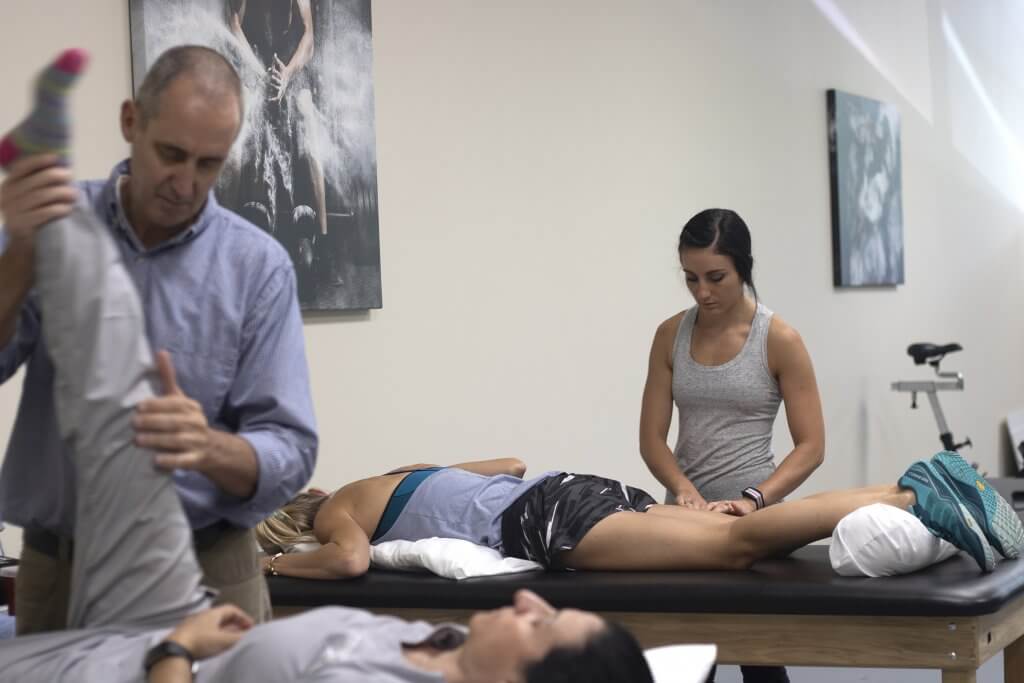 AUGUST YAPPY HOUR – THURSDAY, AUGUST 22
(HARDEEVILLE, SC) Join Peacock Subaru and Renegade Paws Rescue for an August Yappy Hour event on Thursday, August 22, from 5:00 – 7:00 p.m. at Peacock Subaru located at Peacock Auto Mall (111 Drivers Way, Hardeeville, SC). Find your perfect new furry friend, bring a donation for the adoptable pups and enjoy live music, appetizers from Serg Catering and door prizes! RSVP to: https://augustyappy.eventbrite.com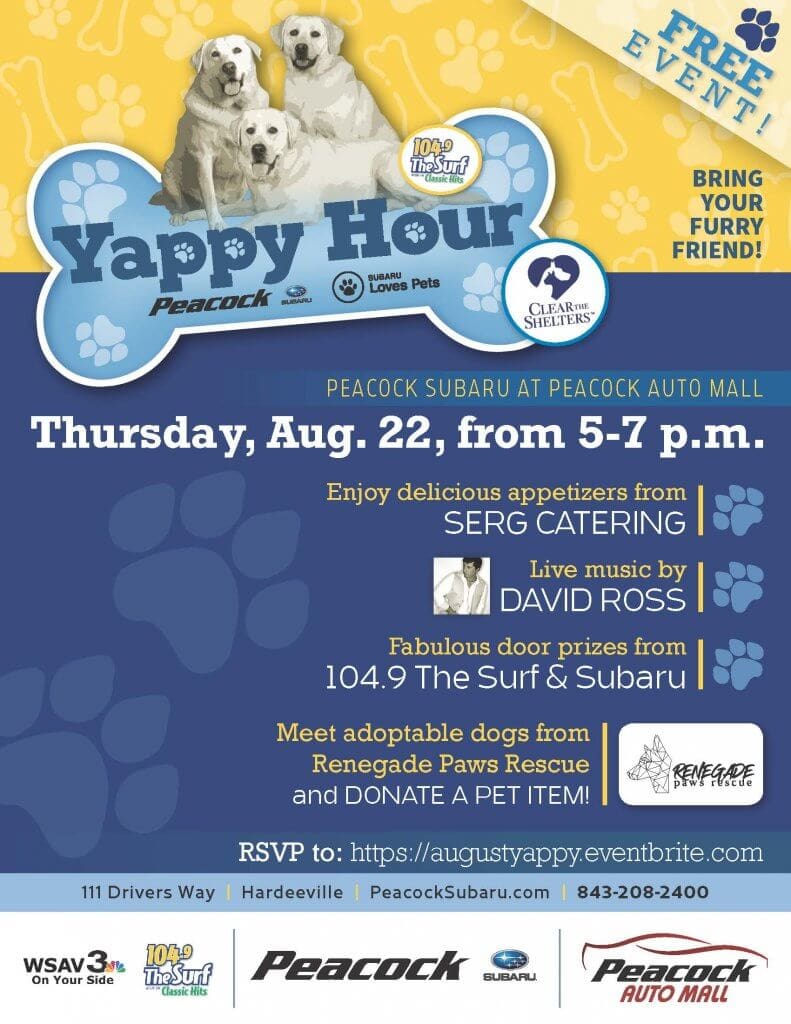 ELLEN B. BOLCH ELECTED PRESIDENT OF THE ROTARY CLUB OF SAVANNAH 
(SAVANNAH, GA) Ellen B. Bolch, President and CEO of THA Group, a family of in-home health companies serving coastal Georgia and South Carolina, has been elected president of the Rotary Club of Savannah. Bolch will be joined on the Rotary Board of Directors by Secretary/Treasurer Harvey J. Gilbert, Sergeant-At-Arms Dale C. Critz, Jr., along with Louisa Abbot, Eddie Culver, Mark Dana, Emily Dickinson, Craig Harney, Sam McCachern, Jamie McCurry, Terri O'Neil, Cecilia Russo Turner, Philip Solomons, Jr., and Trip Tollison. For more information, visit www.savrotary.org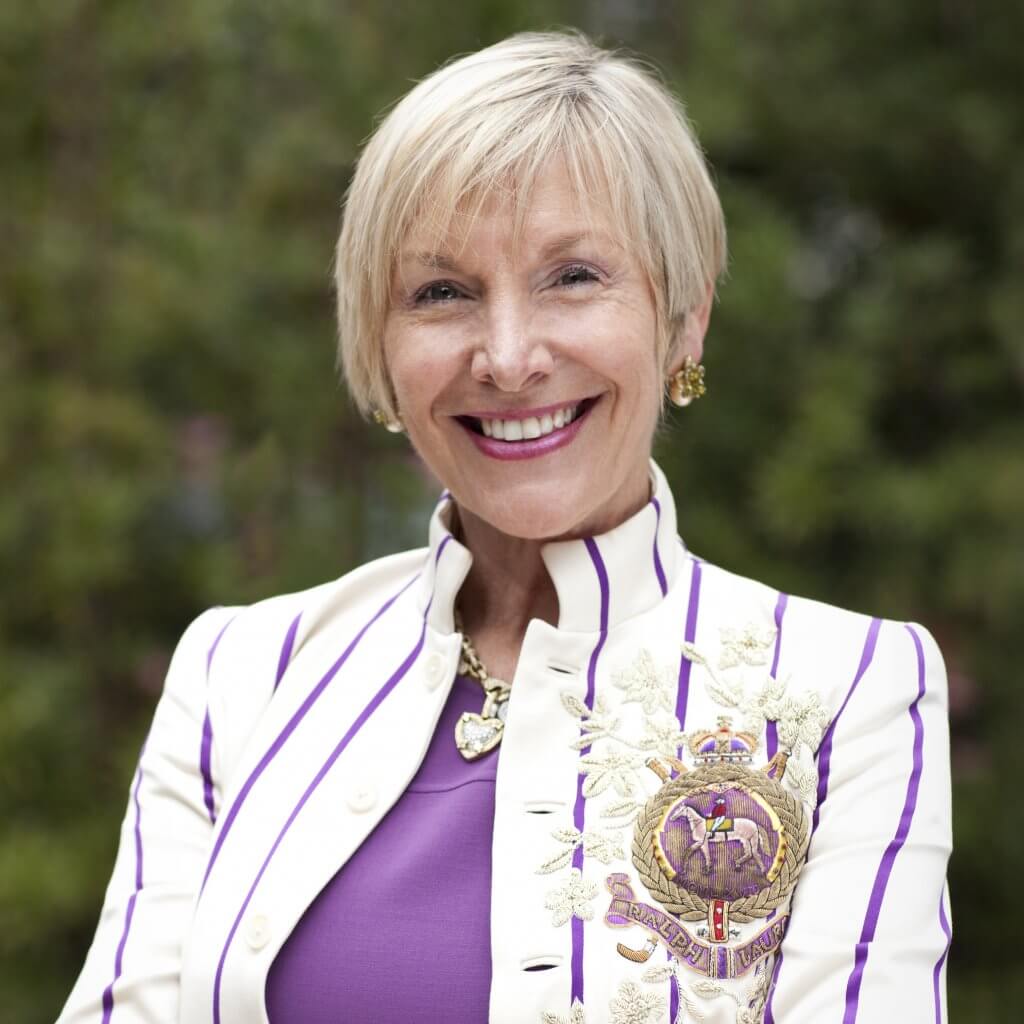 LATIN PARTY SEPTEMBER 28TH
(SAVANNAH, GA) The awaited Latin party is coming soon! Celebrating its 14th year, La Fiesta Latina will take place on River Street (Rousakis Plaza) on September 28th from 12:00 PM to 8:00 PM. This is a free event open to the Savannah community and surrounding cities. Please email lasosavannah1@gmail.com or call Gustavo Gonzalez at 912.428.6831 for more details. This event is sponsored by Latin American Services Organization (LASO). You can also visit: https://www.facebook.com/events/2110324139083824/Â 
MARJORIE YOUNG TO PRESENT AT 2019 THRIVE LOWCOUNTRY WOMEN'S CONFERENCE
(HILTON HEAD, SC) Marjorie Young, an award-winning public relations consultant and founder of Carriage Trade Public Relations® Inc., will share five proven strategies for businesses to increase visibility and create positive buzz in the community during the third annual THRIVE Lowcountry Women's Conference to be held on September 26 on Hilton Head Island, S.C. The premier women's gathering will focus on enhancing and empowering personal and professional growth. Thought-provoking speakers will network with more than 200 local and visiting women, and special in-depth, skill-based learning workshops will be offered.To register or learn more, please visit https://www.hiltonheadchamber.org/thrive-2019/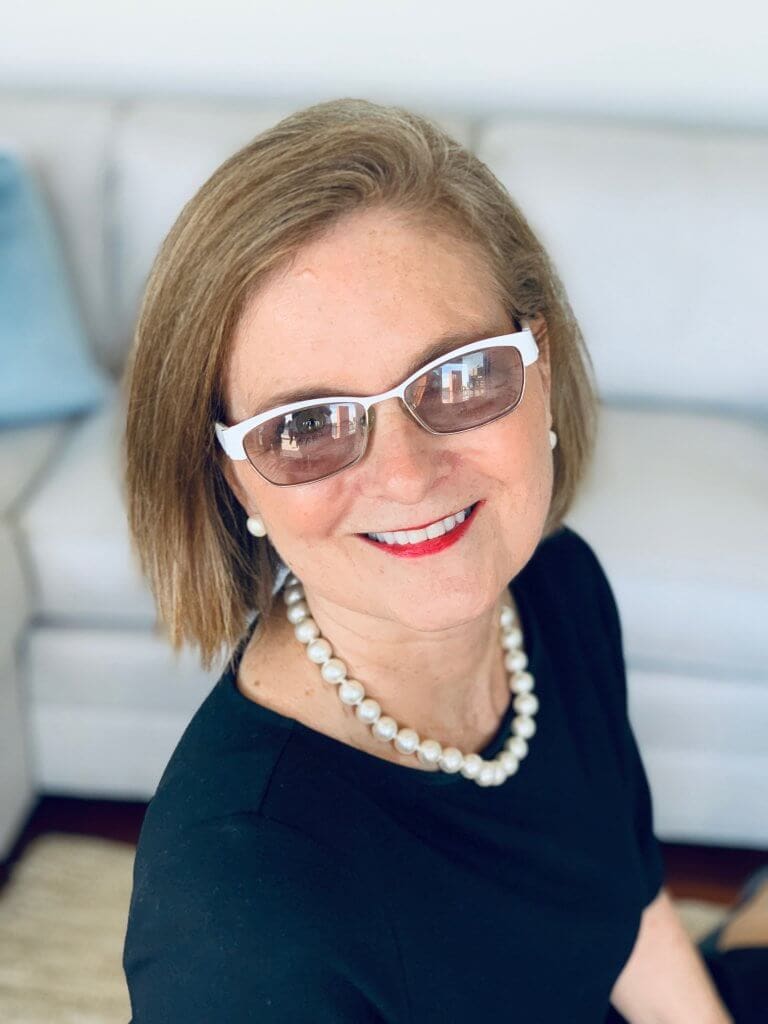 DIGICON 2019
(SAVANNAH, GA) The University of Georgia Small Business Development Center (SBDC), a Public Service and Outreach unit of the University of Georgia, and M&R Marketing, invite small business owners and marketing managers to a brand-new digital marketing conference. Take the mystery out of the ever-changing platforms, strategies, tactics and tools and gain confidence in your ability to identify digital marketing opportunities to grow your business and the tactical ability to put them into place! For more information please contact Liz Overstreet at (912) 651-3200 or go to www.georgiasbdc.org/digicon for a conference brochure and to register online.
MANY LEADERS LACK THIS CRITICAL SKILL
(ENTREPRENEUR) There is an essential skill all successful entrepreneurs need, and should look for in new employees, yet is often missing in organizations. And that skill is critical thinking. Learn more here: https://www.entrepreneur.com/article/337563
BUSINESS ON THE MOVE – AUGUST 20
(SAVANNAH, GA) Join the Savannah Area Chamber of Commerce at Business on the Move on Tuesday, August 20, at Pin Point Heritage Museum. This networking event will be held from 5:30 – 7:30 p.m. For more information, please visit http://savannah.simpleviewcrm.com/webapi/rsvp/v2/?action=details&eventid=169 
LSEGA CALLS FOR 2020 NOMINATIONS
(SOUTHEAST GA) Leadership Southeast Georgia, a leadership development program for professionals in a 10-county region, is calling for nominations for its 2020 course. The program fosters relationships among leaders in the region and offers professional development related to critical leadership skills and issues such as conflict resolution, self-awareness, communication and strategic thinking. Applicants may self-nominate or be nominated by Leadership Southeast Georgia alumni, their employers or community leaders. Residents of Bryan, Bulloch, Camden, Chatham, Effingham, Glynn, Liberty, Long, McIntosh and Screven counties are eligible. Nominations should be submitted on the Leadership Southeast Georgia website, http://www.lsega.com/nominate/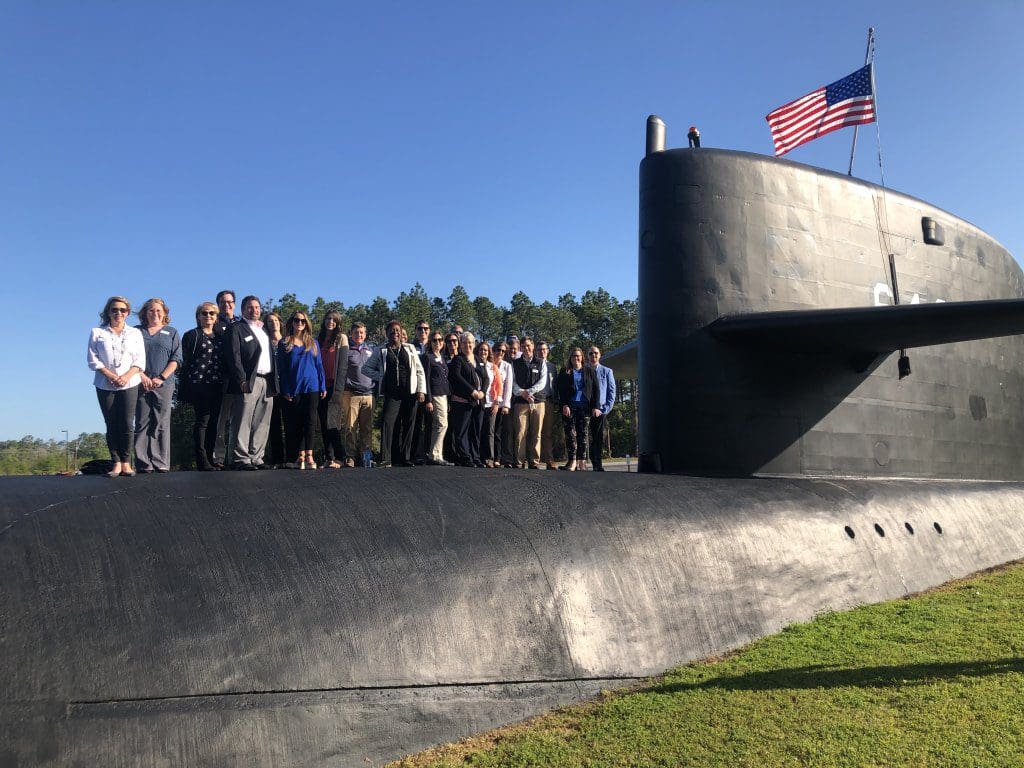 MEET VEDA
(SAVANNAH, GA) Coastal Pet Rescue introduces Veda! Veda is a 9-year-old female terrier mix. Veda is one of the sweetest little senior you'll ever meet. She loves chew toys and tennis balls. You won't catch her running unless there's a frog or something else fun to chase. She is happy to be carried if you want a snuggle buddy, too! For more information on Veda or any of Coastal Pet Rescue's other cats and dogs for adoption, please visit http://coastalpetrescue.org/adopt/view/2019-d-122-veda/