Savannah's
COMMUNiTY HEADLiNES
The Local Newswire
HAPPY NEW YEAR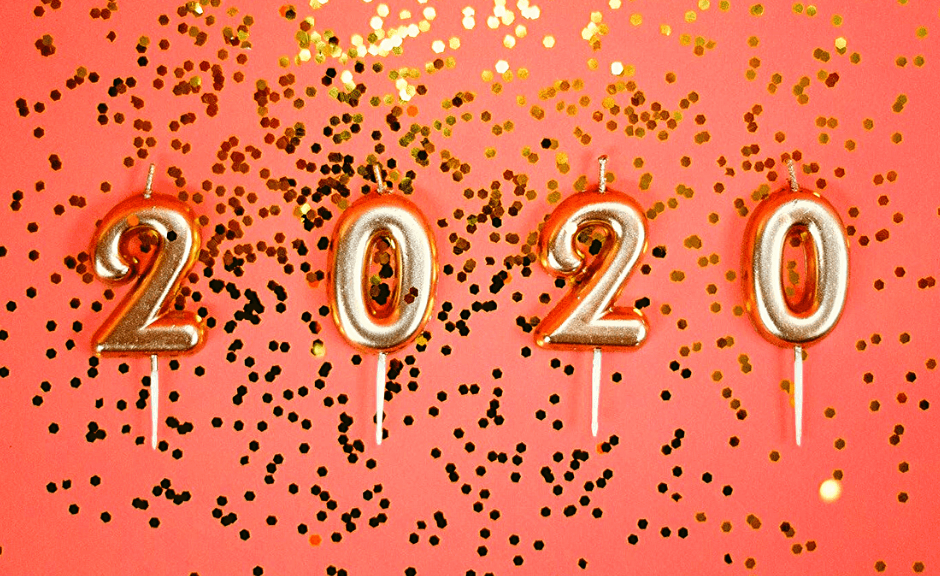 BACKPACKS OF LOVE RECEIVES DONATION FROM LOCAL COMMERCIAL CONSTRUCTION FIRM
(SAVANNAH, GA) As part of the Inspire Your Community podcast, local commercial construction firm the Dewitt Tilton Group made a $2,000 donation to Backpacks of Love as they prepare to pack holiday meal boxes for children and their families in the Richmond Hill area who may otherwise have limited access to food during the break from school. The group also brought their families to help pack over 25 of these boxes. The Inspire Your Community podcast is available on YouTube and wherever you get your podcasts. To learn more about Backpacks of Love, visit http://savannahceo.com/news/2019/12/inspire-your-community-podcast-donated-2000-richmond-hills-backpacks-love-program/.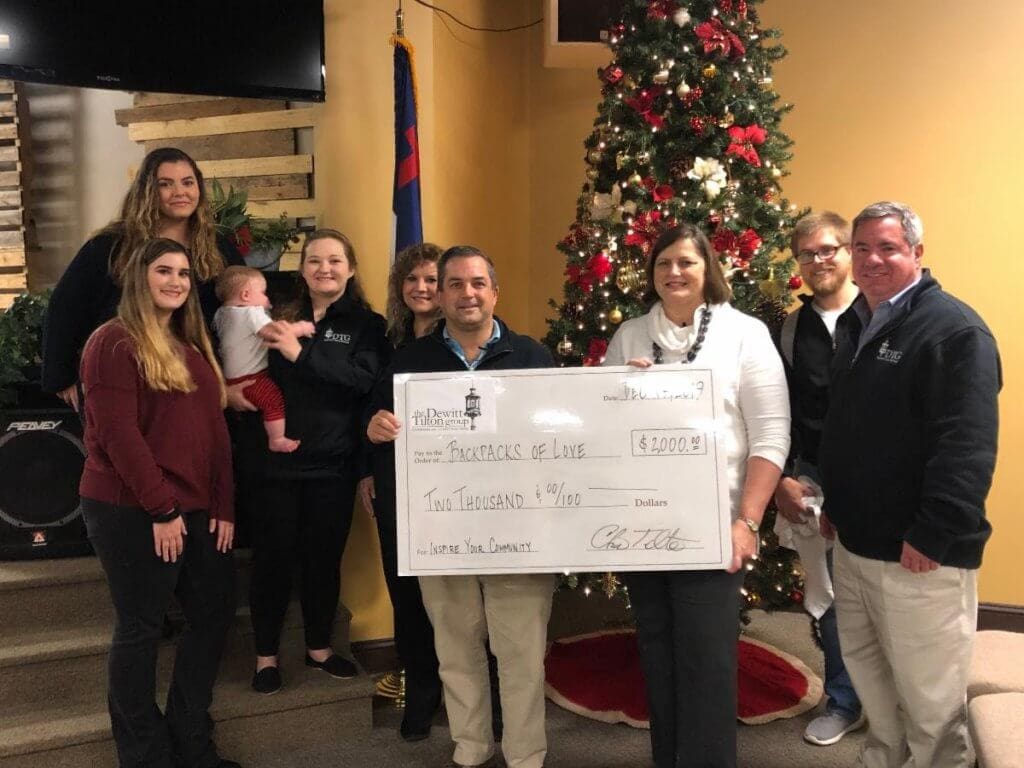 TWO BETHESDA ACADEMY TEACHERS EARN "MASTER TEACHER" RECOGNITION FROM SCISA
(SAVANNAH, GA) Two teachers at Bethesda Academy were granted "master teacher" status after evaluation by the South Carolina Independent School Association (SCISA). Craig Sherman teaches social studies and history and Jennifer Gilmour teaches science and mathematics, in addition to being a cottage teacher, whose responsibilities include ensuring all boarding students complete homework assignments, finish chores and are in bed on time. To learn more about the teachers and this honor, visit http://savannahceo.com/news/2019/12/two-bethesda-academy-teachers-earn-master-teacher-status-awarded-scisa/.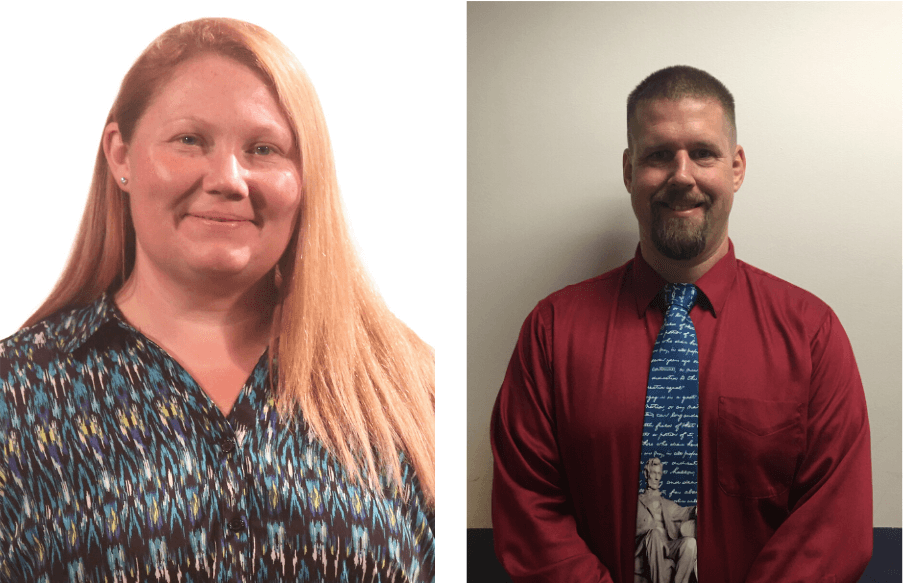 LEADERSHIP SOUTHEAST GEORGIA ANNOUNCES 2020 BOARD OF DIRECTORS
(SAVANNAH, GA) Leadership Southeast Georgia (LSEGA) has announced its Board of Directors for 2020. LSEGA is an innovative leadership program serving a 10-county area of southeast Georgia, and this new Board will take a leading role as they excitedly organize the program's 2020 session. Brynn Grant, the chief operating officer of the Savannah Economic Development Authority, will serve as the new Board chair, with Jared Downs of the Savannah Area Chamber of Commerce serving as vice-chair. For more information on the Board and its new members, visit https://www.savannahbusinessjournal.com/news-categories/people-in-the-news/9803-dec-10-leadership-southeast-georgia-announces-2020-board-of-directors.html.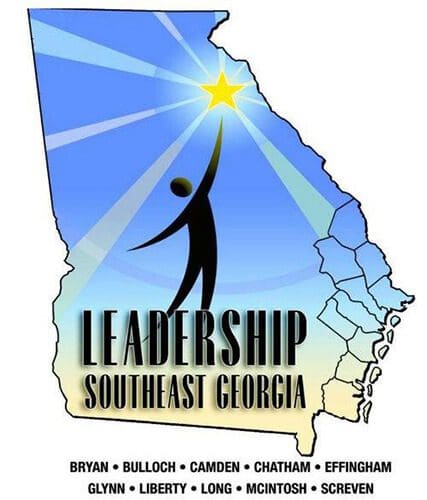 LOCAL CHARITY CHOSEN FOR 2019 SUBARU SHARE THE LOVE® EVENT
(BLUFFTON, S.C.) Peacock Subaru Hilton Head has selected Bluffton Jasper County Volunteers in Medicine (VIM) as its hometown charity during the 2019 Subaru Share the Love® Event taking place through Jan. 2, 2020. The local organization will be added to a list of national nonprofits that customers can select to receive a $250 donation from Subaru of America, Inc. (SOA) with each vehicle purchased from the dealership. To join the conversation about charitable giving, follow Subaru on Facebook at  http://www.facebook.com/subaruofamerica or on Twitter at http://www.twitter.com/subaru_usa and search the hashtag #sharethelove.

THE UNITED WAY OF THE COASTAL EMPIRE ANNOUNCES NEW CEO 
(SAVANNAH, GA) The United Way of the Coastal Empire Board of Directors is proud to announce that Brynn Grant has been named President and CEO. Grant led the startup of World Trade Center Savannah where she currently serves as Vice President. She also serves as the Chief Operating Officer for the Savannah Economic Development Authority (SEDA). To learn more about Grant, visit https://www.savannahnow.com/business/20191219/brynn-grant-to-lead-united-way-of-coastal-empire.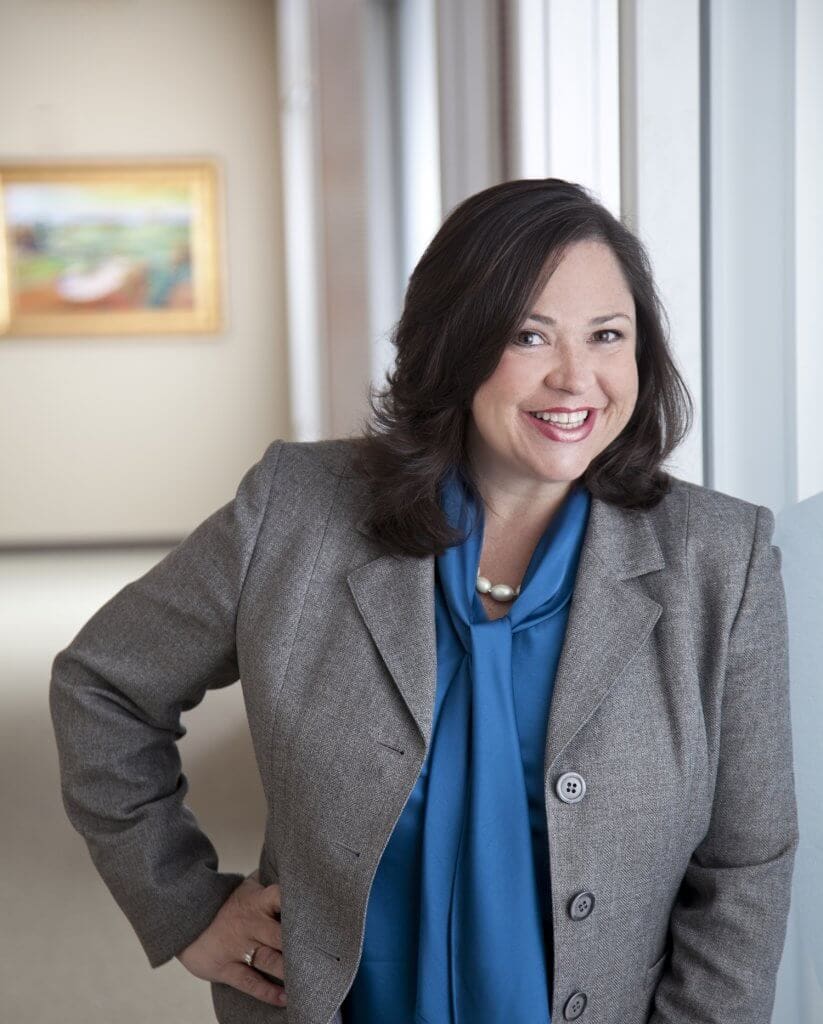 SBAC CELEBRATES 30 YEARS
(SAVANNAH, GA) The Small Business Assistance Corporation (SBAC) celebrates 30 years in business.  To view a slideshow of the celebration, watch the video below.
YAPPY HOUR HOLIDAY EDITION DONATION DRIVE
(JASPER COUNTY, S.C.) Peacock Subaru Hilton Head hosted Yappy Hour Holiday Edition for local families to enjoy an evening with furry friends. Guests were invited to bring their pets to take pictures with Santa Claus and enjoy special Christmas music and treats. During this Yappy Hour, dogs were available for adoption through Renegade Paws Rescue and Peacock Subaru Hilton Head collected toys for the Marine Toys For Tots Foundation. For more information, visit  https://www.savannahbusinessjournal.com/news-categories/145-lowcountry-business-news/9815-dec-13-donation-drive-benefited-renegade-paws-rescue-and-marine-toys-for-tots-foundation-at-yappy-hour-%E2%80%9Choliday-edition%E2%80%9D.html.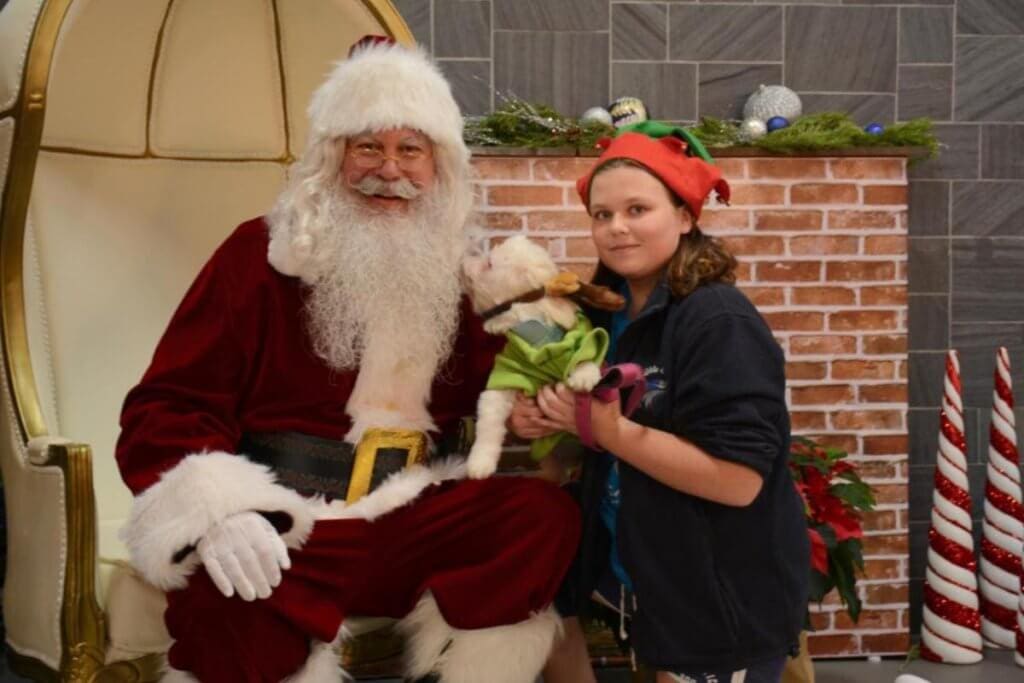 LOWCOUNTRY LADIES LUNCHEON
(SAVANNAH, GA) The Lowcountry Ladies Luncheon will be held Feb. 7, 2020 at EmployAbility in Savannah. Registration is now open, and seating is limited. Tickets are $30 each and can be purchased online at https://www.eventbrite.com/e/2020-lowcountry-ladies-luncheon-savannah-tickets-83533728631.
PALMETTO ANIMAL LEAGUE DONATION DRIVE HELD DURING DECEMBER
(BLUFFTON/BEAUFORT, SC) Santa Paws at Pinnacle, an annual holiday donation drive benefiting Palmetto Animal League (PAL), launched for the month of December with a kick-off party hosted at Pinnacle Medical Group's Sheridan Park office on Thursday, Dec. 5. Those who wish to give to PAL in the last few days of the month are encouraged to bring new blankets, towels, dog toys, food, cleaning supplies, shampoos, collars, leashes, beds and tennis balls. Pet store gift cards and cash donations are also accepted. All donations throughout the month will be given to PAL and distributed among rural shelters with limited resources. Community members who donate will receive a $50 gift card toward an injectable treatment at Pinnacle Medical Group. To learn more about the donation drive, visit https://www.wsav.com/community/santa-paws-at-pinnacle-underway-benefit-palmetto-animal-league/.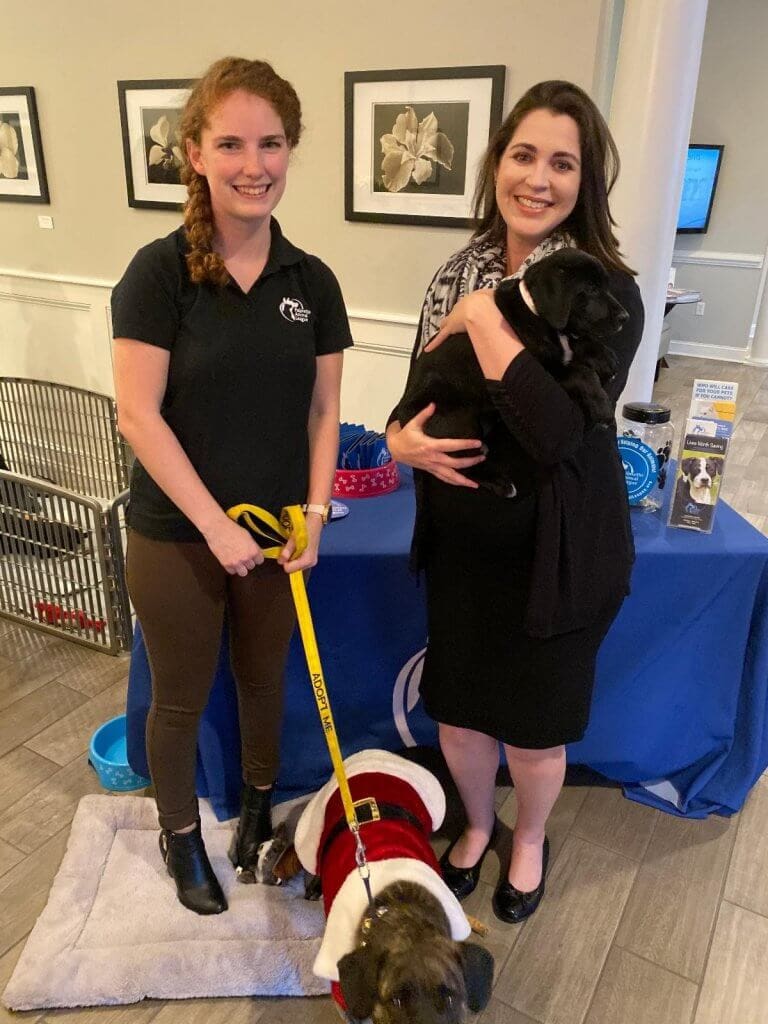 MALLORY TURNER VON WALDNER JOINS SAVANNAH VETERINARY MEDICAL CENTER
(SAVANNAH, GA) Savannah Veterinary Medical Center is pleased to announce that Dr. Mallory Turner von Waldner has joined the practice as the newest associate veterinarian. In her new position, von Waldner will be responsible for routine appointments, performing surgeries, caring for sick patients, counseling clients and providing recommendations based on diagnostic tests. To learn more about von Waldner, visit https://www.savannahbusinessjournal.com/news-categories/people-in-the-news/9811-dec-12-savannah-veterinary-medical-center-hires-dr-mallory-turner-von-waldner.html.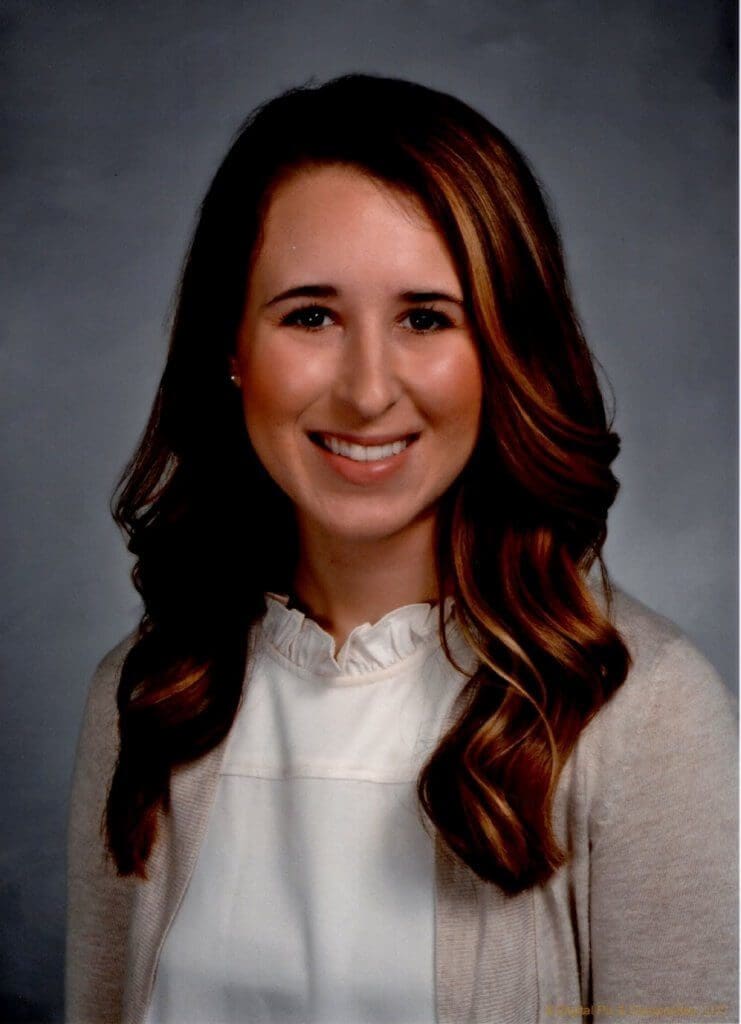 UGA IMPACT LAUNCHES WEEK OF SERVICE AT PARK PLACE OUTREACH
(SAVANNAH, GA) A group of students involved with IMPACT UGA participated in a week long service project at the Park Place Outreach Youth Emergency Shelter. IMPACT UGA is a program facilitated by the University of Georgia Center for Leadership & Service that encourages students to serve for a week at various nonprofit locations across the eastern coast during winter and spring breaks. IMPACT UGA students will serve Park Place Outreach through a variety of tasks such as painting, yardwork, assembling furniture, etc. To learn more about Park Place Outreach, visit http://parkplaceyes.org.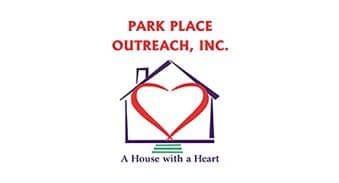 CHRIS GIGNAC OF FPC OF SAVANNAH RECOGNIZED NATIONALLY AS A PLATINUM PLUS RECRUITER
(SAVANNAH, GA) Chris Gignac has been recognized by FPC National as a Platinum Plus Recruiter for her success in placing top-level candidates with companies that are the best fit. Since 1990, FPC of Savannah has served the city as an executive recruiting firm specializing in the placement of top-tier business professionals. This year, the firm was recognized as the top producing office among 65 franchises nationwide. This marks the third time Gignac has made the list of Platinum Recruiters in only her fourth year with FPC of Savannah. Last year she became the top FPC recruiter nationwide, and she is right here in Savannah. To learn more about Chris and her role with FPC, visit https://savannahbusinessjournal.com/news-categories/people-in-the-news/9798-dec-9-chris-gignac-recognized-as-an-fpc-platinum-plus-recruiter-in-production.html.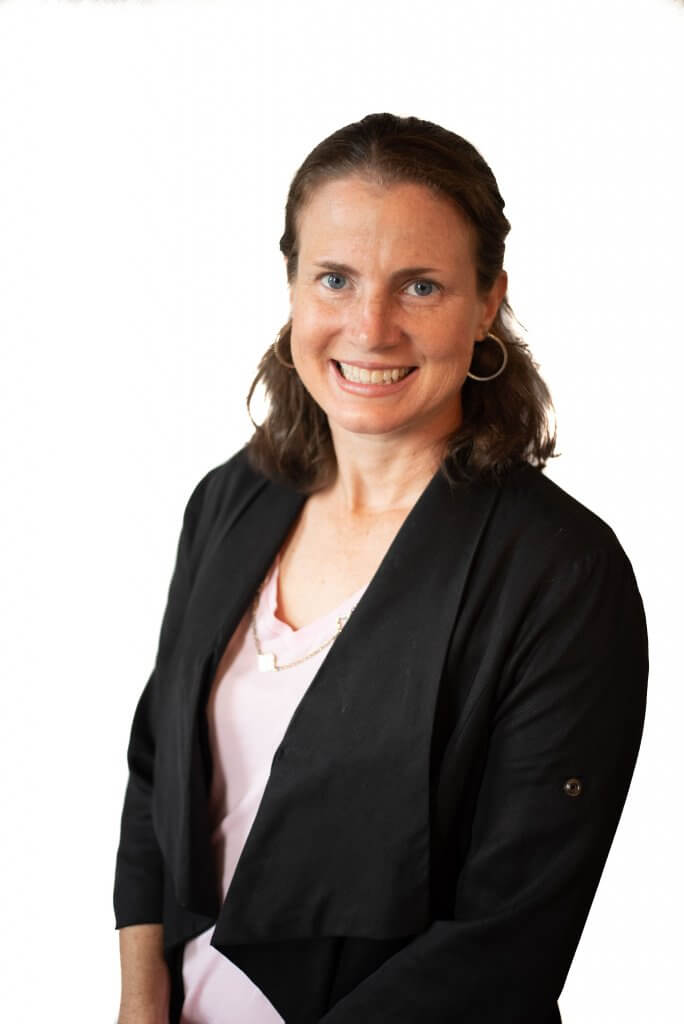 ROTO-ROOTER PLUMBERS OF SAVANNAH
(ROTO-ROOTER PLUMBERS OF SAVANNAH) Happy New Year! You may already have some resolutions ready for your home, but what about creating some pertaining to your plumbing in particular? After all, your home's water supply needs love and care, too! If you're having trouble coming up with good plumbing goals for 2020, never fear. We'll be sharing our top five throughout the coming month! #1: Be selective with your garbage disposal… Contrary to popular belief your garbage disposal isn't a catch-all for your food scraps. There are certain items that should go in the regular trash – like grease, egg shells, pasta and coffee grounds. To learn more, visit https://rotosavannah.com/.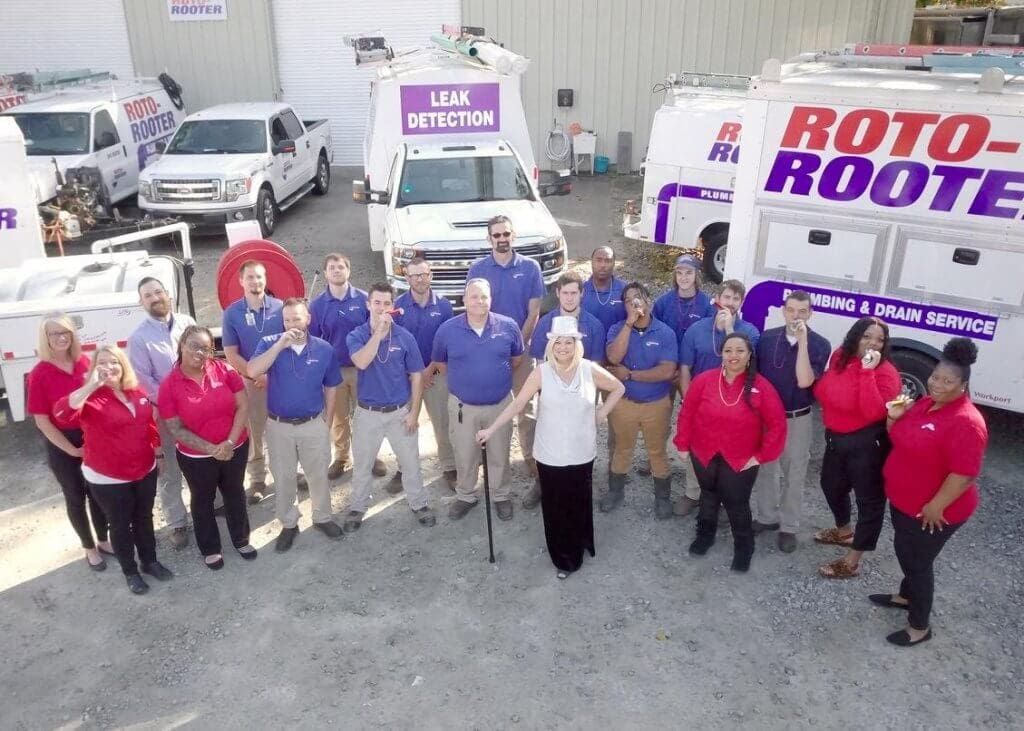 JENKINS ATHLETIC CLUB LAUNCHES "VERTICAL JUMP FOR JAC" WITH DONATION DROP-OFF DAY
(SAVANNAH, GA) At a special holiday event, the community was invited to join members of the Jenkins Athletic Club (JAC) to enjoy complimentary Christmas cookies and photos with Santa Claus. During this event, the JAC collected donations for the club's youth athletic programs and seasonal camps.To learn more about the event, visit https://www.wtoc.com/2019/12/16/santa-claus-visits-childrens-hospital-jenkins-athletic-club-savannah/.
RMHC RECEIVES $2,000 DONATION FROM SAVANNAH MARITIME AFTER HOURS
(SAVANNAH, GA) For the sixth year in a row, Savannah Maritime After Hours has presented a $2,000 holiday donation to the Ronald McDonald House Charities (RMHC) of the Coastal Empire in support of the growing needs of the House and its residents. Members of the Savannah Maritime Association raised this money through Savannah Maritime After Hours networking events held on the first Wednesday of each month. To learn more about Savannah Maritime After Hours, visit https://www.facebook.com/savannahMaritimeAfterHours/.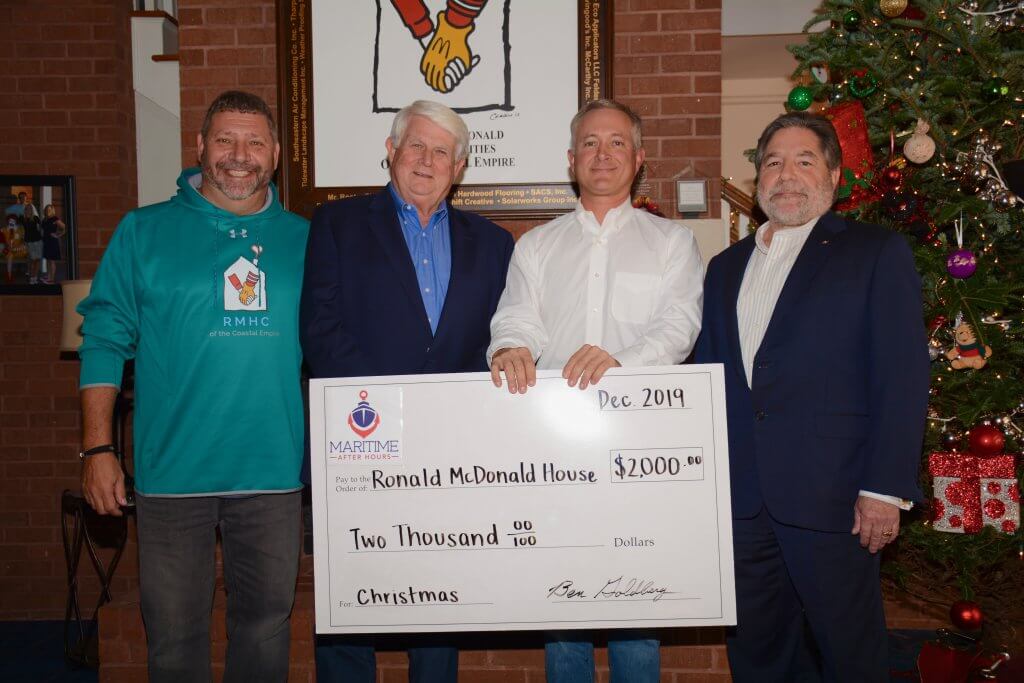 2020 BLITZ BORDER BOWL
(SAVANNAH, GA) The 2020 Blitz Border Bowl is coming Saturday, Jan. 11 to Savannah's Memorial Stadium. Savannah's Bowl Game will be an all-star challenge pitting the best seniors from The Georgia Coastal Empire against the best seniors from The South Carolina Lowcountry, all to benefit the Ronald McDonald House Charities. This year Jenkins High School Head Coach Jason Cameron leads the Georgia squad. Whale Branch High School Coach Jerry Hatcher leads the South Carolina all-stars. Tickets to this local bowl game are $10 and can be purchased online at https://gatehouselive.enmotive.com/events/register/2020-blitz-border-bowl. To learn more visit WSAV.com/BlitzBorderBowl.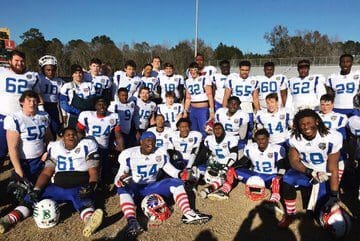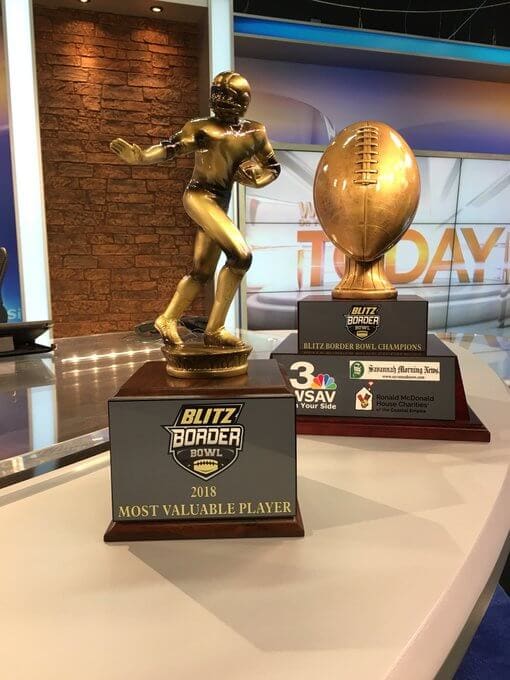 FORSYTH FARMER'S MARKET LAUNCHES 912 FOOD FARMACY
(SAVANNAH, GA) Forsyth Farmers' Market has received a $455,000 grant from the United States Department of Agriculture to start a produce prescription program in early 2020. This program, 912 Food Farmacy, strives to improve community health through nutrition education, increased access to fresh and local foods, and financial incentives for purchasing these healthy food items. Supported by REACH Savannah initiatives, the 912 Food Farmacy will partner with four local health centers (St. Joseph's/Candler's St. Mary's Community Center, Memorial Health Children's Hospital, Chatham County Health Department, and J.C. Lewis Primary Health Care Center) to serve low-income individuals who have, or are at risk for, diet-related chronic diseases. To learn more, visit https://fox28media.com/news/local/forsyth-farmers-market-new-program-helping-low-income-community-access-healthy-foods.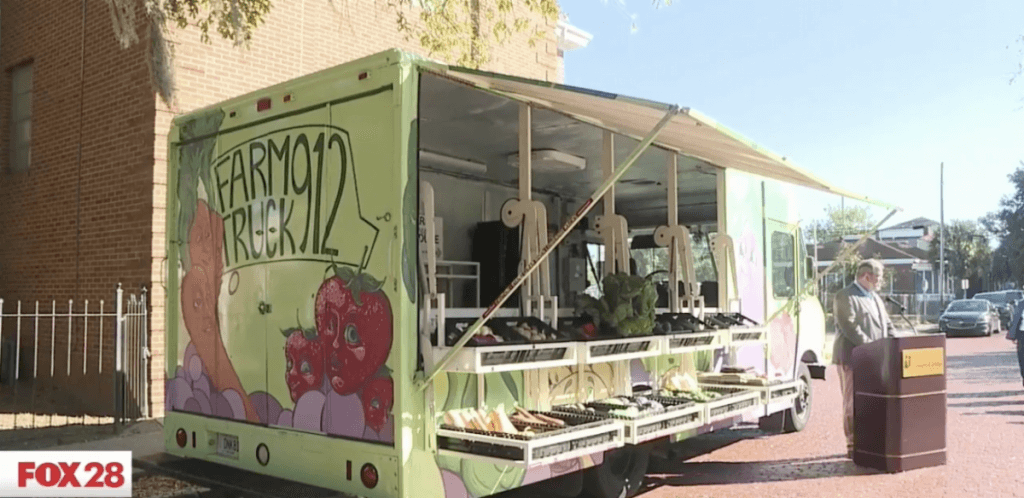 UNION MISSION SERVES HOLIDAY MEALS
(SAVANNAH, GA) In the spirit of the holidays, Union Mission served 300 holiday meals, provided by Gulfstream Aerospace Corporation with the support of Sodexo, to local families and individuals in need on December 23rd at Grace House.
ENMARKET HOCKEY CLASSIC DATES ANNOUNCED
(SAVANNAH, GA) The Enmarket Hockey Classic is returning to Savannah! This annual event will take place Friday, Jan. 17, and Saturday, Jan. 18. Tickets are on sale now. For more information,
 visit http://savannahcivic.com/events/category/series/savannah-hockey-classic/.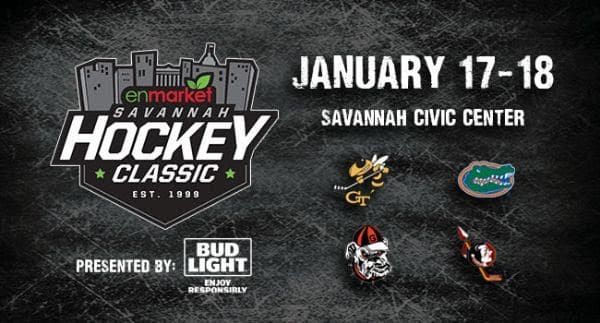 DID YOU KNOW? 
(SAVANNAH, GA) Children who still suck their fingers or thumbs after their permanent teeth start coming in, usually around the age of 5 or 6, can cause permanent changes that affect both tooth and jaw structure. For more information on how to protect your child's teeth, visit http://www.sandflyfamilydental.com.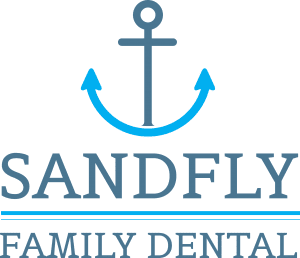 MEET BRUCE
(SAVANNAH, GA) While Bruce might not have had the best life before coming to Coastal Pet Rescue, you'd never know it–just look at that face! His smile is so contagious you can't help but be happy when spending time with him, whether you're laying on the couch relaxing or playing outside. He's active and loves to give and get lots of interaction and love, but he can also be pretty chill. To adopt Bruce, visit http://coastalpetrescue.org/adopt/view/2019-d-041-bruce/.