Savannah's
COMMUNiTY HEADLiNES
The Local Newswire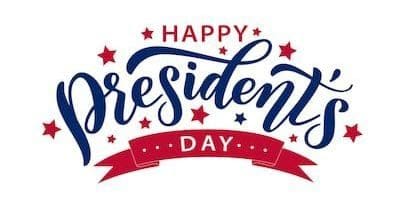 LSEGA 2020 PROGRAM HOLDS FIRST SESSION IN GLYNN COUNTY
(GLYNN CO, GA) The Leadership Southeast Georgia (LSEGA) class of 2020 launched its first session with a close look at the coastal region's natural resources in Brunswick, Ga. and on Little St. Simons Island. The class learned about the many ways our Georgia coastline is unique from the nationally recognized conservation efforts to the biology itself. Heard Galis, LSEGA graduate and one of two principals at Galis/Stewart Insurance in Brunswick's Historic District, was the session coordinator for the first of the five weekends. To learn more visit http://savannahceo.com/features/2020/02/leadership-southeast-georgia-launches-2020-program-glynn-county-study-natural-resources/.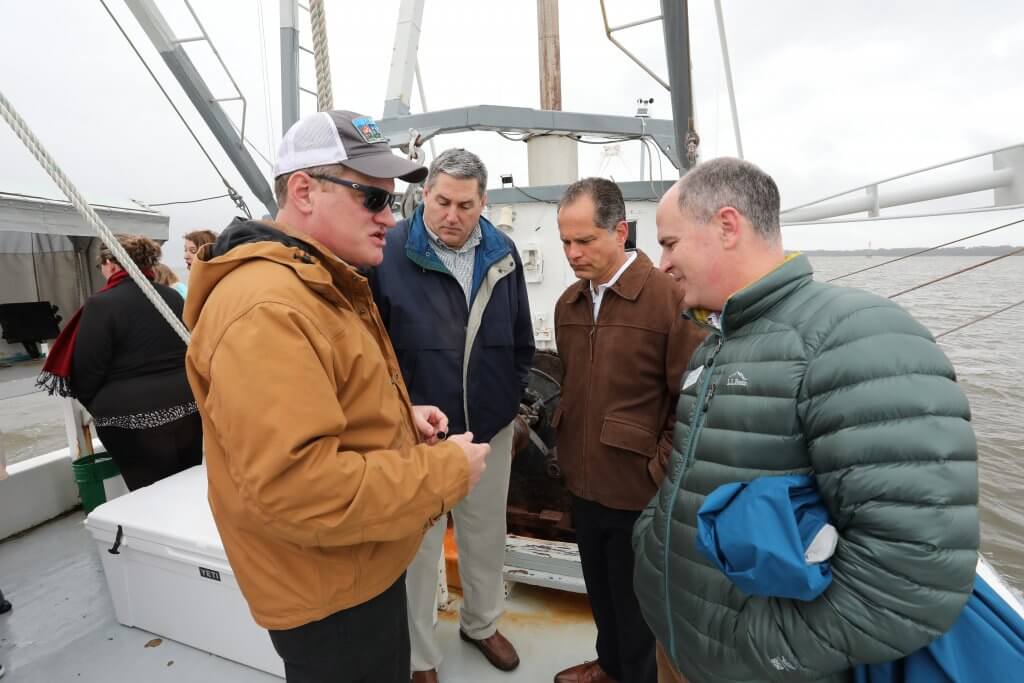 PLASTICS MAKES PERFECT PODCAST COVERS ALL THINGS MOMMY MAKEOVERS
(BLUFFTON, SC) Mommy Makeovers offer a variety of options to help people get back to feeling like they did before pregnancy or weight gain. Dr. Klenke of the Pinnacle Medical Group explores these options and questions people frequently have before making an appointment in this video podcast episode of Plastics Makes Perfect. Listen anywhere you stream podcasts or watch here to learn more:
THE SECOND ANNUAL ROYAL FLUSH CASINO NIGHT THURSDAY, FEB 27
(SAVANNAH, GA) Roto-Rooter Plumbers of Savannah will present its Second Annual Royal Flush Casino Night on Thursday, Feb. 27, to benefit the Coastal Empire Habitat for Humanity. The casino-themed party will take place at the Savannah Station, 601 Cohen St., featuring heavy hors-d'oeuvres, an open bar, live music by the Mainstreet Dance Band and complimentary casino games including Blackjack, Roulette, Craps, Texas Hold'em and Wheel of Fortune. Individual tickets for the event are $60; tickets for couples are $90. The tables will open promptly at 7 p.m. For tickets and more information, visit https://www.eventbrite.com/e/the-second-annual-roto-rooter-plumbers-of-savannah-royal-flush-casino-night-tickets-89887964321 or https://www.facebook.com/events/2753968404697426/.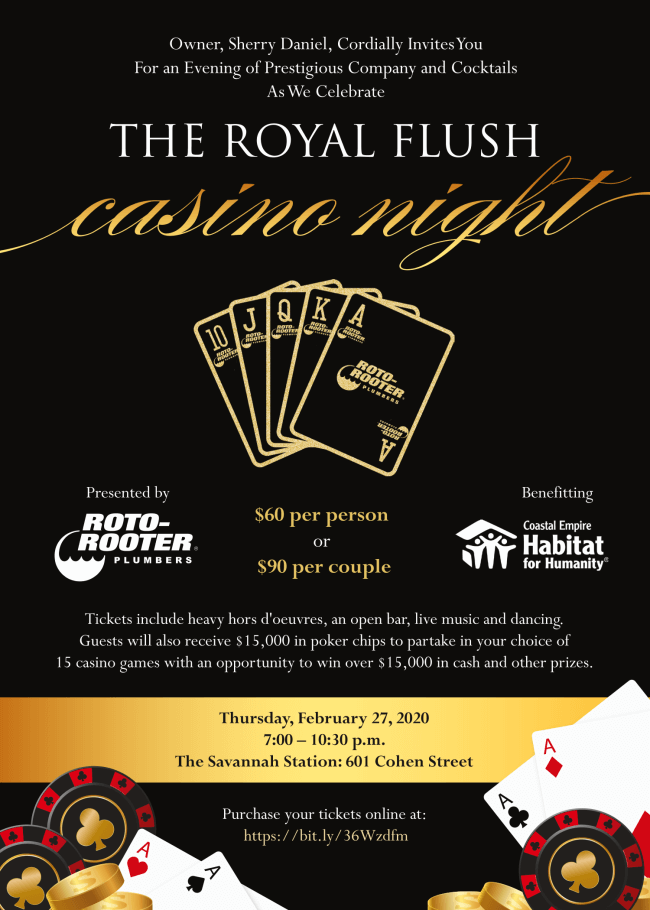 PINNACLE MEDICAL GROUP HOSTS BEAUTY, BUBBLES AND BITES
(BLUFFTON/BEAUFORT, S.C.) Pinnacle Plastic Surgery teamed up with Veranda Beach Salon to host a fun-filled and informational happy hour. Guests were able to meet Dr. Sarah Cazorla, a plastic and reconstructive surgeon and the newest addition to the Pinnacle Medical Group team, and enjoy bubbly, hors d'oeuvres, fabulous door prizes and event-only specials. For more information about this and upcoming events, visit https://www.facebook.com/pinnacleplasticsurgery/.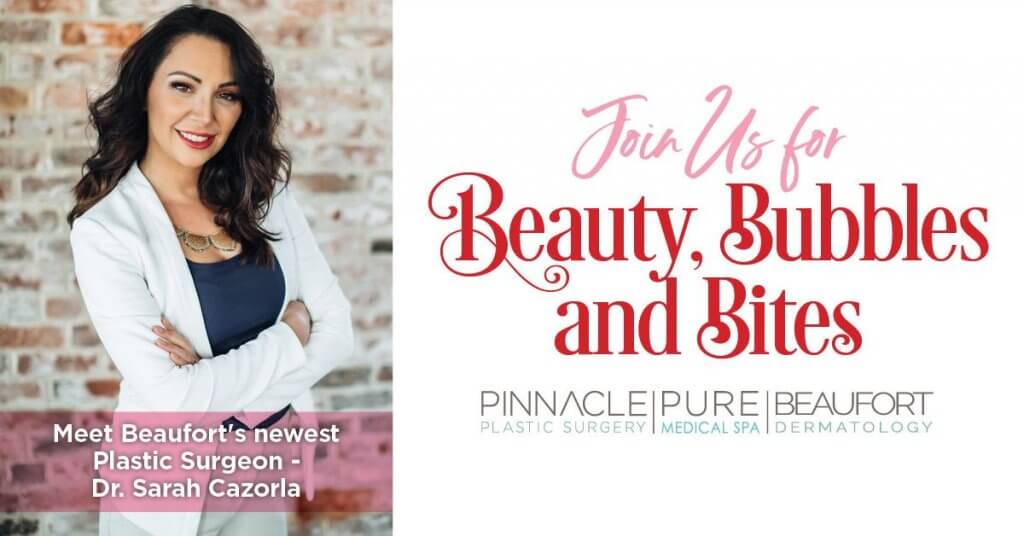 LEADERSHIP SOUTHEAST GEORGIA CLASS OF 2020 ANNOUNCED
(SOUTHEAST GA) Leadership Southeast Georgia (LSEGA) is pleased to recognize the 28 individuals who have been selected to join its 2020 class. The new class members live and work within Bryan, Bulloch, Camden, Chatham, Effingham, Glynn, Liberty, Long, McIntosh and Screven counties, which together are known as Georgia's coastal region. To learn more about these individuals and the LSEGA program, visit http://savannahceo.com/features/2020/02/regional-leaders-2020-class-leadership-southeast-georgia-announced/.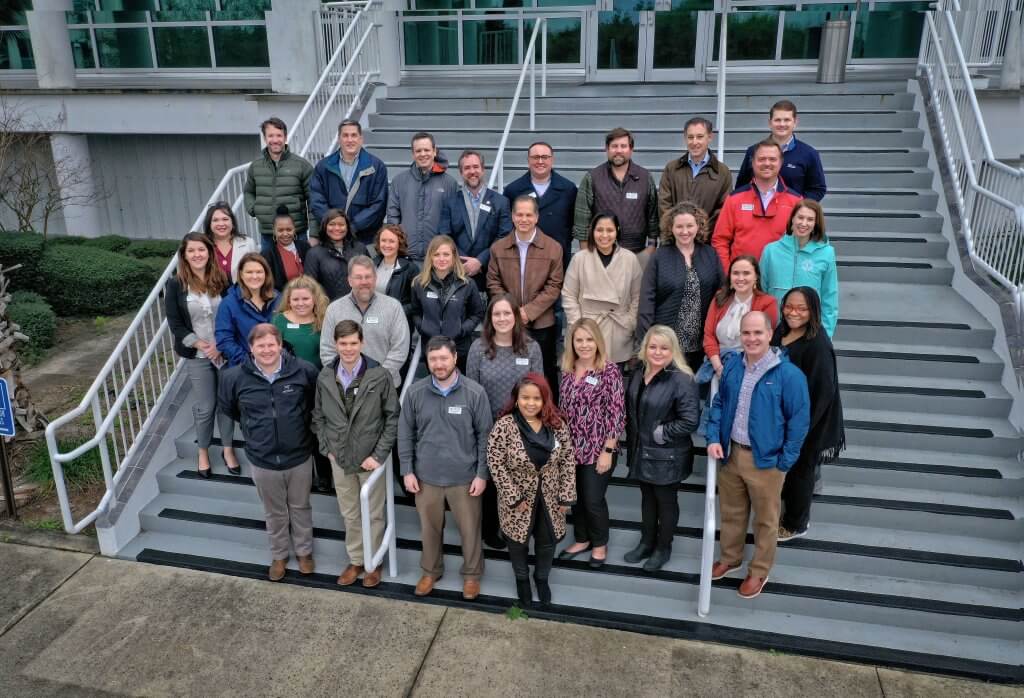 ENMARKET HIRES DIRECTOR OF FOOD SERVICE
(SAVANNAH, GA) Enmarket, Savannah's largest convenience store chain, has reinforced its commitment to bringing healthy eating to the world of convenience with the recent hire of Ryan Krebs as director of food service. Krebs is a classically trained chef with a culinary degree, and he joins Enmarket after a substantial career that has included restaurants, fine dining hotels, nonprofits, health care and the convenience store industry. For more information, visit https://www.cspdailynews.com/foodservice/enmarket-names-ryan-krebs-director-food-beverage.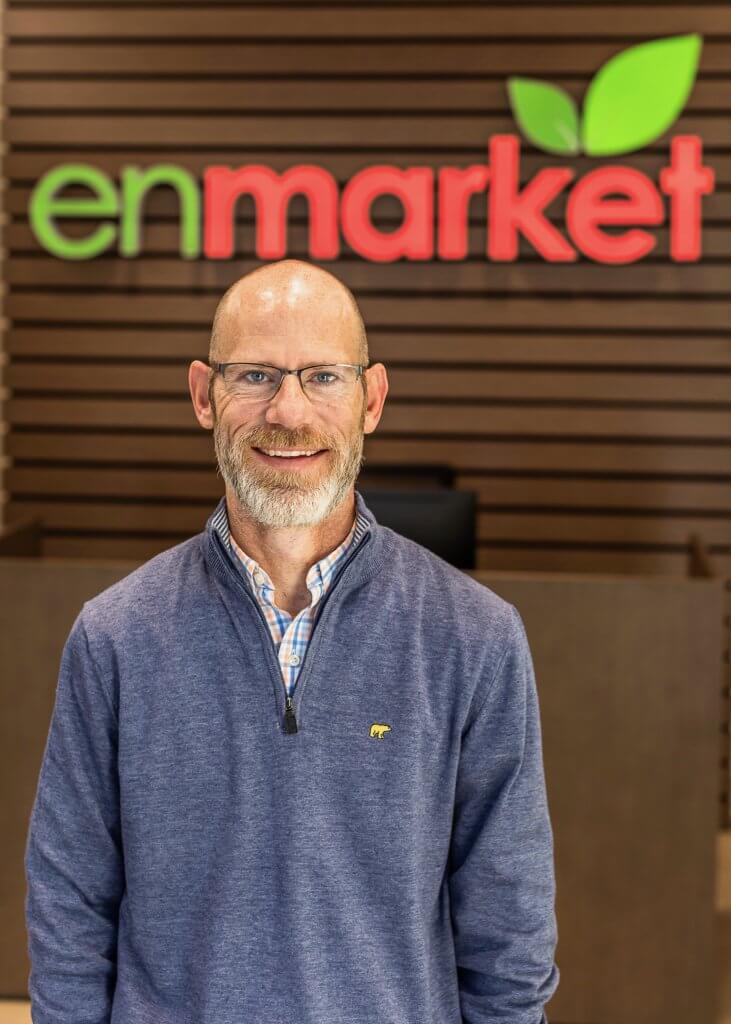 PEACOCK FORD OPENS RENOVATED SPACES IN ORLANDO DEALERSHIP
(ORLANDO, FL) Peacock Automotive is pleased to announce the completion of Phase One renovations on Peacock Ford, and has now reopened its showroom, service and parts departments, sales and support offices and customer lounge. Peacock Automotive acquired the Ford dealership in 2017, expanding its established markets in Georgia and South Carolina to Florida. Peacock Ford is located at 1875 S. Orlando Avenue in Maitland and sits on a 10-acre lot that displays nearly 350 vehicles. For more information, visit http://www.peacockford.com/.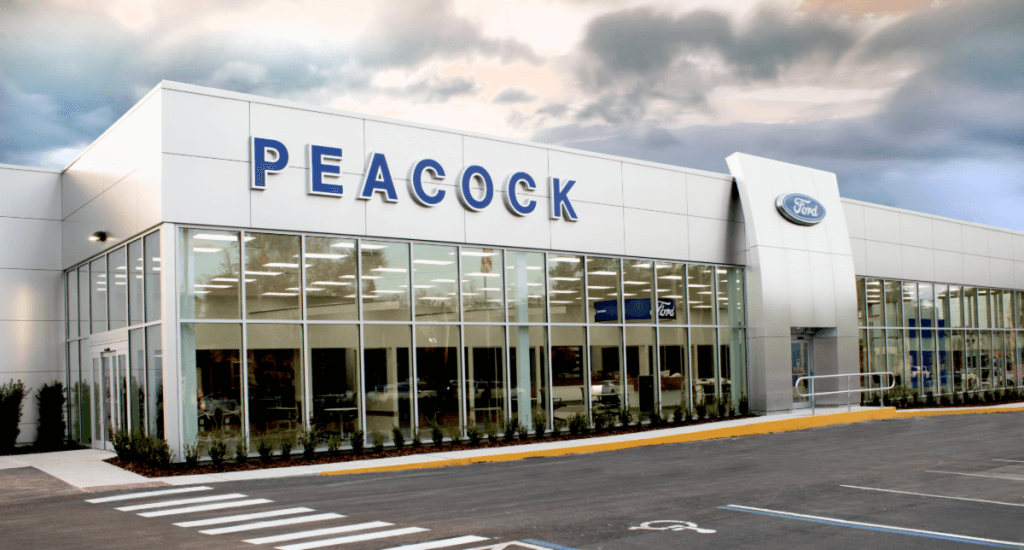 ZUNZIFEST BENEFITS PARK PLACE OUTREACH ON FEB 26
(SAVANNAH, GA) Zunzi's will host Zunzifest on Wednesday, Feb. 26, to benefit Park Place Outreach. Customers can enjoy a free Conquistador or Rising Sun (vegan option) and a chance to learn more about Park Place Outreach's emergency youth programs. A portion of the proceeds from everything else purchased during the event will be donated to Park Place Outreach. For more information, visit https://www.facebook.com/events/497166451204692/.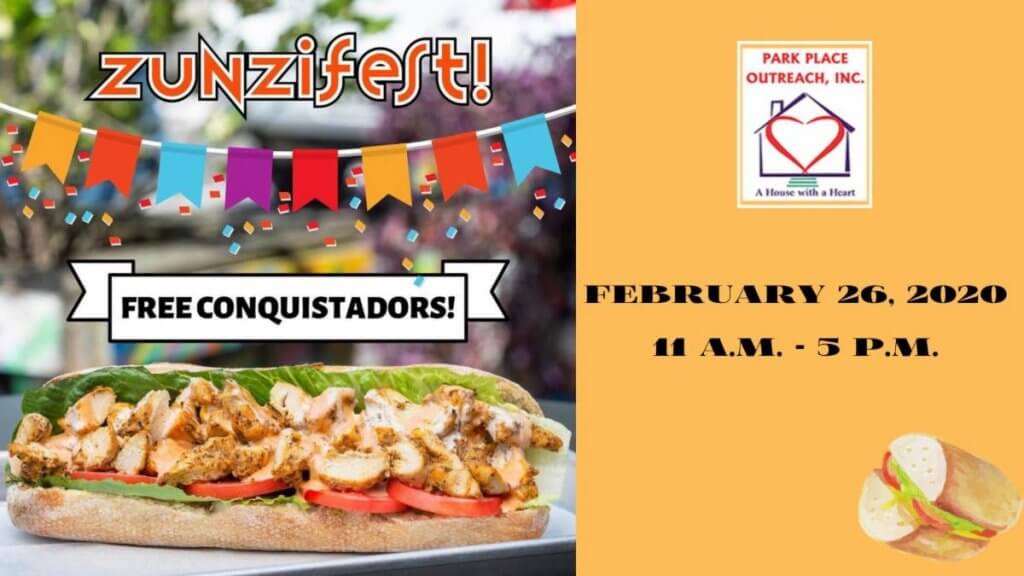 UNION MISSION ANNOUNCES KEYNOTE SPEAKER
(SAVANNAH, GA) Join Union Mission for an uplifting and enlightening evening at the 5th Annual Raising Hope event on Thursday, April 23, at 6 p.m. at the DeSoto Savannah Hotel. The featured keynote speaker will be affordable housing expert Michelle Norris, who is the Executive Vice President of External Affairs and Growth Strategies for National Church Residences of Columbus, Ohio. To learn more visit http://savannahceo.com/news/2020/02/union-mission-announces-keynote-speaker-5th-annual-raising-hope/.
BETHESDA ACADEMY SENIOR RECEIVES SCHOLARSHIP FROM SAVANNAH STATE UNIVERSITY
(SAVANNAH, GA) Bethesda Academy hosted a Signing Day ceremony for senior Nishan Roberson in honor of his full-ride football scholarship with Savannah State University. Roberson has played on the Bethesda Academy football team for three of his four years in high school, having missed his junior year due to a preseason knee injury. Highlights from his senior year include 64 tackles on defense and offensive blocks that accounted for 3,002 rushing yards and 2,017 passing yards. To learn more about Nishan, visit https://www.savannahnow.com/sports/20200206/bethesda-academys-roberson-signs-with-savannah-state.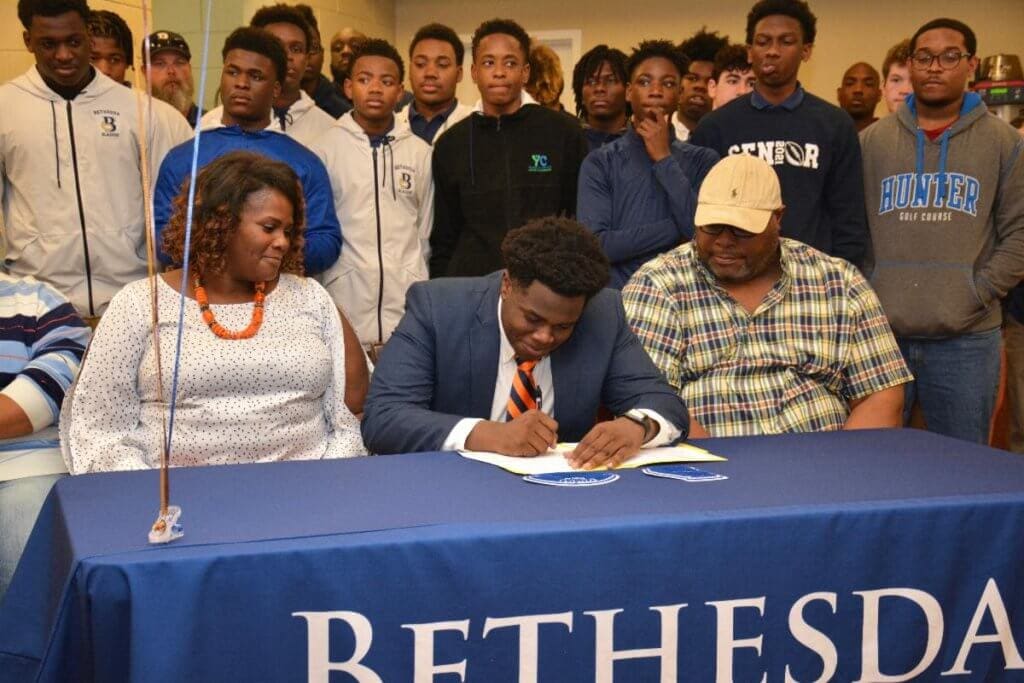 LOWCOUNTRY DOWN SYNDROME SOCIETY CALLS FOR NIGHT OF CHAMPIONS NOMINATIONS
(SAVANNAH, GA) The Lowcountry Down Syndrome Society (LDSS) is seeking nominations and sponsors in preparation for its 11th Annual Night of Champions, a celebration of inclusion successes in the workplace, which will be hosted on Thursday, April 2. To nominate an employee with an inspiring story, to sponsor Night of Champions or to donate a silent auction item, visit https://nightofchampions.org. Nominations will remain open until Friday, March 6.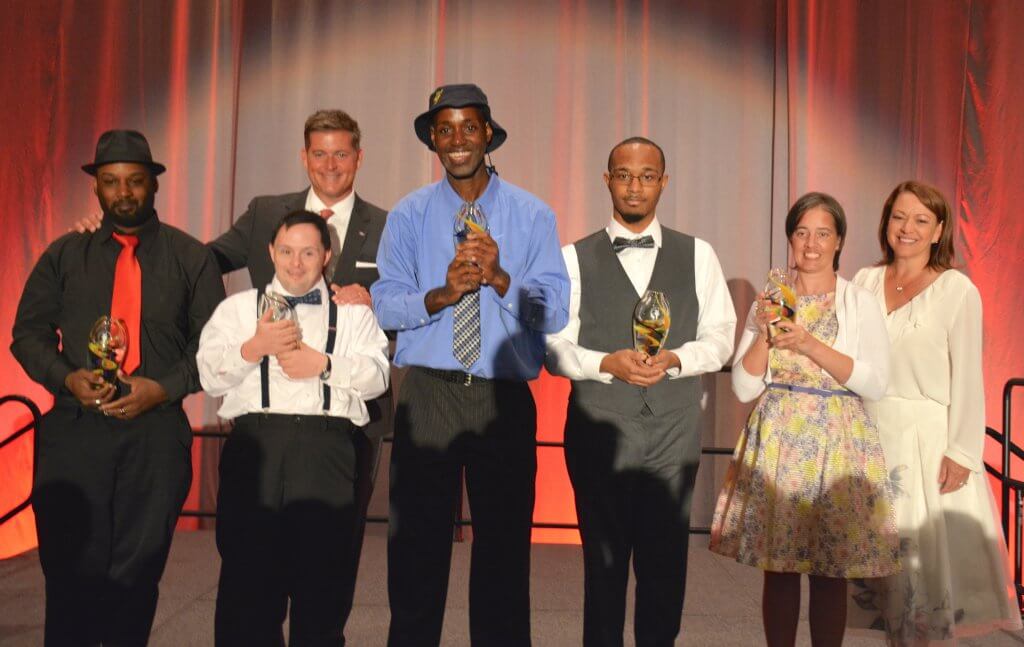 LARGE SCALE EVACUATION PLANNING
(SAVANNAH, GA) On Wednesday, Feb. 19, a Georgia Tech professor and researcher will discuss the best way to execute evacuations at Georgia Tech-Savannah. To hear more about a topic that impacts all of us along the coast, register today at pe.gatech.edu/savannah/leadership-training.
OPEN FOR BUSINESS®: PREDICTIONS AND TRENDS FOR 2020
(SAVANNAH, GA) In the first Open for Business® episode of the new year, our very own Marjorie Young shared her thoughts on six public relations predictions and trends for 2020: increased voice searches; more entertainment such as podcasts and video news releases featured in the news; a greater variety of ways to measure success; more CEOs stepping into the position of subject matter expert; a demand for more earned, third-party media; and an increase in Corporate Social Responsibility. Watch the video below:
BOYS & GIRLS CLUB TO HOST ANNUAL SPRING GALA
(BLUFFTON, SC) The Boys & Girls Club of Bluffton will host its annual spring gala on Saturday, Mar. 14, at the Montage Palmetto Bluff. This year's theme is "Bluffton Built," a celebration of the community coming together to shape the lives of local children and teens. All funds raised will support the Boys & Girls Club of Bluffton's programs. This black tie-optional affair opens at 6 p.m. with a cocktail party and silent auction, followed by a plated dinner, special performances by members of the Boys & Girls Club of Bluffton and a live auction. Guests will be entertained throughout the evening with live music by the Whitley Deputy Band. For sponsorship and ticket information please visit bgcbluffton.org/gala.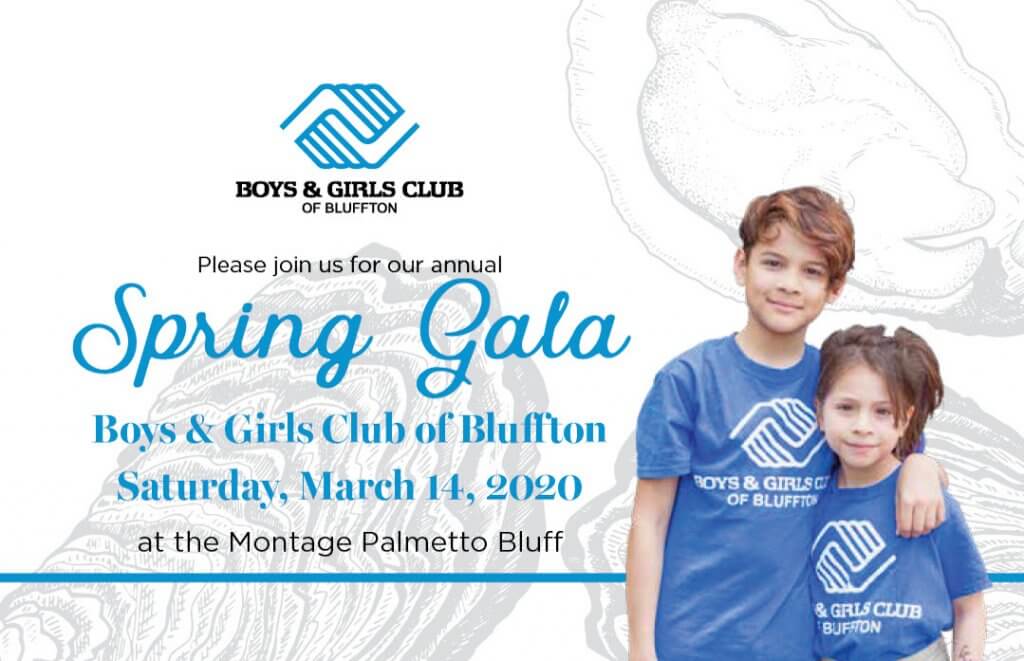 "JEWELS AND JEANS" EVENT
(HILTON HEAD, SC) The Beaufort County Foundation for Educational Excellence will host its annual "Jewels & Jeans" event on Saturday, March 7 from 6 to 9:30 p.m. at Hilton Head Beach & Tennis Club, 40 Folly Field Road. This year's event will honor Kathy Cramer for her passion of providing opportunities to people with disabilities in the community. Proceeds fund innovative teaching grants in Beaufort County's public schools. Grant recipients will be at the event sharing their stories. The evening also features a live auction, great food and entertainment by Deas Guyz. Tickets for the event are available now, but usually sell out quickly. Tickets are $75/person. For more information or tickets, visit www.FoundationEdExcellence.com or call 843-301-7150.
SNEAK PEAK: EQUIPMENTSHARE SAVANNAH NEW LOCATION
(SAVANNAH, GA) EquipmentShare Savannah has a new location in Richmond Hill, and local commercial construction firm the Dewitt Tilton Group has nearly completed the space. To see a preview of the new building, visit https://www.facebook.com/DewittTiltonGroup/videos/866301540481797/.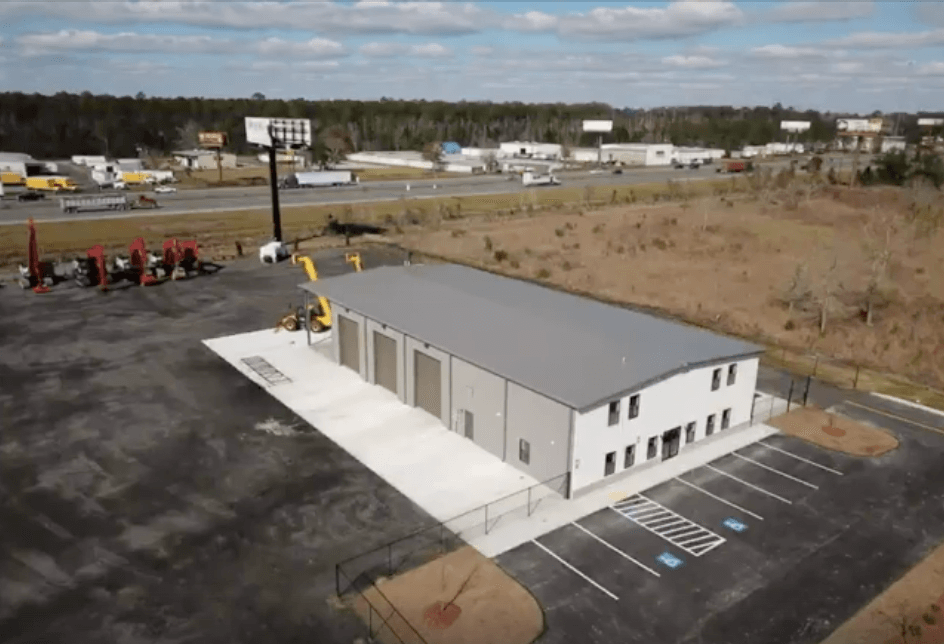 AMERICAN TRADITIONS VOCAL COMPETITION RETURNS
(SAVANNAH, GA) The American Traditions Vocal Competition is returning to Savannah for its 27th Anniversary season. To learn more, visit https://www.wsav.com/community/community-corner-american-traditions-vocal-competition-returns-to-savannah-next-week-for-27th-anniversary-season/.
PARK PLACE OUTREACH HOSTED 36TH ANNUAL GALA
(SAVANNAH, GA) Park Place Outreach hosted its 36th Annual Gala in support of its programs dedicated to fighting youth homelessness in Savannah. Jay Bailey, youth advocate and president and CEO of the Russell Center for Innovation and Entrepreneurship in Atlanta, was this year's keynote speaker. To learn more about the Park Place Outreach Annual Gala and the ways it serves local runaway and homeless youth, visit https://www.wsav.com/community/park-place-outreach-hosts-36th-annual-gala-to-end-youth-homelessness-in-savannah/.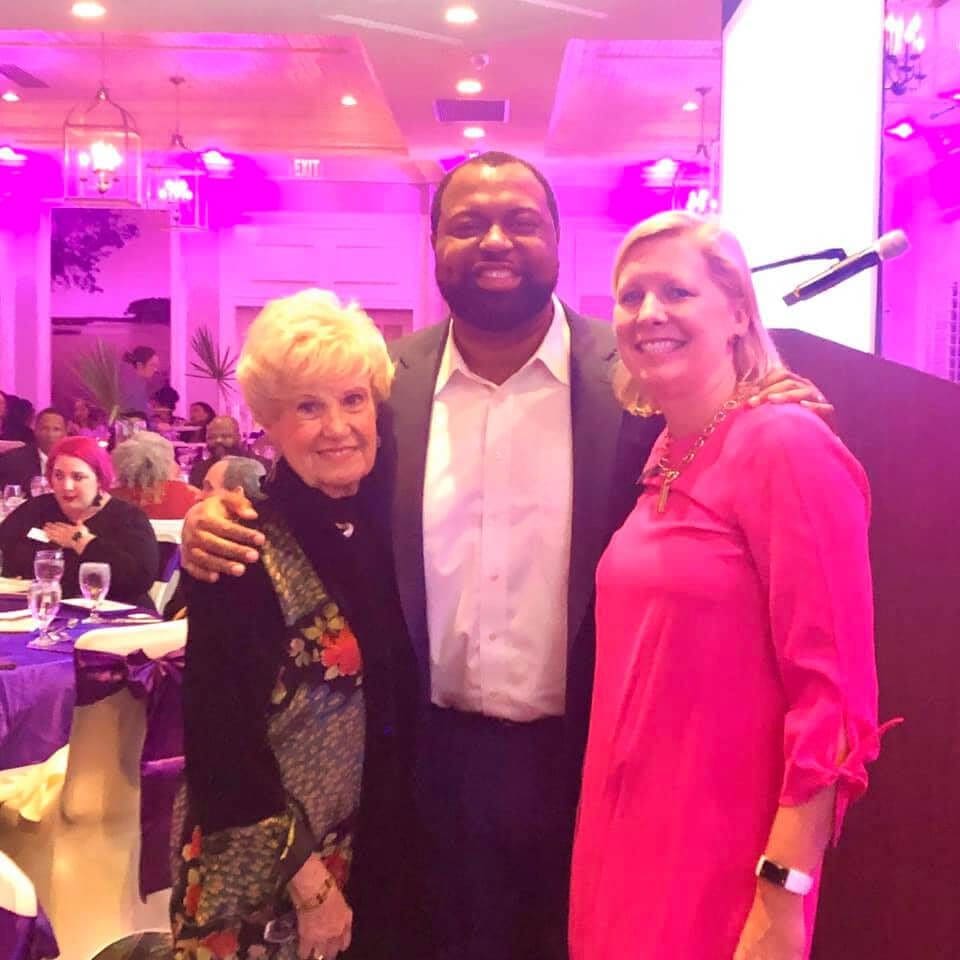 UNION MISSION ANNOUNCES 2020 EXECUTIVE COMMITTEE AND BOARD MEMBERS
(SAVANNAH, GA) Union Mission has selected its 2020 Executive Committee. Hancock Askew & Co. LLP Managing Partner Michael McCarthy will be serving as Chairman, and five new members have been appointed to serve terms through 2022. The new members include Karl Schiefer, Wealth Management Advisor with Merrill Lynch; Brenda Gaines, retired CEO Diners Club NA; Harold Oglesby, President of 100 Black Men of Savannah, Inc.; Kimberly Pannell, President of KWP Consulting, LLC; and Patricia Wright-Owens with Savannah Center for Blind and Low Vision. For more information visit www.unionmission.org.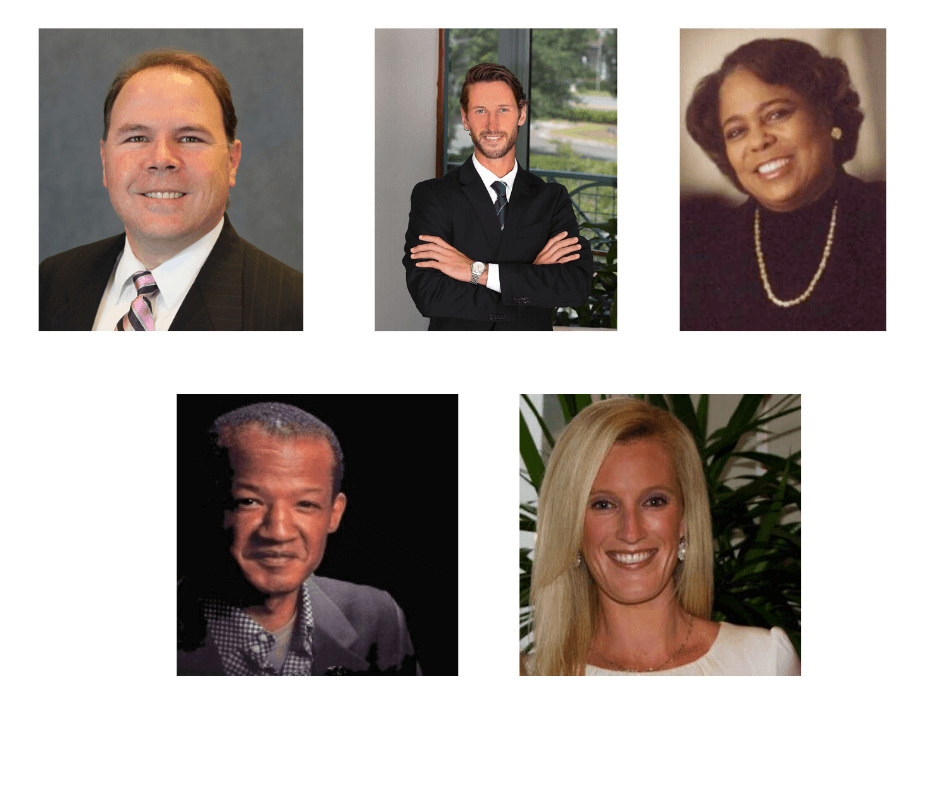 BAD BREATH?
(SAVANNAH, GA) Bad breath isn't just caused by the food you eat – it can also be an indicator of your gum health. Food residue between teeth leads to bacterial growth, which in turn causes bad breath and can indicate the early stages of gum disease. If you are having problems with bad breath, stop relying on mints and come see a dentist: https://www.sandflyfamilydental.com/.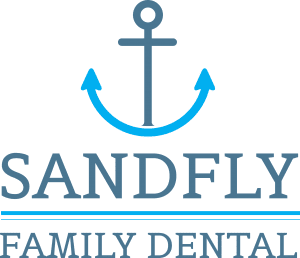 PARK PLACE OUTREACH AWARDED
(SAVANNAH, GA) For the third year, the Mediation Center recognized volunteers and community leaders who support the mediation services, legal resource center, and youth and family programs of the Mediation Center. This year, Park Place Outreach, Inc.'s Executive Director Julie Wade received the 2020 Youth Collaboration Award as a partner willing to work on grants, brainstorm and stand united for youth in Chatham County. For more information or a tour of the Mediation Center, please contact Jill Cheeks, Executive Director, at 912-354-6686.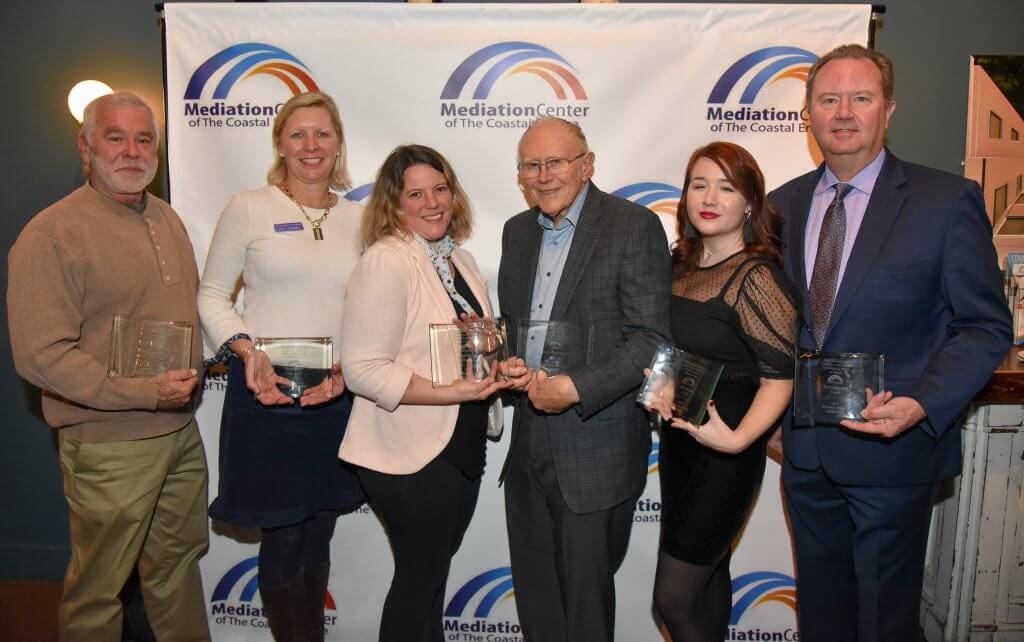 PEACOCK AUTOMOTIVE AND WSAV PAY IT FORWARD TO SENIOR CITIZENS, INC.
(SAVANNAH, GA/BLUFFTON, S.C.) Peacock Automotive and WSAV started the new year with a visit to Senior Citizens, Inc., a nonprofit providing support services for seniors including in-home personal and nursing care, daytime care for those with dementia and home-delivered meals, among other services. To learn more, watch the video below.
MEET POCKET
(SAVANNAH, GA) Meet Pocket! Pocket is a spunky little cutie. She is great with larger dogs, but can be a bit of a bully towards smaller ones. Pocket would do best in a home with bigger kids, as she's going to be a good size dog, with lots of energy. To adopt Pocket or another animal from Coastal Pet Rescue, visit http://coastalpetrescue.org/adopt/view/2019-d-294-pocket/.