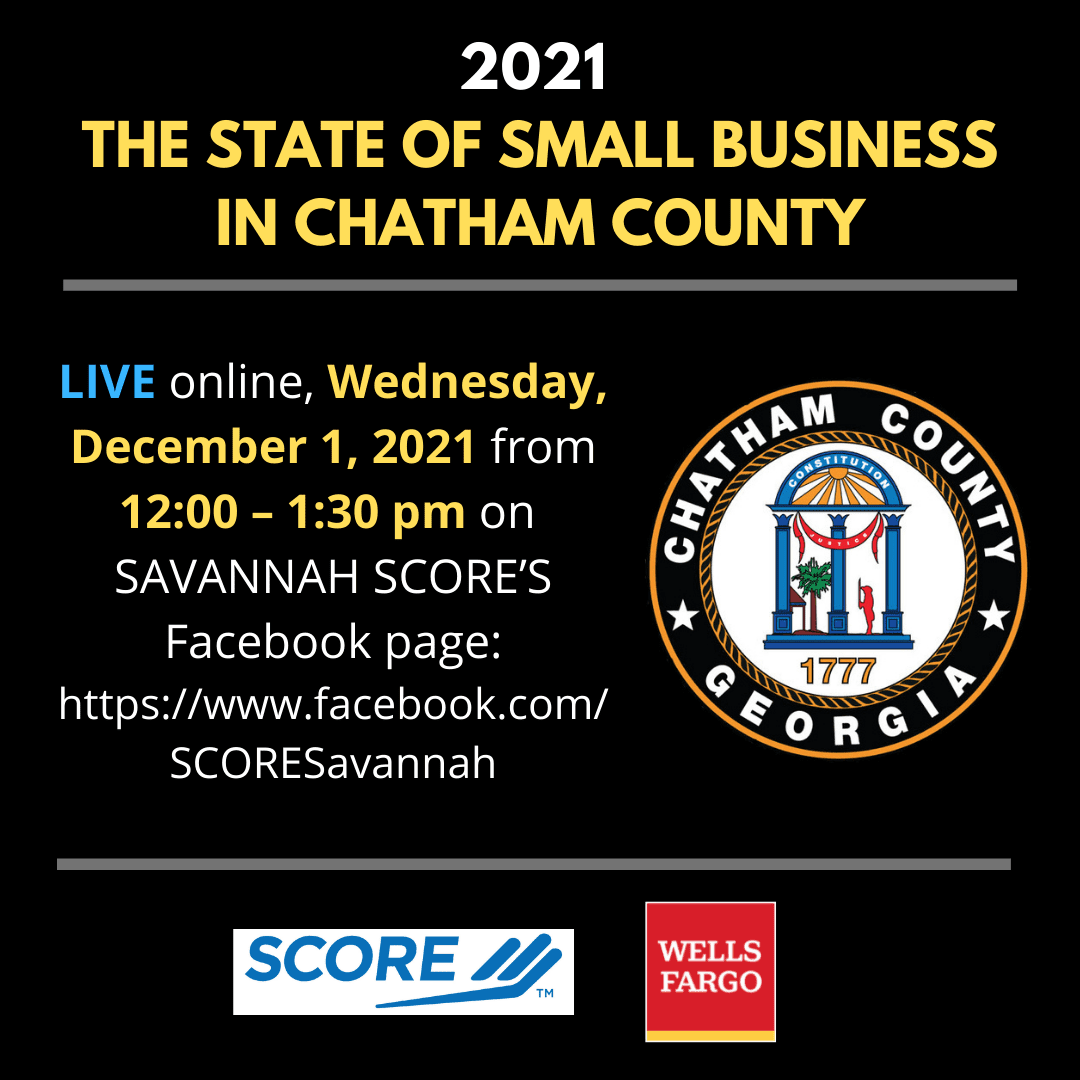 Noon on December 1, 2021, presented by SCORE Savannah and Wells Fargo
(SAVANNAH, GA) The 9th Annual State of Small Business in Chatham County will be presented live online, from 12:00 p.m. – 1:30 p.m. on Wednesday, December 1, 2021, on SCORE SAVANNAH's Facebook page: https://www.facebook.com/SCORESavannah/
Ten area business leaders of different sectors will each have three minutes to present a brief overview of the current situation in Chatham County pertaining to their industries. They will then offer their insights into what this means to the future of Savannah and the small business owner.
The 2021 State of Small Business in Chatham County presenters are:
SPEAKER: Michael Toma, Ph.D., professor of economics, Georgia Southern University in Savannah
Topic: Small Business Employment Stats
SPEAKER: Michael Owens, CEO, Tourism Leadership Council
TOPIC: Tourism Business
SPEAKER: Moncello Stewart, president, Greater Savannah Black Chamber of Commerce
TOPIC: Black Business Owners
SPEAKER: Scott C. Scheidt, chief security officer, Seimitsu IT Services and High-Speed Broadband Fiber
TOPIC: Fiber and Cyber Security
SPEAKER: Rhett Mouchet, associate broker, Colliers International Savannah
TOPIC: Commercial Real Estate Trends
SPEAKER: Mike Rose, Development Liaison Manager, City of Savannah
TOPIC: Local Growth in Construction
SPEAKER: Charles Bowen, corporate / entertainment attorney, The Bowen Law Group
TOPIC: Film Industry in Savannah
SPEAKER: Victoria Saxton, CFO, Small Business Assistance Corporation
TOPIC: Small Business Access to Capital in the Savannah Region
SPEAKER: Lori Pitt, regional manager, Hire Dynamics
TOPIC: Staffing
SPEAKER: Becky Brownlee, area director, Small Business Development Center, UGA
TOPIC: Small Business Survey 2020
The event will be moderated by Marjorie Young and Joe Marchese, founders of The State of Small Business in Chatham County.
The presenting sponsors are Wells Fargo and Savannah SCORE.
Supporting sponsors include The University of Georgia Small Business Development Center, The City of Savannah's Entrepreneurial Center, The Greater Savannah Black Chamber of Commerce, Carriage Trade Public Relations® Inc. and Joe Marchese Construction.
ABOUT WELLS FARGO
Wells Fargo & Company (NYSE: WFC) is a diversified, community-based financial services company with $1.92 trillion in assets. Wells Fargo's vision is to satisfy its customers' financial needs and help them succeed financially. Founded in 1852 and headquartered in San Francisco, Wells Fargo provides banking, investment and mortgage products and services, as well as consumer and commercial finance, through 7,200 locations, more than 13,000 ATMs, the internet (wellsfargo.com) and mobile banking, and has offices in 31 countries and territories to support customers who conduct business in the global economy. Wells Fargo serves one in three households in the United States. Wells Fargo & Company was ranked No. 30 on Fortune's 2020 rankings of America's largest corporations. News, insights and perspectives from Wells Fargo are also available at Wells Fargo Stories. Additional information may be found at www.wellsfargo.com | Twitter: @WellsFargo
ABOUT SCORE
SCORE, with 240 chapters around the country, is the nation's largest provider of free business mentoring and educational programs for aspiring entrepreneurs and small business owners. A resource partner of the U.S. Small Business Administration (SBA), SCORE's 10,000 volunteers, composed of successful entrepreneurs, business owners, and corporate executives, donate over 4 million hours of of their time each year to help small businesses succeed. Savannah SCORE was named SCORE's "2019 Mid-Market Chapter of the Year" and, in 2020, was designated a Diamond Level Chapter, an honor achieved by fewer than 10% of SCORE's chapters. In 2020, Savannah SCORE mentors worked with 832 clients, presented 63 live online workshops attended by over 1,500 people, and helped establish 273 new local businesses. All of SCORE's business mentoring services are provided at no cost. To schedule a free session with a Savannah SCORE Mentor, please visit https://savannah.score.org/content/find-mentor-305. (912)-652-4335
MEDIA CONTACT
Marjorie Young
Carriage Trade Public Relations®, Inc.
marjorie@carriagetradepr.com
912.844.9990
www.carriagetradepr.com