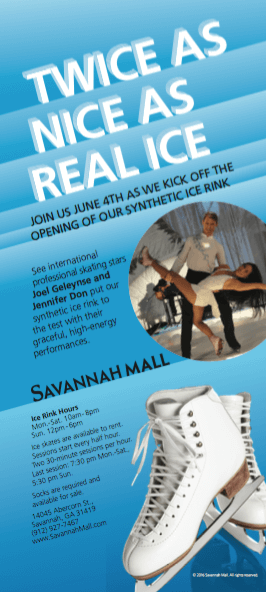 (SAVANNAH, GA) Savannah Mall announces that the summer synthetic Ice Skating Rink at the Savannah Mall will be open starting Saturday, June 4 at 12 p.m. Kick off will feature international professional skating stars skaters Joel Geleynse and Jennifer Don. The synthetic ice rink will be open until August 7. For more info (912) 927-7467 or www.SavannahMall.com.
See international professional skating stars Joel Geleynse and Jennifer Don put the synthetic ice rink to the test with their graceful, high-energy performances.
ABOUT JOE GELEYNSE
Joel Geleynse grew up on a farm south of Ottawa and started figure skating age 12. He competed as part the junior national team and in 1998 won a bronze medal at the Canadian men's national championship. He later moved to southwestern Ontario to pursue pairs skating and has been based in Hamilton since 2006.
Geleynse retired from competitive skating and performed with touring companies and cruise ships for a number of years before he started reality TV. He is currently in the Netherlands to shoot "Stars Dancing on Ice" or "Sterren Dansen op het Ijs" in Dutch. The show is an ice skating competition between professional figure skaters and reality TV stars.
ABOUT JENNIFER DON
Jennifer Don is a Taiwanese American figure skater from Houston, Texas who started skating at the age of 10. Don competed in both the pairs and singles disciplines. She graduated from the University of California, Los Angeles (UCLA) in 2009, where she earned a bachelor's degree in Global Studies.
As a singles skater, Don was the 2001 U.S. national bronze medalist on the novice level and the 2002 U.S. silver medalist on the junior level. As a pair skater, Don won the bronze medal with Jonathon Hunt at the 2003 World Junior Championships. In 2005, she won the Chinese Taipei National Championships.
ABOUT THE SYNTHETIC ICE RINK
The Ice Rink hours are Monday through Saturday from 10 a.m. to 8 p.m. and Sunday from 12 p.m. to 6 p.m. Ice skates are available to rent. Socks are required and available for sale. Sessions start every half hour.
ABOUT SAVANNAH MALL
Originated in 1990, the Savannah Mall, located at 14045 Abercorn St., features anchor stores Bass Pro Shops, Dillard's, Target, Burlington Coat Factory and A.C. Moore. The 960,000-square-foot, two-level mall is also home to Victoria's Secret, Bath & Body Works, Gymboree, Game Stop, Champs, Hibbet Sporting Goods, Kay Jewelers, Shoe Dept., Zales Jewelers, Rue 21, Cato, Savannah Piano, Fitness Emporium, Relentless Records and Vapors Smoke Shop. Virginia College offers a variety of classes in areas such as cosmetology, medical billing, culinary arts, business, healthcare and more. The Savannah Mall's Food Court features Chick-fil-A, Sbarro Italian Eatery, China Max, Sakkio Japan, Cajun Café, American Deli, Sarah Janes Kitchen and Subway. Other dining options at the mall include Ruby Tuesdays and Texas Roadhouse, along with Savannah Candy Co., Cold Stone Creamery and the Nuts About Savannah. The Savannah Mall has a double-decker carousel in the Food Court and soft play area on the lower level for children. For leasing information, contact Becky Orsi, marketing/specialty leasing manager at 912.927.9663 or borsi@urbanretail.com. For more information about the Savannah Mall, call 912.927.7467 or visit www.savannahmall.com. Find the Savannah Mall on Twitter at at @savannahmall.
MEDIA CONTACT
Marjorie Young
Carriage Trade PR
marjorie@carriagetradepr.com
912.844.9990