The Savannah Jaycees to Host Annual Tacky Christmas Sweater Party Benefiting Marine Toys for Tots Foundation
(SAVANNAH, GA) The Savannah Jaycees announce their annual Tacky Christmas Sweater Party will be held on Saturday, December 19 at 7 p.m. on the third floor of Ampersand, located at 36 Martin Luther King Jr Blvd. The event is open to the public. Tickets are $10, which includes light hors d'oeuvres. If guests bring a donation for the toy-drive, the ticket price is $5.
Ampersand's DJ will be the musical entertainment for the evening; however, guests are welcome to take the stage for karaoke performances. During the evening, the Savannah Jaycees will be awarding a prize for the tackiest attire, so guests are encouraged to get creative with their sweaters. There will also be a 50/50 raffle.
A portion of the proceeds raised will go to the U.S. Marine Toys for Tots Foundation. The mission of the U.S. Marine Corps Reserve Toys for Tots Program is to collect new, unwrapped toys during October, November and December each year, and distribute those toys as Christmas gifts to less fortunate children in the Bryan, Chatham and Effingham Counties in Georgia, and Beaufort and Jasper Counties in South Carolina.
Staff Sergeant Riddle, U.S. Marine Toys for Tots Coordinator, said, "I am extremely honored the Jaycees have chosen the U.S. Marine Toys for Tots as the recipient of their annual holiday charity event. It means a great deal to our staff and all involved that the Jaycees have stepped up to help us."
"I am super excited about the Jaycee annual Tacky Christmas Sweater Party to benefit U.S. Marine Toys for Tots," said Cheryl Lawrence, president-elect of the Savannah Jaycees. "I hope the Savannah community will rally around this much needed organization, and come check out who the Savannah Jaycees are and what work we do. Our annual Christmas party is a way for members and non-members alike to have a good time for a great cause."
For more information on the Savannah Jaycees Tacky Christmas Party or to purchase tickets, visit http://savannahjaycees.com/upcoming-events/ .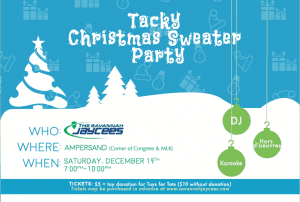 ABOUT THE SAVANNAH JAYCEES
The Savannah Jaycees received its Charter in January of 1942. Our mission: We inspire leadership growth through community involvement. The Jaycees is a national and international organization made of up business men and women between the ages of 21 and 40. The United States Jaycees was founded in 1920. The Jaycee vision is to be the leading global network of active young citizens. The Jaycees was created to provide development opportunities that empower young people to create a positive change. For more information on the Savannah Jaycees, visit http://www.savannahjaycees.com/ or https://www.facebook.com/savannah.jaycees?ref=br_tf
MEDIA CONTACT
Cynthia Wright
Communications Committee Member
cynthia.wright@carriagetradepr.com
912.856.9075