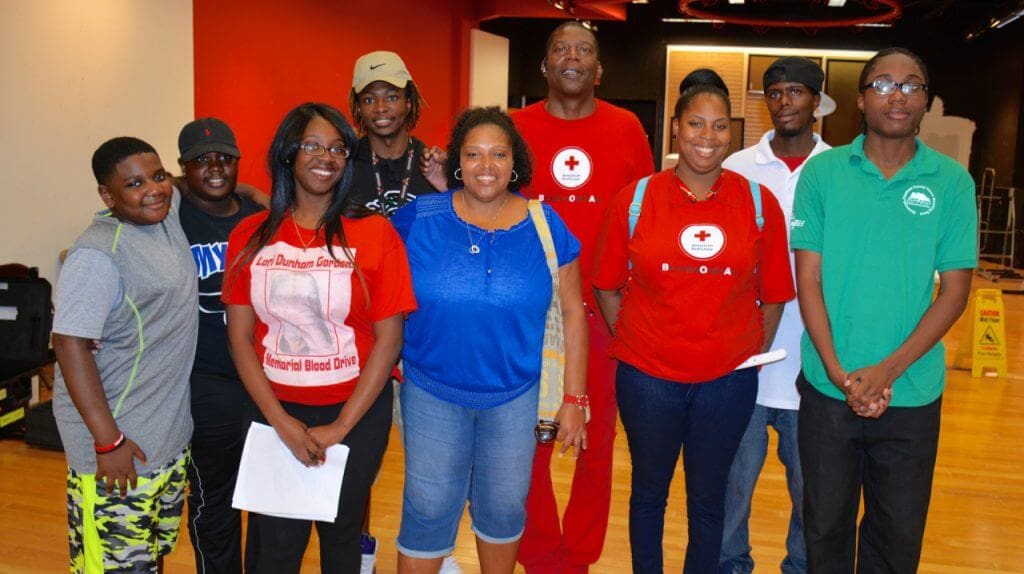 CAPTION: The family and friends of Lori Dunham Gordon at the fourth annual blood drive held at Savannah Mall: (LEFT TO RIGHT) Christopher Kent, Melantra Kent, N'Gell Dunham, Kendrick Walker, Wanda Dunham, Keith Gordon, Marquita Wright, LeRoy Ryans, Raheem Gordon.
(SAVANNAH, GA) The American Red Cross held the fourth annual Lori Dunham Gordon Memorial Blood Drive at the Savannah Mall on the lower level, near Center Court between the Stuff Store and GNC. Donors were entered to win several giveaways. This year's goal for the drive was 25 units.
According to The American Red Cross, every two seconds someone in the U.S. needs blood. One donation can help save the lives of up to three people. Although an estimated 38% of the U.S. population is eligible to donate, less than 10% actually do each year.
"Blood donors play an integral role in the delivery of modern healthcare," said Katie Rudder, American Red Cross Donor Recruitment Representative. "Many life-saving medical treatments and procedures involve blood transfusions and would not be possible without a safe and reliable blood supply."
Donors had to be 17 years or older, and weigh at least 110 pounds. It was suggested that donors drink plenty of fluids, wear clothing with sleeves that can easily be rolled up, and bring a list of medications that may be in their system. For more information about the donation process, visit http://www.redcrossblood.org/donating-blood/donation-process#t1
ABOUT THE AMERICAN RED CROSS BLOOD PROGRAM
Started in 1940, under the leadership of Dr. Charles Drew, the American Red Cross supplies about 40 percent of the nation's blood supply, and provides blood for patients in approximately 2,700 hospitals across the U.S. The Red Cross makes blood available to any patient who needs it — patients are not required to find donors to replace the blood they use (a practice common in Europe and some U.S. blood banks) allowing the patient and their family to focus on recovery. Eighty percent of the blood donations given to the Red Cross are collected at mobile blood drives set up at community organizations, companies, high schools, colleges, places of worship or military installations. The remaining 20 percent are collected at fixed Red Cross donor centers. The American Red Cross works with more than 50,000 blood drive sponsors each year to hold more than 200,000 blood drives, providing convenient locations for people to give blood.
ABOUT SAVANNAH MALL
Originated in 1990, the Savannah Mall, located at 14045 Abercorn St., features anchor stores Bass Pro Shops, Dillard's, Target, Burlington Coat Factory and A.C. Moore. The 960,000-square-foot, two-level mall is also home to Victoria's Secret, Bath & Body Works, Gymboree, Game Stop, Champs, Hibbet Sporting Goods, Kay Jewelers, Shoe Dept., Zales Jewelers, Rue 21, Cato, Savannah Piano, Fitness Emporium, Relentless Records and Vapors Smoke Shop. Virginia College offers a variety of classes in areas such as cosmetology, medical billing, culinary arts, business, healthcare and more. The Savannah Mall's Food Court features Chick-fil-A, Sbarro Italian Eatery, China Max, Sakkio Japan, Cajun Café, American Deli, Sarah Janes Kitchen and Subway. Other dining options at the mall include Ruby Tuesdays and Texas Roadhouse, along with Savannah Candy Co., Cold Stone Creamery and the Nuts About Savannah. The Savannah Mall has a double-decker carousel in the Food Court and soft play area on the lower level for children. For leasing information, contact Becky Orsi, marketing/specialty leasing manager at 912.927.9663 or borsi@urbanretail.com. For more information about the Savannah Mall, call 912.927.7467 or visit www.savannahmall.com. Find the Savannah Mall on Twitter at at @savannahmall.
CONTACT
Katie Rudder
American Red Cross Blood Services, Southern Region
25 Tibet Ave. Savannah, GA 31406
(843) 422-4985 ©
(912) 961-6264 (f)
katie.rudder@redcross.org
MEDIA CONTACT
Marjorie Young
Carriage Trade PR
marjorie@carriagetradepr.com
912.844.9990