Cinnamon Bear Presents Check to MARNE
The Cinnamon Bear Stores Presents Donation of More Than $1,000 to Marne Community and Spouses Club of Fort Stewart and Hunter Army Airfield
(SAVANNAH, GA) The Cinnamon Bear Stores, a family-owned group of high-end gift markets serving the Southeast for more than 20 years, has donated $1,040 to the MARNE Community and Spouses' Club of Fort Stewart/Hunter Army Airfield, a 501©3 non-profit, social and welfare organization that supports the military community through social outreach, academic scholarships and welfare grants.
The donation came from proceeds raised during the Cinnamon Bear Stores grand opening celebrations for their new location in the Twelve Oaks Shopping Center, 5500 Abercorn St.
"Opening our store in this new destination location offering more upscale merchandise is exciting, but having the opportunity to partner with a local organization that helps our military and their families is truly an honor," said co-owner Michael Snaid. "We were blessed by the turnout for our grand opening celebrations, and we are so excited to share this good fortune with the Marne group."
The Cinnamon Bear offered an additional 15 percent discount during the grand opening to those with a valid military ID.
"This is huge for our group," said Nina Elison, president of the Marne group. "The only way we can make a difference in this community is with the help of local businesses and our partners. Michael and Lynne have been very supportive of our mission, and we are most thankful that they chose to celebrate their grand opening by giving back to us."
This is the first of a series of events planned by Cinnamon Bear to support the Marne Community and Spouses' Club. The retailer also plans to launch a holiday writing contest for families of Marne.
During the past two decades, The Cinnamon Bear Stores have become a frequent stop for families vacationing along the Georgia, South Carolina and northern Florida coasts with locations at Harbour Town on Hilton Head, City Market and River Street in Savannah and at Fernandina Beach on Amelia Island.
Along with other Cinnamon Bear stores, the new location offers award-winning gourmet products, gifts, toys and books. The new store also offers luxury brands including Brighton, Vera Bradley, Life is Good, Spartina, Lampe Berger Paris, Baggallini and Beatriz Ball.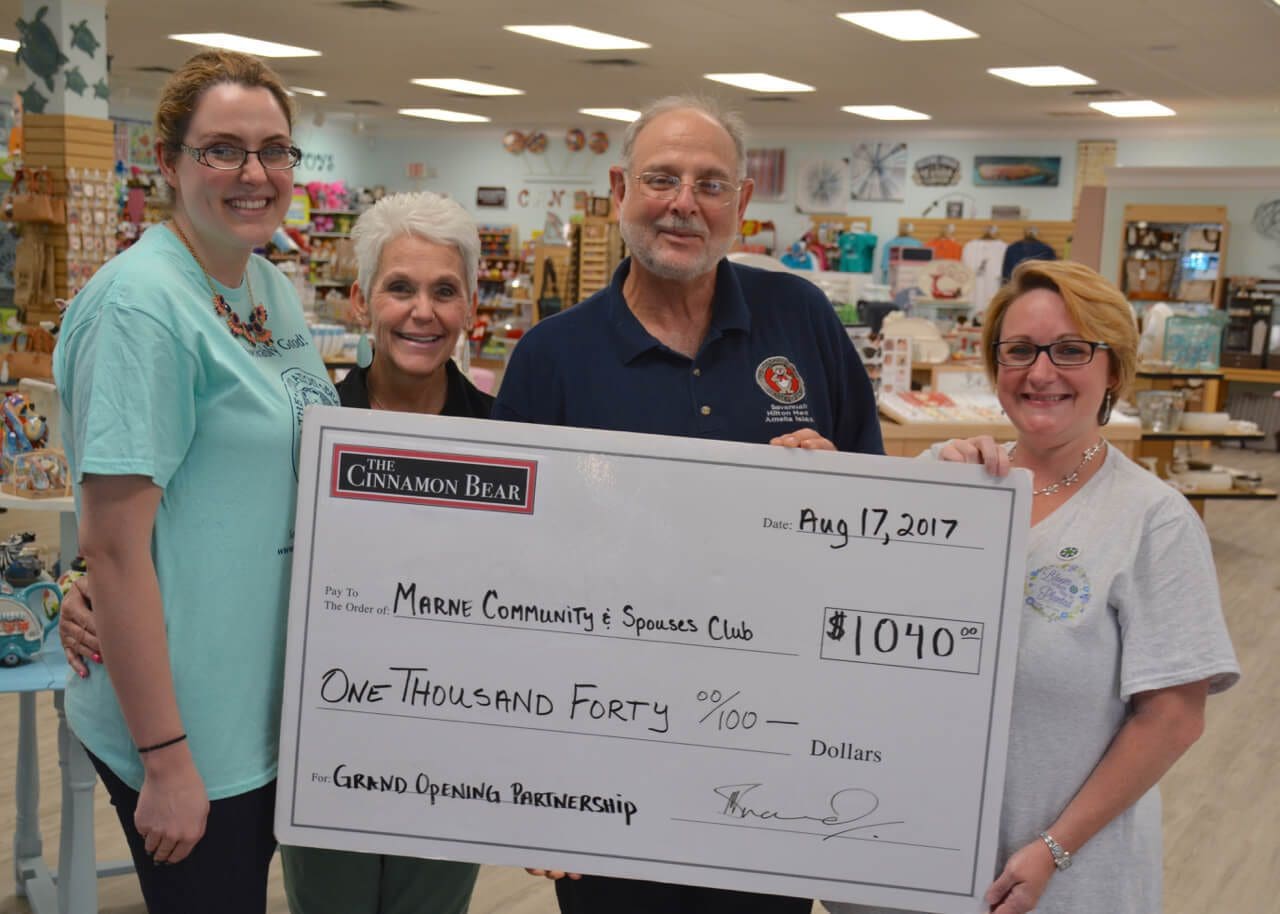 ABOUT THE CINNAMON BEAR STORES
The Cinnamon Bear Stores is a family-owned group of upscale gift markets serving the Southeast for more than 20 years. With locations in Hilton Head Island, Savannah and Amelia Island, The Cinnamon Bear Stores feature award-winning gourmet products, gifts, toys and books; along with a variety of ice creams, coffees and slushies. For more information, contact Michael Snaid at 912-492-6046 or Michael@CinnamonBearStores.com; Lynne Snaid at 912-484-0695 or Lynne@CinnamonBearStores.com; or visit online at https://cinnamonbearstores.com
ABOUT THE MARNE COMMUNITY AND SPOUSES CLUB
The Marne Community and Spouses Club is a non-profit social and welfare organization whose mission is to support Fort Stewart and Hunter Army Airfield families and the greater Marne community. Each year the club contributes to the local community and military families in the form of community outreach, academic scholarships and welfare grants. For more information, visit http://www.marnecommunityclub.com/
MEDIA CONTACT
Cynthia Wright
Cecilia Russo Marketing
savannahpublicrelations@gmail.com 
912.856.9075