Savannah's
COMMUNiTY HEADLiNES
The Local Newswire
COMMUNITY HEADLINES™ LIVE
(SAVANNAH, GA) The Visibility Team is LIVE today at 
9am
–
---
CHATHAM COUNTY BUSINESS UPDATE, Q&A
(SAVANNAH, GA) Helen Stone, county commissioner for District 1 of Chatham County, will present business updates from the past half year on 
Aug. 24 at 10 a.m.
 at Cutters Point Coffee. Event is free. Must RSVP to 
cynthia.wright@carriagetradepr.com
---
ART TOUR ISSUES CALL FOR ARTISTS
(SAVANNAH, GA) Arts Resource Collective of Savannah (ARC) is partnering with Hospice Savannah, Inc. to present this year's Arts and Artisans Tour on 
Thursday, Nov. 2
. The tour features art and artists in several homes in the Historic District. Applications for the juried show can be found at 
http://www.arcsavannah.org/aanda2017
. For more information, contact 
info@arcsavannah.org
---
KICKOFF FOR NEW HILTON HEAD AUDI DEALERSHIP
(JASPER COUNTY, S.C.) Peacock Automotive has announced the opening of a new Hilton Head Audi dealership. The groundbreaking ceremony for the 30,000-square-foot facility will be held 
Tuesday, Aug. 22
, at 
11 a.m.
 For more information, visit 
https://www.peacockautomotive.com/
---
ONE YOUTH EMERGENCY SHELTER IN SAVANNAH
(PARK PLACE OUTREACH) Kids and teenagers sleeping on the street aren't there by choice, and there is a huge gap between services available and services needed. There is only one youth emergency shelter in Savannah. Support Park Place Outreach; learn more at 
http://parkplaceyes.org
---
CODEBASE WITH 1 MILLION CUPS 
(SAVANNAH, GA) During this week's 1 Million Cups, learn about Codebase, a new Savannah start-up that wants to build exceptional products and help Savannah retain tech talent. Participate in a group conversation and meet the team that's offering a nine-week tuition-free iOS training course at 1 Million Cups on 
Aug. 16, 9 a.m.
 Free. 2222 Bull Street.  Similar programs charge as much as $14,900 tuition.
---
TEETH WHITENING SERVICES ARE FAST 
(SANDFLY FAMILY DENTAL) Avoid over-the-counter whiteners that can damage your teeth. It only takes a 20-minute visit to the dentist's office to attain a noticeably whiter smile in a healthy way. Light-activated technology can actually brighten your teeth two to eight shades whiter. For more information, visit 
http://www.sandflyfamilydental.com/
---
TELFAIR MUSEUMS WIN GRANT
(US NEWS & WORLD REPORT) Telfair Museums has won a $250,000 grant to create a new exhibit depicting how slaves lived in antebellum homes.
---
SAVANNAH BUSINESSES AND THE FILM INDUSTRY  
(SAVANNAH, GA) Film Roles Mean Big Bucks for Local Businesses
---
LOCAL RADIO STATIONS RECOGNIZED
(SAVANNAH, GA) Alpha Media, Savannah-Hilton Head has announces that G100 (WXYY) was named "Station of the Year" for Division Radio A/Large market by the Georgia Association of Broadcasters on Aug. 5 at Jekyll Island. In addition to "Station of the Year," G100's Mark "Shark" Ediss took home Georgia's "Best On-Air Personality." In the same category, BOB 106.9 (WUBB) Morning Co-hosts, Tim Leary, Karen "Red" Daiss and Claire Beverly, were recognized with Merit Awards. Rock 106.1 (WFXH) personality, Ryan Koch won a Merit Award for "Best Locally Produced Program Non-News Non-Sports" for his work on "Underexposed," a local new music program. For more information refer to 
www.gab.org
---
(TIME) Why Social Media Users Should Never Lower Their Guard
---
CERTIFICATION IN COMMERCIAL CONSTRUCTION 
(THE DEWITT TILTON GROUP) LEED (Leadership in Energy and Environmental Design) certification is becoming the main standard. 92.2 percent of LEED-certified new construction projects are improving energy performance by at least 10.5 percent. For more information, visit 
http://www.dewitttiltongroup.com/
---
DONATION DRIVE FOR 'KIDS CAFE'
(SAVANNAH, GA) Dr. Angela Canfield, of Sandfly Family Dental in Savannah and Premier Dental Designs in Rincon, has announced her offices will be collecting donations in August for Second Harvest Food Bank's Kids Cafe program, which helps feed area children who have limited food to eat during the school year. For more information, please visit 
http://www.premierdentaldesigns.com
 or  
http://www.sandflyfamilydental.com
---
SAVANNAH UNDER CONSTRUCTION
---
MASTER YOUR MORNING
(INC) Four Ways To Take Charge
---
YOGIS UNITE FOR CAREGIVERS
(SAVANNAH, GA) Savannah Power Yoga is hosting the 2nd annual Yoga Relay on 
Friday, August 18 at 6 p.m.
 Individuals or teams will participate in a relay of one hundred sun salutations at the Edel Caregiver Institute, 6000 Business Center Drive. Registration is $30 per person and includes drinks, appetizers, a silent auction, and an after-party. All proceeds benefit the Edel Caregiver Institute, a program of Hospice Savannah. Register at 
www.SavannahPowerYoga.com/workshops
. To read more about Hospice Savannah, visit 
www.hospicesavannah.org
---
SOLD OUT * ENCOURAGE HEALTH: 'THE GOLDEN HEALERS' 
(SAVANNAH, GA) Wellness company executive Ross Harding will present 'The Golden Healers: A Study of Ginger and Turmeric's Effect on Health' on 
Tuesday, Aug. 22
, during a lunchtime lecture presented as part of the 2017 
Enmarket Encourage 
Health Education Series.  This event will be LIVESTREAMED on Healthy Savannah's Facebook page. For more information, please visit 
http://healthysavannah.org/2017-encourage-health-series/
---
FREE SMALL BUSINESS FINANCING FORUM
(SAVANNAH, GA) The UGA Small Business Development Center in Savannah and the UGA SBDC at Georgia Southern, along with the Creative Coast present a panel of experts to discuss funding options available for your business on 
August 25th
 from 
2 p.m. to 4 p.m.
 Online registration required.  For more information, visit
---
MOVIE MAGIC TAKES LOT OF HELP
(BOWEN LAW GROUP) Savannah is becoming a hot spot for TV and movie productions. But making that magic happen takes a village. The Bowen Law Group can help you negotiate to protect your local union. http://www.thebowenlawgroup.com/
---
ORGANIZE ALL YOUR IDEAS
(INC) How To Create a Social Media Content Calendar
---
SECOND HARVEST SUMMER FOOD SERVICE 
(SAVANNAH, GA) America's Second Harvest of Coastal Georgia is participating in the Summer Food Service Program until 
Friday, Aug. 28
. Meals will be provided to all children without charge at First African Baptist Church at 23 Montgomery Street in Savannah from 
12:30-1:30 p.m.
 and at Good Will Baptist Church at 167 Blandford Street in Rincon from 
6:30-7 p.m.
 Learn more about second harvest at 
https://www.facebook.com/Help.End.Hunger.Ga/
LDSS BUDDY WALK 2017
(SAVANNAH, GA) The 2017 Buddy Walk for the Lowcountry Down Syndrome Society will be held on 
Saturday, October 7
 in Savannah's Forsyth Park with the walk beginning at 
10am 
immediately followed by a Family Fun Festival. This one mile fundraising event raises awareness and funds for local programs that benefit people with Down Syndrome and their families. To learn more about the Buddy Walk or to register, visit 
https://www.facebook.com/lowcountrydownsyndromesociety/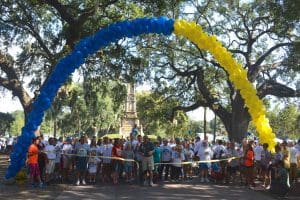 ---
FREE TRIP TO INDIA
(ROTARY DISTRICT 6920) Seeking Rotarians and non Rotarians to submit an application for a month long trip to India starting in mid January 2018. Applications due before September 15, 2017. https://youtu.be/xHNDa88ktD4
---
LOWCOUNTRY WOMEN'S CONFERENCE
---
INTRODUCING STRIPES
(SAVANNAH, GA) Coastal Pet Rescue introduces Stripes, female wirehaired terrier mix who is about 1 year old and needs a forever home. Stripes is a very sweet girl who loves to give kisses and plays well with older children. To view Stripes or any other animal available for adoption, visit: 
http://coastalpetrescue.org/adopt/view/2017-d-278-stripes/