(AUGUSTA, GA) Rotary District 6920 is pleased to announce the election of Ed Presnell of the Rotary Club of Augusta as the new District Governor for 2021-2022. Presnell will oversee 61 clubs in the central, south-central, southeast and coastal Georgia areas.
Presnell has been a member of The Rotary Club of Augusta since January 13, 2003. He served as the 2017-18 President, is a multiple Paul Harris Fellow (+5), and a member of the Paul Harris Bequest Society. He served as a Trustee for the Georgia Rotary Student Program (GRSP) from 2018-2021.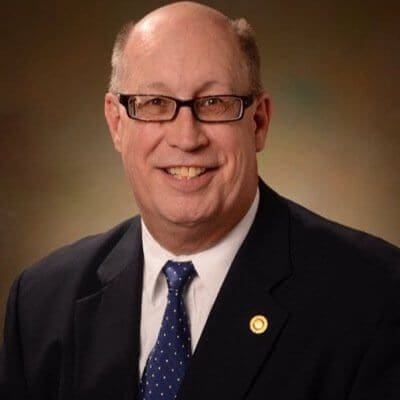 As the District Governor, Presnell will voluntarily strive to engage and inspire 3000 Rotary members and promote Rotary values in local communities throughout District 6920. The theme for the 2021-2022 Rotary year is "Serve to Change Lives."
Presnell shares Rotary's commitment to service through changing lives, stating "It is an extreme honor to be our District Governor for the next Rotary Year. There is no better time than now to promote this year's Rotary International theme 'Serve To Change Lives.' The 60 plus clubs in East, Central and Southeast Georgia include over 2,800 Rotarians who share the Rotary theme and vision, each proudly serving our respective communities. I am truly excited about fulfilling this opportunity."
As a community servant, including his proudest role as President of the Rotary Club of Augusta, he has held eighteen (18) Chairman/President roles in various civic organizations in Augusta. Among these organizations are The Augusta Sports Council, The Imperial Theatre, The Ronald McDonald House of Augusta, and The Augusta Clemson Club. From 2000-2003, he was a member of the Clemson University Board of Visitors.
Among his honors, in 2003 he was an Inaugural Laureate in the Junior Achievement CSRA Business Hall of Fame. He was the recipient of the 17th Annual Dr. Martin Luther King, Jr. 2014 Unity Award from the Alpha Phi Alpha, Augusta Chapter. Receiving his highest professional honor, he was inducted into the African American Credit Union Coalition Hall of Fame (AACUC) on August 7, 2019.
Presnell has been a Regional Business Executive for Peach State Federal Credit Union since June 18, 2018. He is responsible for business development and MSA market presence in the Augusta, Georgia and Aiken, South Carolina areas. He has been an executive within the credit union industry since 2005, having served as Vice President/Chief Administrative Officer with his previous credit union.
Prior to joining the credit union industry, he was the President/CEO with the Augusta Chamber of Commerce for 3 years. That role was preceded by 15 years in the telecommunications industry in the Augusta area, including positions as General Manager with CellularOne of Augusta and Regional Vice President with KMC Telecom.
Presnell encourages everyone in District 6920 to consider becoming involved with his or her local Rotary club. For more information on Ed Presnell and Rotary District 6920, please visit http://www.rotarydistrict6920.org/
ABOUT ROTARY DISTRICT 6920
Rotary District 6920 consists of 62 clubs with a membership of over 2800 Rotary members throughout southeast Georgia including Macon, Augusta, Valdosta, Dublin, Statesboro, Brunswick, Camden County/KingsBay, Tifton, and Savannah. https://www.rotarydistrict6920.org/.
ABOUT ROTARY INTERNATIONAL
Today, over 1.2 million Rotarians belong to 35,000+ Rotary clubs in more than 200 countries. The world's first service club, the Rotary Club of Chicago, Illinois, USA, was formed on 23 February 1905 by Paul P. Harris. The organization's dedication to this ideal is best expressed in its principal motto: Service Above Self. www.rotary.org
CONTACT
Leslie Mattingly
Rotary District 6920 | Marketing Executive
lesliedmattingly27@gmail.com
MEDIA CONTACT
Marjorie Young
Public Image District 6920
marjorie@carriagetradepr.com
912.844.9990