(SAVANNAH, GA) On October 26, Make-A-Wish Georgia and Enmarket partnered to grant one teenager's wish of going to the Walt Disney World Resort in Orlando, Fla.
DeMichael, 13, loves Christmas and Disney World, so it was only fitting Enmarket threw him a Christmas-themed party at its headquarters while surprising him with his wish. His mother said Mickey Mouse is his favorite Disney character.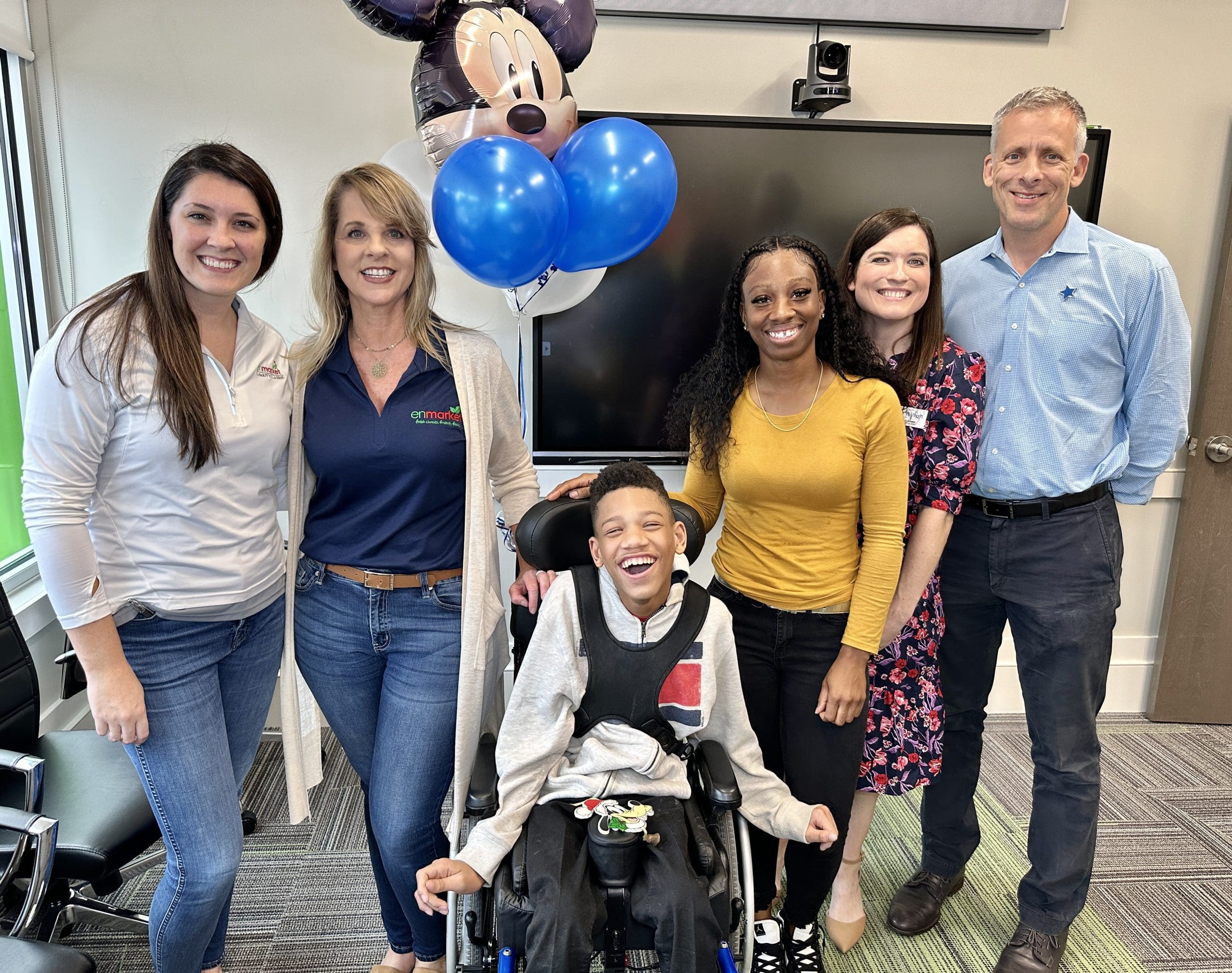 Enmarket is a large supporter of Make-A-Wish Georgia through the annual Enmarket Charity Classic golf tournament.
"We are so thankful for the generous support of Enmarket as they help us ignite hope for our local wish kids like DeMichael," said Meghan Lowe, southeast development director for Make-a-Wish Georgia. "We look forward to celebrating more wishes with Enmarket in the future."
Make-A-Wish Georgia grants wishes of approximately 400 children each year.
"It is an honor for all of us to share this special day with DeMichael and his family and the Make-A-Wish Georgia team," said Matt Clements, president of Enmarket. "Our hope in helping grant DeMichael's wish is that he and his family will be able to look to the future with hope and strength."
DeMichael has cerebral palsy and suffers seizures. He and his family are scheduled to visit Disney World in December.
ABOUT MAKE-A-WISH GEORGIA
Since 1995, Make-A-Wish® Georgia has been granting the wishes of local children facing critical illnesses. More than 20 years later, more than 8,000 wish kids and families have experienced the impact of a life-changing wish. Make-A-Wish Georgia is a movement, powered by you, to renew families and communities with hope and strength. To learn how you can become a part of our story, visit georgia.wish.org.
ABOUT ENMARKET
Enmarket, Savannah's largest convenience store chain, employs more than 1,300 people and operates 129 convenience stores that include 29 Eatery locations in Georgia, South Carolina and North Carolina. The company also operates sixteen restaurants branded as Subway, Larry's Giant Subs, Baldino's, and Fuzzy's Taco Shop, as well as 24 Marketwash car washes. Founded as Interstate Stations by Robert Demere in 1964, the retailer was recognized in 2020 as the "Foodservice Innovator to Watch" by the CSNews Foodservice Advisory Council and noted as one of "the faster growing medium-sized chains in the industry" by Convenience Store News. The company is committed to giving back to the community through many charitable contributions and volunteer efforts; and to offering fresh food, healthy snacks, and competitively priced quality fuel as part of its mission to enrich life. www.enmarket.com
CONTACT
Jeannie W. Amerson
Vice President of Marketing
Enmarket
JAmerson@enmarket.com
MEDIA CONTACT
Marjorie Young
Carriage Trade Public Relations® Inc.
912.844.9990
www.carriagetradepr.com
marjorie@carriagetradepr.com