Enmarket Encourage Health Lecture Disclosed the Facts and Fictions of CBD Oil
(SAVANNAH, GA) Savannah chiropractor Michael Vaughn focused on the facts and fictions of CBD oil during the third presentation of the Enmarket Encourage Health Education Series, held at the Charles H. Morris Center.
Union Mission received the nonprofit grant, which is awarded at each Encourage Health lecture. A healthy lunch was provided to all attendees by Enmarket before the lecture.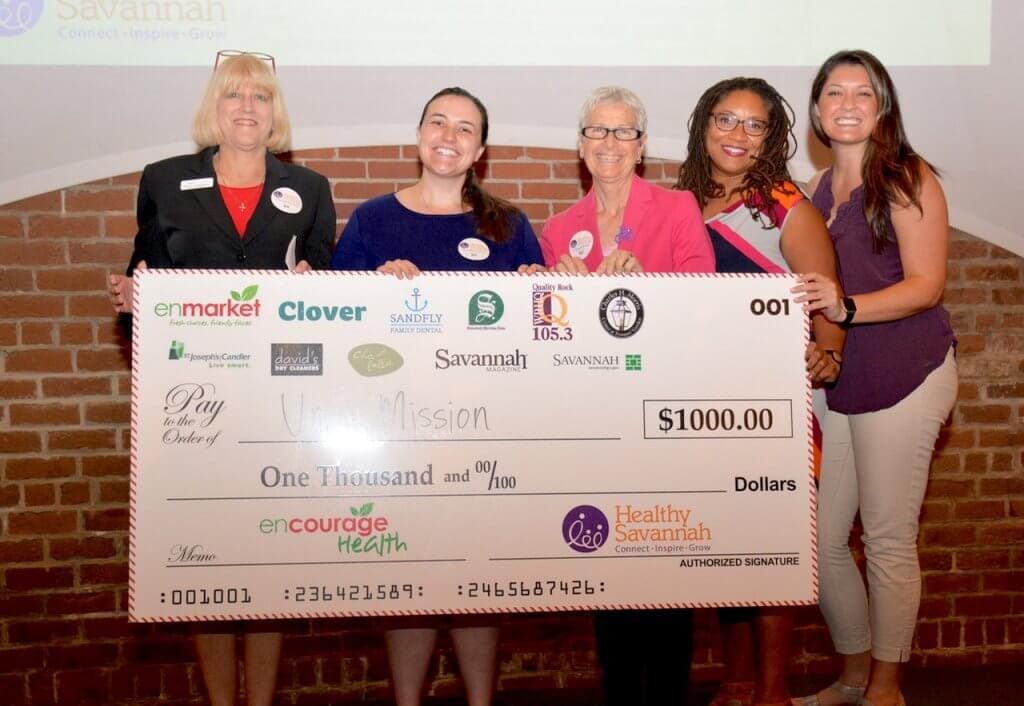 Cannabidiol oil, better known as CBD, is a heavily trending product derived from non-intoxicating elements of marijuana or hemp and sold over the counter for the treatment of a variety of health problems.
In his talk, Dr. Vaughn covered the history of the cannabis plant and gave a brief overview of the human endocannabinoid system before providing examples of the believed benefits of CBD: improved sleep, anxiety reduction, and relief from musculoskeletal pain, brain injury and epilepsy.
Dr. Vaughn also discussed CBD's legal status, safety and marketing. Studies on long-term effects have yet to be completed, but he shared some insights on this developing field.
"This is a fascinating subject that holds the potential to be of great benefit to many people, but the jury is still out on many aspects of CBD oil," Vaughn said. "I believe many people can find relief through CBD products, but I realize it is poorly understood by the public and that many in the medical field are skeptical."
Dr. Vaughn has practiced chiropractic medicine in Georgia for decades. A product of Savannah Christian Preparatory School and Armstrong State College, he graduated from a chiropractic program at Parker College in Dallas, Texas. He completed post-grad work leading to diplomat status with the American College of Chiropractic Neurology. He has worked with world-class competitive athletes, including serving with the USA Weightlifting Federation and serving as treating chiropractor for the Greece Olympic track team during the Atlanta-hosted 1996 Summer Olympic Games. He is currently in private practice at Savannah Chiropractic Center, where he specializes in the diagnosis and management of musculoskeletal disorders and rehabilitation. In addition, he continues to serve in a variety of educational and regulatory roles in his profession.
The Enmarket Encourage Health Educational Series is a wide-ranging presentation of diverse health topics. Previous subjects this year included meditation for stress relief and food insecurity issues in Savannah. The upcoming October presentation will focus on the value of strength training at any age. The popular free series is presented in a lunch-and-learn format, with each session offering the community the opportunity to hear local experts discuss health-related topics in a non-commercial atmosphere.
This marks the sixth year for the series in partnership with Healthy Savannah, the Charles H. Morris Center at Trustees' Garden, Cha Bella, David's Dry Cleaners, the City of Savannah, Clover Health, Sandfly Family Dental, Savannah Morning News, Savannah Magazine, St. Joseph's/Candler and WRHQ.
For more information, visit healthysavannah.org/encourage-health-education-series-august-27-2019/
ABOUT ENMARKET
Enmarket, founded as Interstate Stations by Robert Demere in 1963, is part of Savannah-based Colonial Group, Inc. The retailer operates convenience stores in Georgia, South Carolina and North Carolina and was noted as the industry's "Biggest Mover" in store count ranking by Convenience Store News in 2018. The company is committed to giving back to the community through many charitable contributions and volunteer efforts, offering fresh food, healthy snacks, and competitively priced quality fuel as part of its mission to enrich life. Enmarket currently employs more than 1,200 people and operates 124 convenience stores and 14 quick-serve restaurants as the 54th largest convenience store operator in the country. www.enmarket.com
CONTACT
Matt Clements
Vice President of Marketing
Enmarket
MClements@enmarkstations.com
MEDIA CONTACT
Cynthia Cradduck
Carriage Trade Public Relations®
912.856.9075
www.carriagetradepr.com
cynthia.wright@carriagetradepr.com