Second 2019 Enmarket Encourage Health Series Lecture Explores Food Insecurity in Savannah
(SAVANNAH, GA) Food insecurity issues in Savannah was the focus of the second presentation of the 2019 Enmarket Encourage Health Series.
The presenter was Desirae Suggs, a former Peace Corps volunteer in Costa Rica who is studying to become a registered dietitian. She is a certified personal trainer who has an interest in nutrition and fitness following weight problems she faced earlier in her life.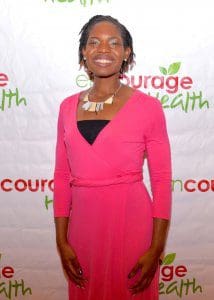 Among her topics was a research study conducted with local food pantries, soup kitchens and Second Harvest in Chatham County to assess how food is distributed and whether it meets the needs of the people those groups serve.
This marks the sixth year for the Enmarket Encourage Health Education Series conducted in partnership with Healthy Savannah, St. Joseph's/Candler, Clover Health, David's Dry Cleaners, Sandfly Family Dental, the Charles H. Morris Center at Trustees' Garden, Cha Bella, the City of Savannah, Savannah Morning News, Savannah Magazine and WRHQ.
ABOUT ENMARKET 
Enmarket, founded as Interstate Stations by Robert Demere in 1963, is part of Savannah-based Colonial Group, Inc. The retailer operates convenience stores in Georgia, South Carolina and North Carolina and was noted as the industry's "Biggest Mover" in store count ranking by Convenience Store News in 2018. The company is committed to giving back to the community through many charitable contributions and volunteer efforts, offering fresh food, healthy snacks, and competitively priced quality fuel as part of its mission to enrich life. Enmarket currently employs more than 1,200 people and operates 124 convenience stores and 14 quick-serve restaurants as the 54th largest convenience store operator in the country. www.enmarket.com
MEDIA CONTACT 
Matt Clements
Vice President of Marketing
Enmarket
MClements@enmarket.com