Savannah Architecture Firm, Felder & Associates, Celebrates Five-Year Anniversary
(SAVANNAH, GA) Felder & Associates is celebrating its fifth year of bringing clients' visions to life. Specializing in historic preservation, commercial architecture, adaptive reuse architecture, corporate interior design, high-end residential design, green building, and neo-traditional building, the firm has an extensive background working with owner-occupied- private, commercial and residential properties.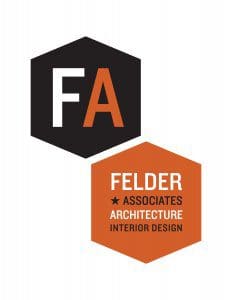 "It all began with four employees back in 2012," said managing principal Brian Felder. "Now we have seven, soon to be eight, employees. We've worked on dream houses, corporate headquarters and restaurants. Our design efforts revolve around bringing to life that person's, couple's or company's vision."
The staff of Felder & Associates are LEED accredited architects and interior designers who focus on sustainability and have been recognized with a number of awards. In 2017 alone, the firm received the ENR Southeast's Award of Merit for the Bouhan Falligant building along with two preservation awards from the Historic Savannah Foundation for work on two restaurants, Atlantic and Vic's on the River.
Civically, Felder serves Savannah in a number of ways. He was recently elected as chair of the Historic Savannah Foundation Board of Trustees and also serves as chair of the Revolving Fund which is used to purchase and protect historic structures throughout the City's historic districts.
"We're thankful for the progress that we've made this year and the things that we've been able to accomplish," said Felder. "We're looking forward to another year of remaining a small and committed firm to all of our clients in and around Savannah. New projects include a new office building for Speros, the Savannah African American Art Museum, Metro North Presbyterian Church in Goose Creek, and a new sanctuary for Sacred Heart Catholic Church in Vidalia. Spreading out into the region has provided us with even more opportunities."
Other recent projects include the design of the new Pooler Corpus Christi Catholic Church and the design of the new YMCA facility in Statesboro.
The Virginia Beach, Va., native graduated from Virginia Tech with a bachelor of architecture. He and his wife, Denise, have three children and live in Savannah.
ABOUT FELDER & ASSOCIATES
Established in 2012, Felder & Associates specializes in historic preservation, commercial architecture, adaptive reuse architecture, corporate interior design, high-end residential design, green building and neo-traditional building. The firm has a staff of LEED accredited architects and interior designers who focus on sustainability. Locally, Felder & Associates is a member of the Savannah Chamber of Commerce and Historic Savannah Foundation. The firm is nationally connected in the American Institutes of Architects, the American Society of Interior Designers and the United States Green Building Council. Felder & Associates is a member of the International Interior Design Association. In 2014, Felder & Associates received a historic preservation award from the Historic Savannah Foundation and the best architecture firm award from Savannah Magazine. Felder & Associates recently completed the Bouhan Falligant corporate office building at Forsyth Park. The firm is located at 2514 Abercorn St. Suite 110, Savannah, GA 31401. For more information or to contact Felder & Associates, call 912-777-3979, or visit www.felderassociates.net
For more information, contact:
Carrie Harvill
912.777.3979
carrie@felderassociates.net
Media inquiries, contact:
Cynthia Wright
Junior Partner
Carriage Trade Public Relations®
Cecilia Russo Marketing
912.856.9075
www.carriagetradepr.com 
cynthia.wright@carriagetradepr.com