Savannah, GA, January 24, 2022 – The public is invited to help plant 30 new Live Oak trees on Wormsloe State Historic Site's "Avenue of Oaks," located at 7601 Skidaway Road. The event will start at noon on Saturday, February 19, 2022. A brief ceremony will precede the plantings near the brown fence by the Visitor's Center. Holes will be dug in advance of the ceremony by SavATree, making it easier for volunteers to help plant the 12-foot-tall saplings. This event will happen rain or shine.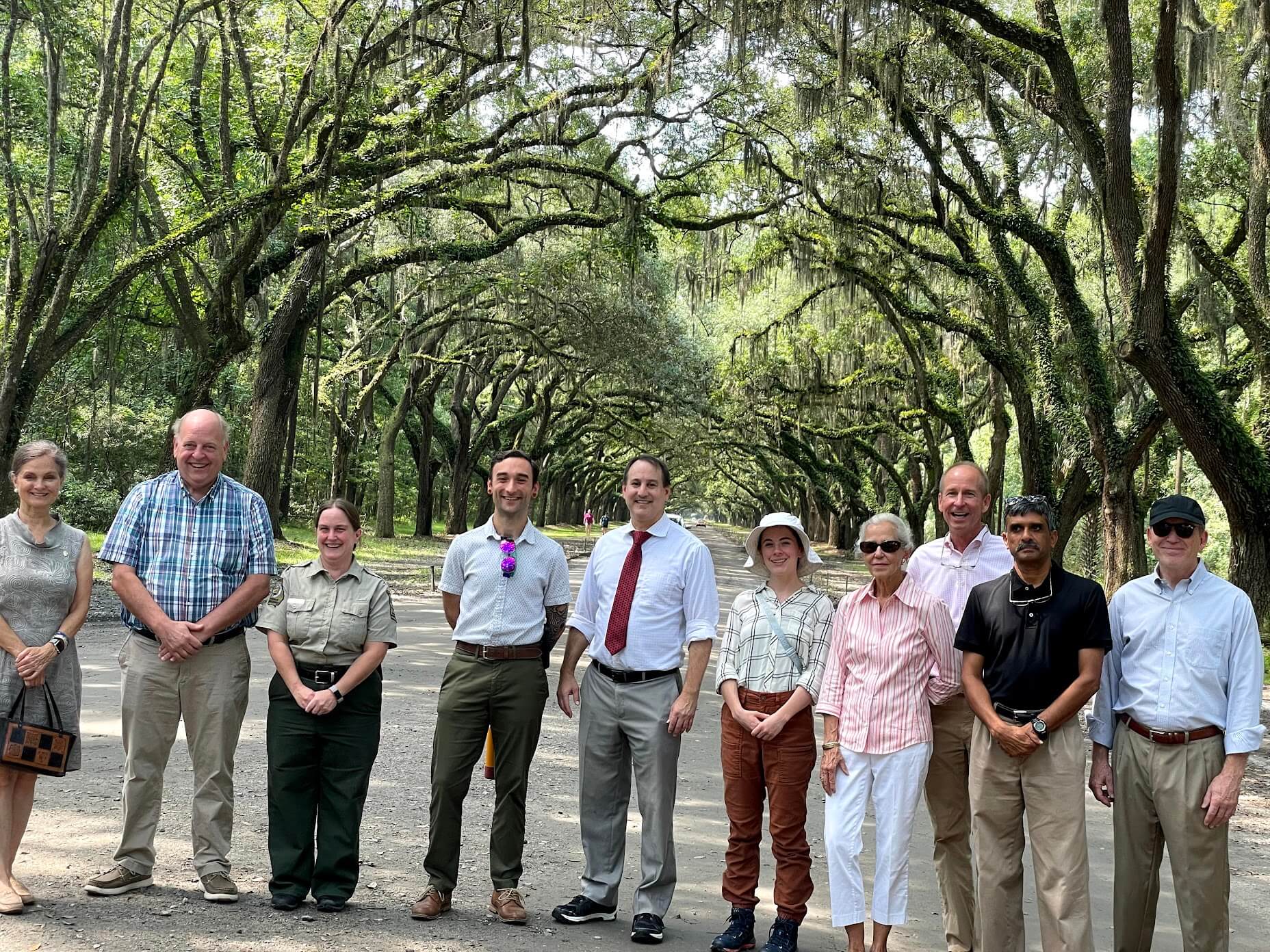 The one-and-a-half-mile Live Oak lined avenue at Wormsloe State Historic Site was planted in the 1890s by Noble Jones' descendant Wymberley Jones DeRenne. This breathtaking natural wonder was planted to celebrate the birth of his son Wymberley Wormsloe, the 6th generation of the family to reside at Wormsloe since its establishment in 1736. Wormsloe has set a goal to replace all missing Live Oaks by 2024. Over the past 130 years, 75 trees that have died from disease or storm.
The city of Savannah and Chatham County have rallied around supporting this project and support has been strong to ensure that this local icon will be here for the next 130 years.
The community is invited to help place the trees into the ground on Saturday, February 19 at noon. No RSVP is necessary, but volunteers will be asked to complete a waiver form to participate.
This event has been a large collaboration, with community organizations and individuals: The Rotary Club of Savannah, The Savannah Tree Foundation, Friends of Wormsloe State, Barbara Pearson, SavATree, Savannah Country Day School and the Isle of Hope Marina.
Wormsloe State Historic Site welcomes more than 115,000 visitors annually, more than any other
Georgia State Historic Site. It is located 9 miles southeast of downtown Savannah at 7601 Skidaway Rd,
Savannah, GA 31406. For more information, visit GaStateParks.org/Wormsloe or call 912-353-
3023. Georgia's State Historic Sites are operated by the Georgia Department of Natural Resources.
ABOUT THE FRIENDS OF GEORGIA STATE PARKS (Parent organization of FRIENDS OF WORMSLOE STATE HISTORIC SITE)
The mission of Friends is to partner with, promote and preserve Georgia State Parks & Historic Sites. Statewide, Friends works to raise awareness of the economic and intrinsic values of Georgia's greatest treasures. We work with state and community leaders to help make sure that our natural and cultural resources are well protected, well maintained and well preserved for generations to come.
At the local level, more than 50 chapters work with their respective sites to support individual projects and programs. Statewide, volunteers contributed more than 75,000 volunteer hours last year. That equates to an in-kind value of over $1.5 million. In addition, our chapters raise funds to support local projects and programs that help make our parks and historic sites some of the best in the nation. www.friendsofgastateparks.org
ABOUT THE SAVANNAH TREE FOUNDATION:
Savannah Tree Foundation is a 501c3 whose purpose is to protect and grow Chatham County's urban forest through tree planting, community engagement, and advocacy. Trees are integral to Savannah's identity. They are community assets that shade our common spaces, cool air temperatures, absorb stormwater, sequester carbon, support tourism, boost property values, and much more.
Founded in 1982, the Savannah Tree Foundation is the oldest urban and community forestry organization in the State of Georgia. The organization relies on donations and gifts to support its work and the future of Savannah's trees. To learn more, please visit savannahtree.org.
ABOUT THE ROTARY CLUB OF SAVANNAH:
The Rotary Club of Savannah includes 219 community leaders and volunteers. Over the past 107 years, the club has championed local and regional developments that include completing the road to Tybee Island, improving the Savannah River for commercial traffic, enhancing the Dixie Highway system in southeast Georgia and building bridges over the Savannah and Altamaha Rivers. Most recently, in recognition of its 100th anniversary, the club raised funds and built an all-accessible playground in Forsyth Park. Meetings are held each Monday from 12:30 p.m. to 1:30 p.m. at the DeSoto Hotel, 15 E. Liberty St. For more information, visit www.savrotary.org.