(SAVANNAH, GA) The Gretchen Greene School of Dance (GGSOD, LLC/TNT) held a grand opening and ribbon cutting celebration for its new studio. During the event, donations were collected for Healthy Savannah.
Located at 1007 Bryan Woods Loop on Whitemarsh Island, near the intersection of Bryan Woods Road and Highway 80, the new studio was designed and built by the Dewitt Tilton Group to provide more space and more accessibility to accommodate the different levels and needs of the students.
"We are so proud of our new studio's spacious design which will allow us to share the art of dance with more students in Savannah," said co-owner Travis Dodd. "Encouraging health and wellness is one of our missions at Gretchen Greene School of Dance, so being able to help Healthy Savannah through our grand opening celebration was a win-win."
When Gretchen Greene (now Gretchen Dodd) completed her run as one of the famous Radio City Music Hall Rockettes in New York City, she returned to her hometown of Savannah and opened her first studio in 1969. Now almost 50 years later, she is joined by her two grown children, Trina and Travis, who are proud to help Gretchen achieve her dream of sharing the joy of dance with students, their families and the community.
"We were honored to work on this project because we know it will positively touch so many lives in our community," said Kim Thomas, director of operations at Dewitt Tilton Group. "What makes the new dance studio stand out is not only the flow and function of the building but the curb appeal. The new facility features a fully covered, two-lane drop-off and pick-up station for the dance students."
"The team at Dewitt Tilton Group has been great with solving problems during the design build," added Dodd. "They helped us with real estate and closing issues, enabling the process to go smoothly and efficiently."
The ribbon-cutting ceremony and grand opening celebration were free and open to the public. For more information or to contact the Gretchen Greene School of Dance, call 912.897.4235 or visit http://www.ggsod.com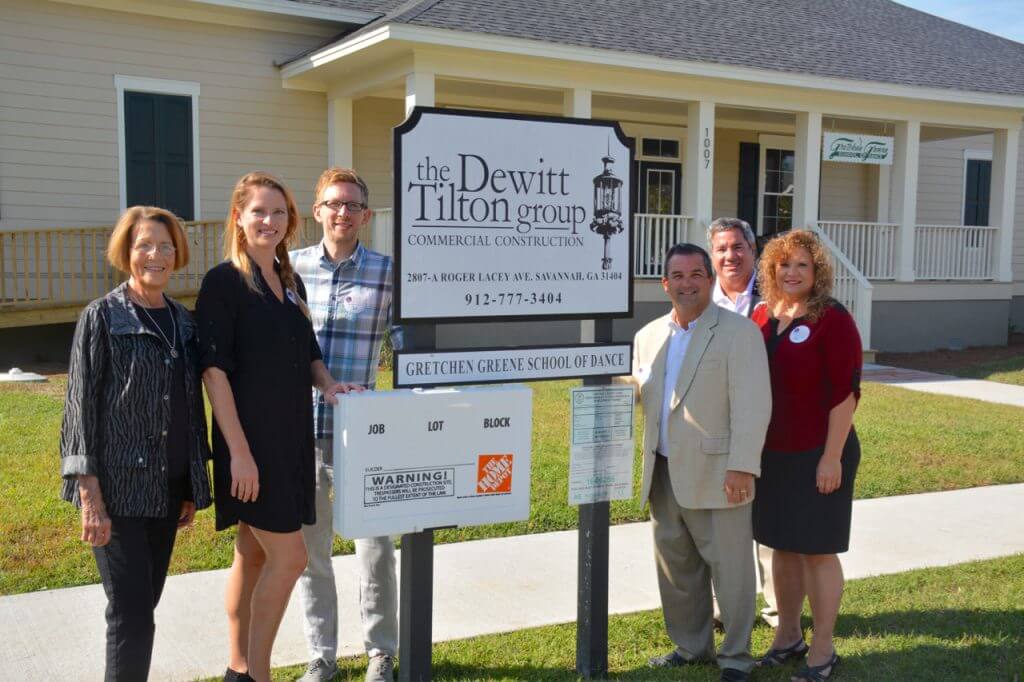 (LEFT TO RIGHT) Gretchen Greene, Trina Dodd, and Travis Dodd of the Gretchen Greene School of Dance stand beside Chris Tilton, Andrew DeWitt and Kim Thomas of The Dewitt Tilton Group.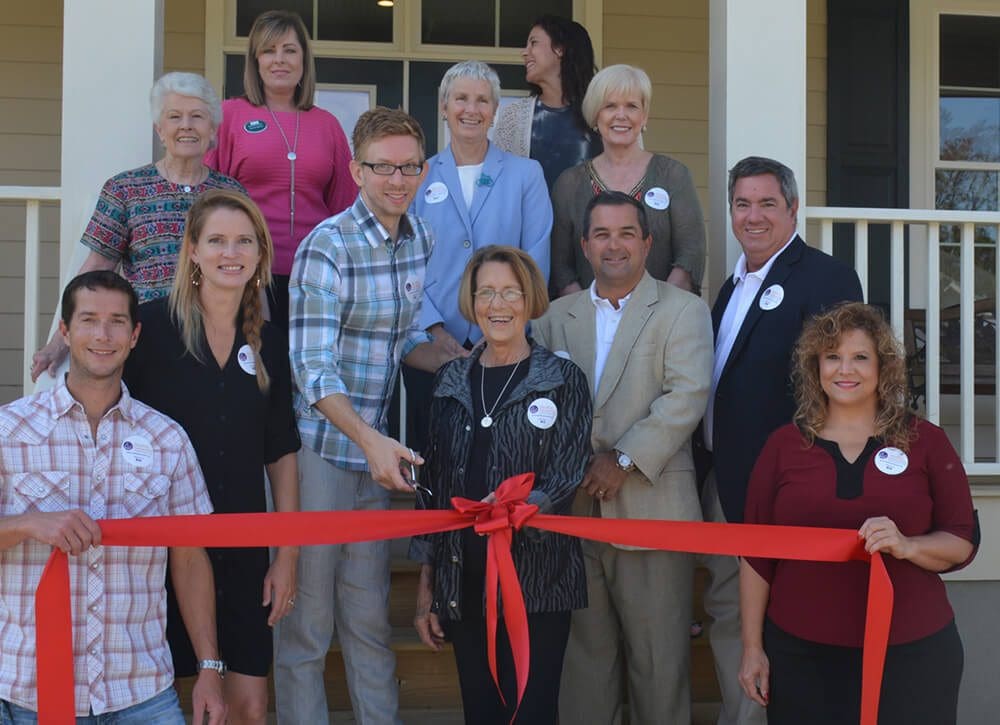 Beside their mother, Gretchen Greene (FRONT CENTER), Trina and Travis Dodd (FRONT LEFT) cut the ribbon on the new Gretchen Greene School of Dance studio. The Dewitt Tilton Group completed this project two weeks ahead of schedule. The construction firm's founders are pictured to the right: Chris Tilton (FRONT RIGHT in the khaki suit next to Gretchen) and Andrew Dewitt (RIGHT in a black suit next to Tilton). The Director of Healthy Savannah, Paula Kreissler, is also pictured (MIDDLE CENTER).
MORE INFORMATION ON GRETCHEN GREENE SCHOOL OF DANCE
When Gretchen Greene (now Gretchen Dodd) completed her run as one of the famous Radio City Music Hall Rockettes in New York City, she returned to her hometown of Savannah and promptly opened her first studio. The doors have been open ever since. She is now joined by her two grown children, Trina and Travis, who are proud to help Gretchen achieve her dream of sharing the joy of dance with students, their families and the community.
The location of the new studio is at 1007 on Whitemarsh Island, near the intersection of Bryan Woods Road and Highway 80.
For more information or to contact the Gretchen Greene School of Dance, call 912.897.4235 or visit http://www.ggsod.com
MORE INFORMATION ON DEWITT TILTON GROUP
The Dewitt Tilton Group, a premier construction firm located in Savannah, Ga., specializes in commercial construction. The principals, Andrew Dewitt and Chris Tilton, have more than 50 years of combined experience in the local construction industry.
The firm manages every aspect of a commercial project from pre-construction to the final walk through. Known for using only highly reputable contractors, the Dewitt Tilton Group brings to the table design, engineering and construction capabilities that guarantee a smooth construction process for each client. The firm is located at 2807-A Roger Lacey Avenue, Savannah, GA 31404. For more information or to contact the Dewitt Tilton Group, please call 912.777.3404 or visit http://www.dewitttiltongroup.com
CONTACT
Trina Dodd
Gretchen Greene School of Dance
912-897-4235
trina@ggsod.com
http://www.ggsod.com
Kim Thomas
Dewitt Tilton Group
912-777-3404
kim@dewitttiltongroup.com
MEDIA CONTACT
Cynthia Wright
Director of Communications
Carriage Trade PR
Cecilia Russo Marketing
912.856.9075
http://www.carriagetradepr.com 
cynthia.wright@carriagetradepr.com