(SAVANNAH, GA) Healthy Savannah invites you to, The Perfect Pour, a Fundraising event on Thursday, March 30 at 5:30 to 7 p.m. Healthy heavy hors d'oeuvres and special wines will be served. Event is free.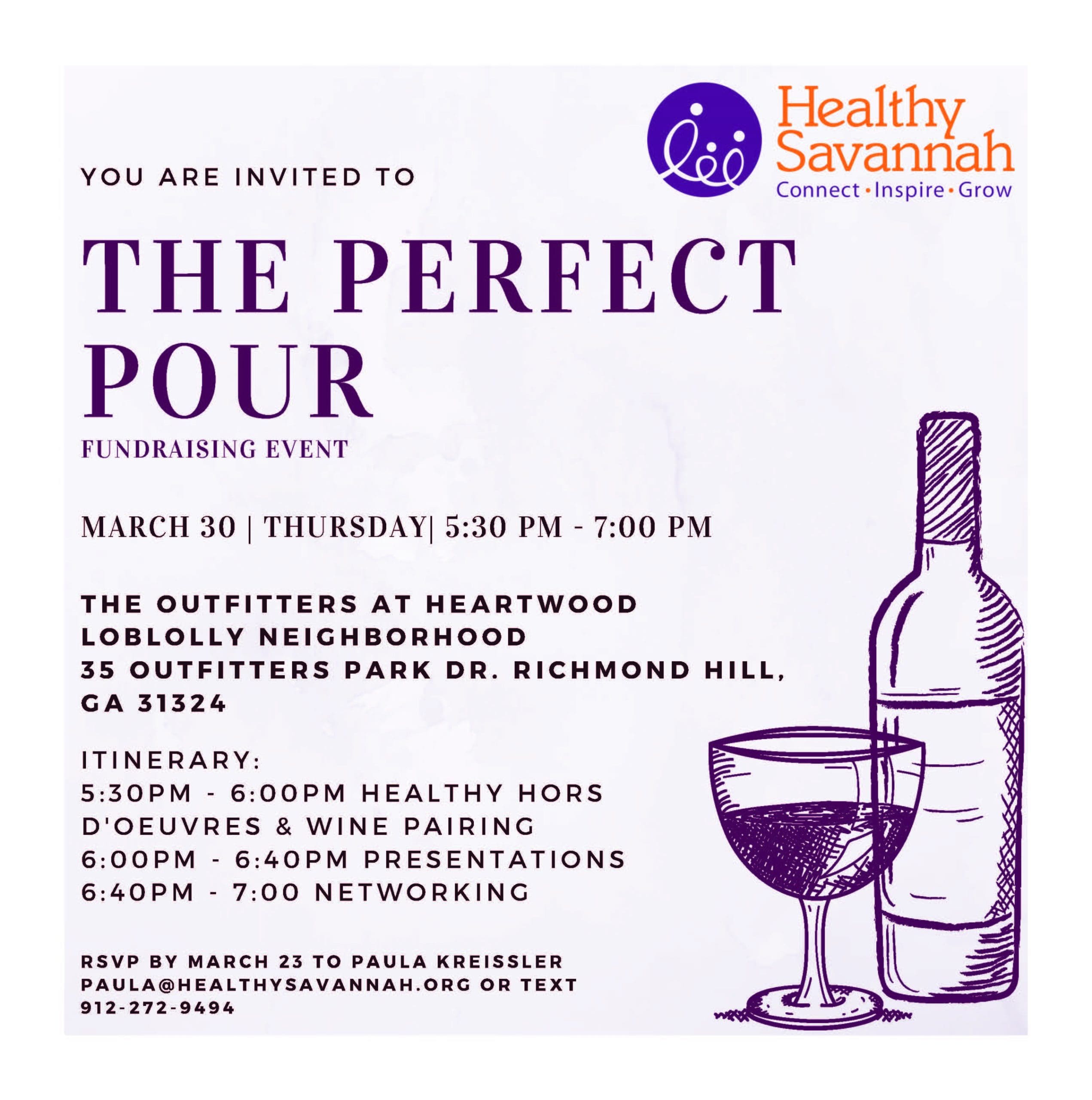 The event will take place at the Outfitters at Heartwood in the Loblolly neighborhood, located at 35 Outfitters Park Drive in Richmond Hill.
RSVP by Friday, March 24 to Paula Kreissler at paula@healthysavannah.org or 912-272-9494.
Funds donated will go toward the mission of creating an environment that makes a healthy choice the easy choice.
ABOUT HEALTHY SAVANNAH
Healthy Savannah, a 501©3 public charity is a public/private coalition of over 150 businesses, nonprofits, faith-based organizations, schools, neighborhood organizations, and healthcare and government agencies, It began as an initiative of City of Savannah Mayor Otis Johnson, formed in 2007. Healthy Savannah leads and supports a culture of health in the Savannah area by creating an environment that makes a healthy choice the easy choice; building a collaborative network that identifies and shares resources; collecting and disseminating information, promoting best practices and implementing innovative programs, and advocating for effective policies. Since its inception, this innovative, cross-sector collaboration has vastly benefited the community as evidenced by numerous multi-agency projects, grants and policy initiatives that have emerged from the initiative to create and sustain a Healthy Savannah. For more information, visit www.healthysavannah.org
MEDIA CONTACT
Marjorie Young, CEO
Carriage Trade Public Relations®, Inc.
marjorie@carriagetradepr.com
912-844-9990