Matthew Reardon Center for Autism Selects Representative Ron Stephens as Award Recipient
(SAVANNAH, GA) State Representative Ron Stephens was at the Matthew Reardon Center on November 2, 2018 at 9am for the announcement that he is the recipient of the prestigious Marie McGaughey Childhood Philanthropy Award due to his long history serving as a powerful champion for Georgia's children, particularly those with developmental disabilities like Autism.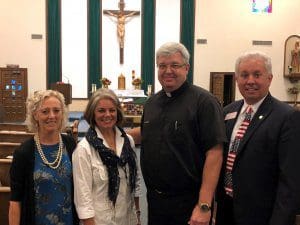 "Ron was a natural pick for this award," said Kim Reardon, founder and Director Emerita of MRCA. "He is always ready to lead the fight for positive change in this community." President and CEO Patti Victor continues, "Ron has been a consistent and effective advocate for quality healthcare and access to vital support services for children with autism and other developmental challenges."
The award will be formally presented at the 2019 Autism Conference at the Savannah Convention Center on March 1, 2019.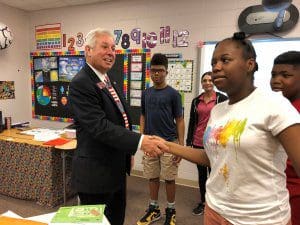 State Representative Ron Stephens (R-Savannah) represents the 164th District in the Georgia House of Representatives. Ron is the Chairman of the House Economic Development & Tourism Committee and has served in the House for twenty-one years. He is also a member of the Appropriations, Rules, and Ways and Means Committees.
"Ron has a long history with the Matthew Reardon Center," said CEO Patti Victor. "It was very moving to watch him as he toured our wonderful new facility and met and talked with students. Ron was a champion for us when we started 18 years ago in a few clinical rooms, later when we moved to carved-out office space and, now, as we begin a new era of serving southeast Georgia's autism community in this beautiful school setting. We – our students, families and community – owe great gratitude to the Chatham Legislative Delegation for their ongoing support and to St. Francis Cabrini Catholic Church, host at our new location."
Representative Stephens is a graduate from Armstrong State & Mercer University with a degree in Pharmacy. He and his wife, Janice, have two daughters, Karen and Ashlin, two grandsons, Walker Reese and James "Beau" William Dukes, IV and one granddaughter, Ivey Carolina.
For these reasons and many others, the Matthew Reardon Center is pleased to announce that Representative Ron Stephens will receive this prestigious award.
ABOUT THE MATTHEW REARDON CENTER FOR AUTISM (MRCA):
MRCA operates southeast Georgia's only accredited year-round day school for children with autism. They have provided advocacy and outreach services to more than 900 families across southeast Georgia and have hosted professional training and instructional opportunities for more than 4,500 family members, educators, health professionals and self-advocates. The organization was incorporated in 2000 and currently serves 27 students through ADVANCE Academy. They have 14 full-time employees and operate in an 8,800 sq foot school building, formerly St. Francis Cabrini Catholic School, located at 11500 Middleground Road, Savannah, GA 31419. Website: http://www.matthewreardon.org/ (912) 355-9098