(SAVANNAH, GA) Three representatives of the Savannah area initiative funded by the CDC's Racial and Ethnic Approaches to Community Health (REACH) Grant were featured presenters at the 2022 National Health Outreach Conference held May 4-6 in Kansas City, Missouri.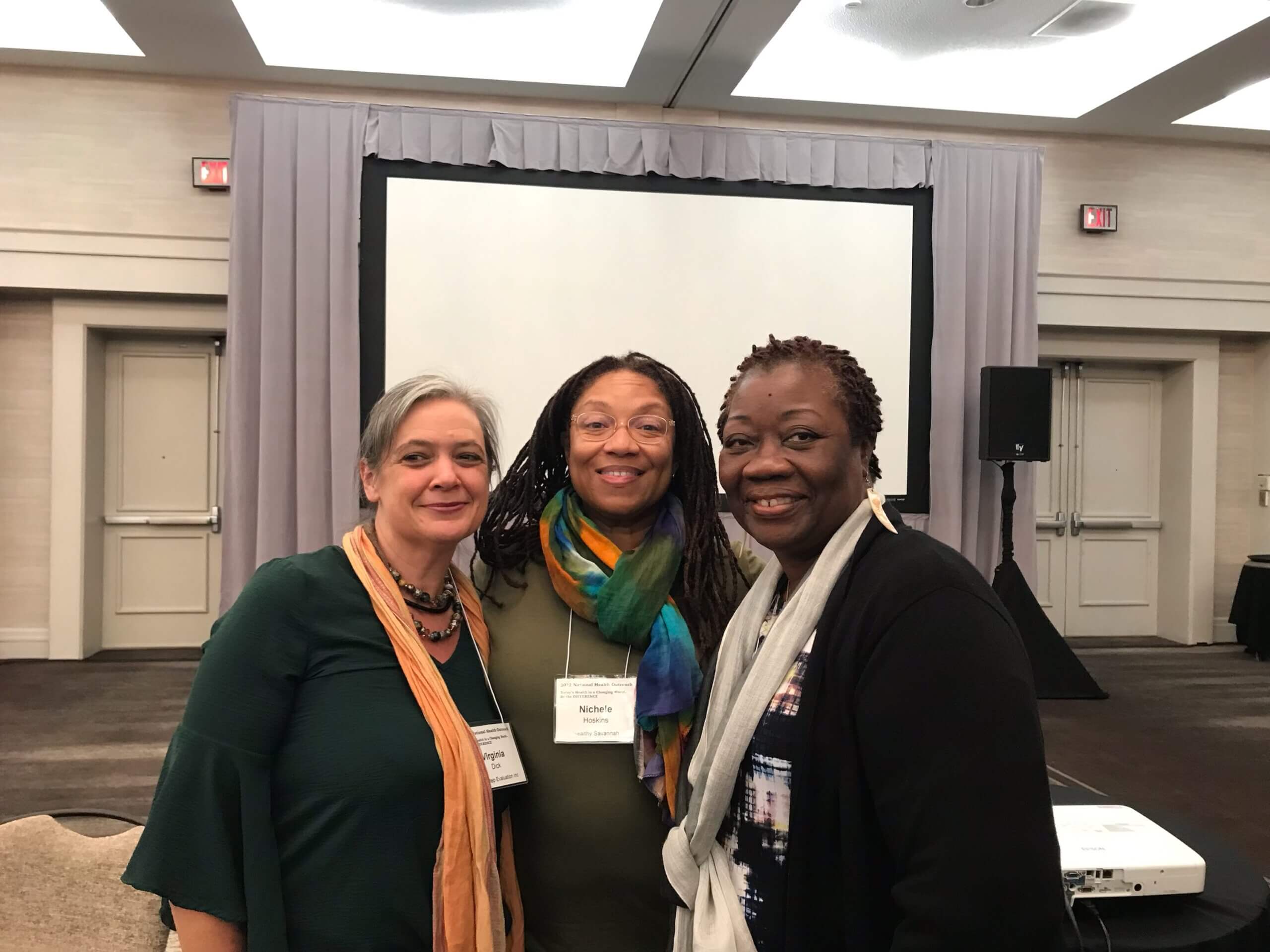 Elise Smalls, PhD, and Nichele Hoskins of Healthy Savannah, and Virginia Dick, PhD, an evaluation consultant working alongside Healthy Savannah and the YMCA, joint administrators of the REACH grant in Savannah and Chatham County, addressed conference attendees on how the grant funds are making a difference for local priority populations.
"I presented on the successful efforts of the Forsyth Farmers' Market to connect farmers and community members, particularly those who are at high risk of food insecurity and nutrition insecurity. They also learned about the successes of our local Farm Truck 912 mobile farmers' market and our Food Farmacy nutrition education program," said Dick. "I answered questions and engaged with attendees from all over the country to share what we have learned in developing and implementing these programs. In addition, I gathered ideas about how to continue to expand what we are doing to better serve our communities and connect with and work with community members."
Smalls and Hoskins spoke on utilizing the community engagement spectrum to address health equity and their development of a specialized training program for community members to address COVID-19 and flu vaccine access, awareness and acceptance in Chatham County's priority neighborhoods.
"Our training program has so far enabled 35 Chatham County residents to reach deep into their own communities to hear concerns, perspectives and experiences with the COVID vaccine," said Smalls. "We shared our findings with conference attendees about how a community-centric approach to outreach can strengthen trust for community organization and community needs."
With the vision of a community committed to supporting a culture of health, Smalls and Hoskins explained how community surveys, listening sessions and multiple sources of qualitative and quantitative data were used to develop strategies that best meet the needs of different communities.
"Community outreach can nurture a legacy of health and address racial health inequities and increase learning opportunities for all stakeholders," said Hoskins. "Achieving that is more likely if learning is bi-directional."
With the theme of "Today's Health in a Changing World: Be the Difference," the National Health Outreach Conference addressed issues from health equity to effective behavior-change messaging, policy system and environmental change, health behavior, and pandemic response programming. Conference attendees included more than 200 professionals from around the U.S. who focus on health, nutrition, youth development, workforce development, and human development.
ABOUT THE YMCA OF COASTAL GEORGIA/HEALTHY SAVANNAH GRANT FOR RACIAL AND ETHNIC APPROACHES TO COMMUNITY HEALTH: In September 2018, Healthy Savannah and the YMCA of Coastal Georgia were awarded a five-year, $3.4 million grant called Racial and Ethnic Approaches to Community Health. Awarded by the Centers for Disease Control and Prevention, the funding is being deployed in an "upstream" approach by the Savannah/Chatham County project team to foster sustainable health equity among Black residents in low-wealth neighborhoods. The aim of the local project, called Healthy Opportunities Powering Equity, or HOPE, is to increase the availability of high-quality nutrition; promote physical activity through creating greater access to safe places to walk, run, bike and play; and foster stronger connections between people and the healthcare providers who serve them. Working with more than 200 community partners and organizations, the team is committed to elevating the health and wellness of the community through policy, systems, and environmental change.
healthysavannah.org ymcaofcoastalga.org.
MEDIA CONTACT
Marjorie Young
Carriage Trade Public Relations® Inc.
912.844.9990
www.carriagetradepr.com
marjorie@carriagetradepr.com