Over $5,000 Presented to Park Place Outreach Youth Emergency Shelter
(SAVANNAH, GA) Sustainativity presented $5356.00 to Park Place Outreach Youth Emergency Shelter to be used for new energy efficient appliances. The Shelter, located at 514 East Henry Street, is open 24 hours a day and offers a safe and loving environment to homeless, runaway and at-risk youth ages 11 to 17.
"Sustainativity's donation makes a huge impact on our shelter operations," said Park Place Outreach Executive Director Julie Wade. "The new appliances will reduce our utility bills and will allow our shelter to be more energy and environmentally efficient moving forward."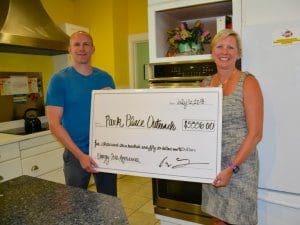 Sustainitivity is a local non-profit agency that promotes energy efficient practices. The organization chose Park Place Outreach as its 2017 community partner.
"We are excited to provide new, energy efficient appliances for Park Place", said Chair Tommy Linstroth. "With round the clock operations, they'll really make an impact, both on the kids and with lowering utility bills."
Park Place Outreach operates the only shelter in Savannah and Chatham County where runaway, homeless, and at-risk youth ages 11-17 can self report without an agency referral. All services are provided free, including a safe, secure place to stay along with meals and transportation to and from school. The staff also offers individual, group and family counseling with follow-up visits after a resident returns home, as well as non-residential services including an after-school tutorial and drop-in center, recreational services and after-care services.
The mission of Sustainativity is to improve the vibrancy of the community through direct philanthropic investments. All money raised goes to implementing sustainability projects for nonprofit organizations, such as Park Place Outreach, to help them succeed in their mission while minimizing their environmental impact.
Since opening in 1984, Park Place Outreach has served over 6500 at-risk teens. For more information, visit http://parkplaceyes.org.
To learn more about Sustainativity and its sponsored events, go to http://www.sustainativity.org/events.
MORE INFORMATION ON PARK PLACE OUTREACH YOUTH EMERGENCY SHELTER:
Park Place Outreach Youth Emergency Shelter, 514 E. Henry St., provides support for troubled children and teens in Savannah and the surrounding area. Opened in 1984, the shelter, open 24 hours a day, offers youth, between the ages of 11 and 17, a safe and loving environment. Homeless, abused or runaway teenagers can self-admit themselves into this shelter. The organization's goal is to keep kids off the street and reunify families. Park Place Outreach – Youth Emergency Shelter is an equal opportunity provider and employer. With the generous support of local organizations and individuals, the Park Place Outreach Shelter has helped more than 6,000 individuals. For more information, please visit http://parkplaceyes.org or find us on Facebook.
CONTACT
Park Place Outreach
Youth Emergency Shelter
514 E. Henry Street
Savannah, GA. 31401
912-234-4048 Fax 912-651-3621
http://www.parkplaceyes.org
MEDIA CONTACT
Cynthia Wright
Carriage Trade Public Relations™
cynthia.wright@carriagetradepr.com
912.856.9075