Park Place Outreach and Greenbriar Children's Center Host Emory Law Presentation on Family First Prevention Services Act at Breakfast Meeting
(SAVANNAH, GA) Park Place Outreach Youth Emergency Services and Greenbriar Children's Center hosted a presentation by Melissa D. Carter, Clinical Professor of Law and Executive Director of Emory Law's Barton Child Law and Policy Center; Shelby Zimmer, Acting Family First Director and Federal Plans Manager for the Georgia Division of Family and Children Services; and Gabrielle Kreisley Sheely, Lawyer and Consultant in the child and youth services field.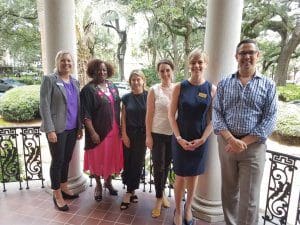 This three-hour session explained the federal Family First Prevention Services Act and how it will impact Chatham County youth. This major revamp of federal child welfare laws was signed into law in 2018 and goes into effect in Georgia in October 2020. The Act changes key funding formulas and is intended to encourage keeping children within their families instead of in foster care and to discourage long-term placement in group homes.
ABOUT PARK PLACE OUTREACH YOUTH EMERGENCY SERVICES
Park Place Outreach Youth Emergency Services, 514 E. Henry St., supports runaway, homeless, and at-risk youth, ages 11-21, through a variety of residential and after-school programs. Serving teens since 1984, Park Place's mission is to provide services to at-risk youth and their families, increase their functional level, and reunify families whenever possible. The Emergency Shelter is open 24 hours a day and provides a safe, secure, and loving environment. Park Place Outreach is the only facility in Savannah where youth can self-admit without an agency referral. Park Place Outreach's other programs include the Street Outreach Program to identify homeless and nearly homeless teens and young adults and provide them with support services to get off the streets, Family Preservation for Teens to help teens remain safely in their homes to maintain family stability, and the new Mission: Possible Transitional Living Program for males ages 16-21.
Park Place Outreach – Youth Emergency Services is an equal opportunity provider and employer. With the generous support of local organizations and individuals, the Park Place Outreach Shelter has helped more than 6,500 individuals. For more information, please visit http://parkplaceyes.org or find us on Facebook.
CONTACT
Park Place Outreach
Youth Emergency Shelter
514 E. Henry Street
Savannah, GA. 31401
912-234-4048 Fax 912-651-3621 
http://www.parkplaceyes.org
MEDIA CONTACT
Cynthia Cradduck
Carriage Trade Public Relations®, Inc.
cynthia@carriagetradepr.com
912.856.9075