Efforts are underway to build a breastfeeding-friendly community in Savannah and Chatham County.
(SAVANNAH, GA) A photoshoot celebrating and honoring Black moms for Black Breastfeeding Week will be held at 6 p.m. on Saturday, July 24 in Forsyth Park. Presented by Glow Lactation and supported by YMCA of Coastal Georgia and Healthy Savannah through funding from the Centers for Disease Control's Racial & Ethnic Approaches to Community Health (REACH) grant, organizers are also hoping the event will bring increased awareness to the disparities that discourage breastfeeding by Black mothers in Chatham County and help identify opportunities to remove those obstacles.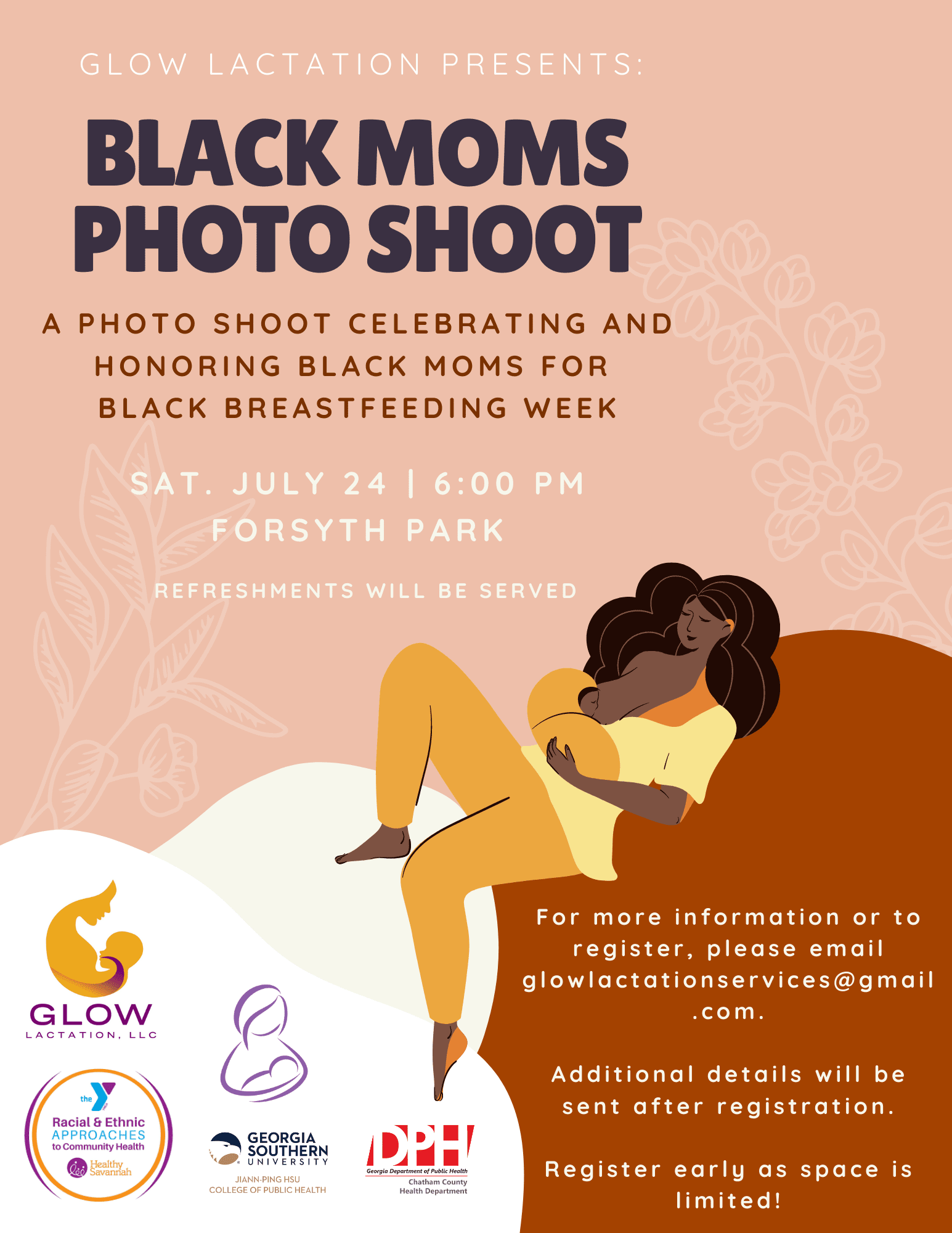 The Savannah photoshoot event, which is also supported by the Chatham County Health Department and Georgia Southern University, will kick off local observances of National Breastfeeding Month, an annual advocacy and outreach campaign hosted by the U.S. Breastfeeding Committee that invites agencies and individuals to participate in online action and conversation about the policy and practice changes needed to build a "landscape of breastfeeding support." The national observance will culminate with Black Breastfeeding Week August 25-31. The theme of the week is, "The Big Pause," honoring Black breastfeeding and the power of collective rest for collective power as a revolution for communities.
"By hosting a photoshoot, our goal is to honor and encourage Black mothers on their breastfeeding journey," said Shawntay Gadson, MHA, IBCLC, owner, Glow Lactation Services. In addition, the photoshoot will help bring awareness and promote equity toward racial disparities in Chatham County. We want to be a part of the change in shifting the perception that Black women don't breastfeed because it simply isn't true."
Gadson is a lactation consultant who works in the Neonatal Intensive Care Unit at Memorial and with Project H.O.P.E. and the various programs supported by REACH grant funding. She has first-hand experience in the health value of breastfeeding.
"Our work with mothers in Chatham County revealed that some of their barriers to breastfeeding include lack of social support, cultural norms, perceptions that Black women don't breastfeed, and lack of spaces that support breastfeeding," said Nandi A. Marshall, DrPH, MPH, CHES, an associate professor and Associate Dean of Academic Affairs in the Jiann-Ping Hsu College of Public Health at Georgia Southern University. "Additionally, the CDC names unsupportive work policies, lack of parental leave, and unsupportive hospital practices and policies as additional barriers."
Marshall recently facilitated the "Savannah H.O.P.E. Photovoice Project," a photo book documenting the personal experiences from local Black mothers using a combination of photography and storytelling. The project's purpose was to help identify social, cultural, and physical barriers that discourage breastfeeding by Black mothers in Chatham County, as well as opportunities to remove those obstacles.
Marshall contends the obstacles to breastfeeding lead to significant disparities, such as those identified in a 2019 CDC report on Racial Disparities in Breastfeeding Initiation and Duration that indicated Black infants had a significantly lower rate of any breastfeeding at age 3 months (58.0%) than did white infants (72.7%); and that at age 6 months, the rates were 44.7% among Black infants and 62.0% among white infants.
"As a part of our efforts to both normalize breastfeeding in Chatham County and also to eliminate the barriers to breastfeeding, we have started a workplace lactation support policy initiative," Marshall said. "Through this initiative, we provide technical assistance to organizations in Chatham County, both large and small, to create and/or update their lactation support policies for their employers and the larger community that they serve. Through participation in this initiative, organizations are recognized as "Breastfeeding Friendly" and as a welcomed partner in the journey towards breastfeeding equity."
Along with Gadson and community leaders, Marshall has also begun work to have Savannah/Chatham County recognized as a "Breastfeeding Friendly Community." Their efforts led to Savannah Mayor Van Johnson proclaiming April 2, 2021, as "Breastfeeding/Chestfeeding Family Friendly Community Day in Savannah." Marshall said the City's designation will let people know they are seen and supported along their breastfeeding journey.
Those wishing to participate in the photoshoot are encouraged to register early, as space is limited, by emailing glowlactationservices@gmail.com. For more information about the Photovoice Project, the Breastfeeding Friendly Community initiative, or for information on receiving assistance to create a workplace lactation support policy, please contact Dr. Nandi Marshall at 912-478-3307 or nmarshall@georgiasouthern.edu.
MEDIA CONTACT
Marjorie Young
Carriage Trade Public Relations® Inc.
912.844.9990
www.carriagetradepr.com
marjorie@carriagetradepr.com