Wine Women & Shoes Annual Fundraiser for the Ronald McDonald House Announced for April 27
A Night of Tasting, Shopping and Catwalking to Raise Money for the Critically Ill Children at the House
(SAVANNAH, GA) Ronald McDonald House Charities® of the Coastal Empire (RMHC®) will host its fourth annual Wine, Women & Shoes, on Thursday, April 27 from 7 p.m. to 10 p.m. at the Hyatt Regency, located at 2 W Bay St, Savannah, GA 31401.
Change your Shoes, Change a child's life. With 11 pouring stations set up featuring 30 different wines, as well as food from over 16 local restaurants, the signature fundraiser for the RMHC® is a night of tasteful fashion for a good cause.
Shopping stations will be set up throughout, and the event will have a live auction and fashion show. During the Key to the Closet and Key to the Cellar game, two winners will walk away with over $10,000 of items and merchandise. Guests are also encouraged to mingle with RMHC® Shoe Guys to be considered for the "King of Sole" contest.
All the proceeds from this event will directly benefit the RMHC® to ensure care for the critically ill children and their families.
"This year marks our House's 30th anniversary," said Bill Sorochak, executive director. "We are proud to feature 12-year-old Brian Murkison and his family. A 2011 car accident brought the entire family to the Memorial Hospital Campus. After a couple of days, the family was released from the Hospital except for Brian who remained in a coma for over a month. The Murkison's have been a part of our Ronald McDonald House family ever since. We can't thank the community enough for helping this family and the other families we host at the House."
The Title Sponsors of the 2017 Wine Women and Shoes event for the 4th year is Ameris Bank.
Other event sponsors include: Advanced A/V, Volvo of Savannah, ExPERCARE (Urgent Care), Savannah Magazine, Savannah Morning News, iHeart Radio, Sadowski & Company, Low Country Dermatology, Periatrix, Chatham Orthopedic Associates, National Distributing, Prime Wine & Spirits, Georgia Power, Savannah McDonald's Operator's Association, Memorial Hospital, International Paper, Savannah Coca-Cola Bottling Company, South Georgia Graphics, Seacrest Partners, Cecilia Russo Marketing, John Davis Florist, Roots Southern Salon and hosted by WTOC and emcee Mike Cihla.
For tickets or more information contact RMHC® at 912.350.7641 or on the web at http://winewomenandshoes.com/savannah.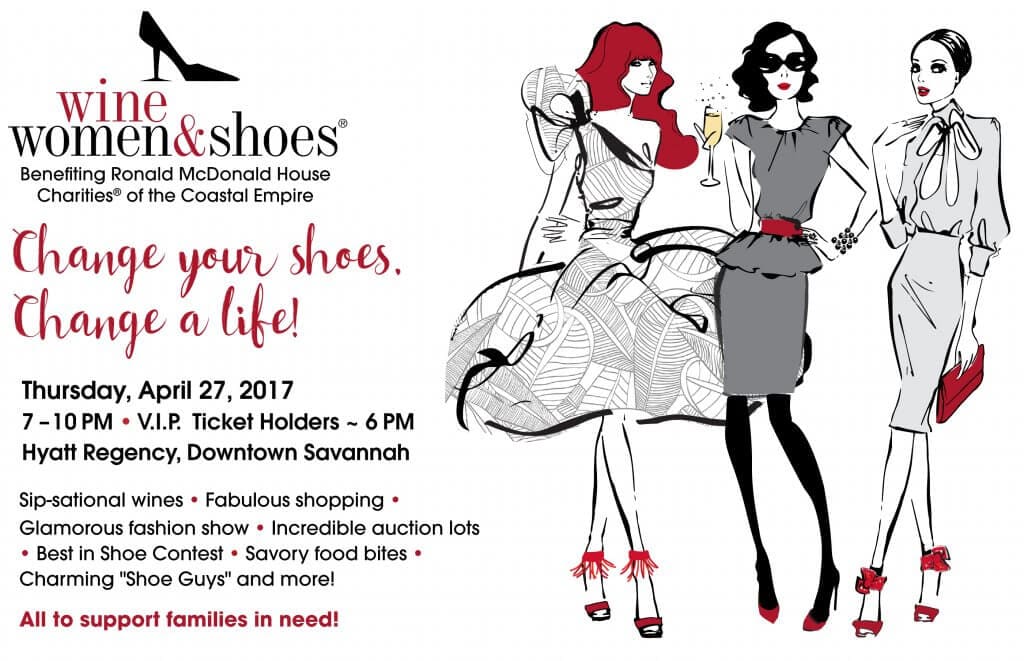 ABOUT RONALD MCDONALD HOUSE CHARITIES OF THE COASTAL EMPIRE
Ronald McDonald House Charities® (RMHC®) of the Coastal Empire is a registered 501c3, non-profit that operates solely on donations. The cornerstone program is the Savannah Ronald McDonald House that provides more than 4170 family night stays each year with a "Home away from home." Other core programs include the Ronald McDonald Family Rooms® in St. Joseph's/Candler Hospital and Children's Hospital at Memorial Hospital Medical Center and the Ronald McDonald Care Mobile®, a mobile dental clinic providing free dental cleanings and examinations, care to underserved, school-age children in Beaufort County (SC).
CONTACT
Bill Sorochak
Executive Director
Ronald McDonald House Charities® (RMHC®) of the Coastal Empire
bill@rmhccoastalempire.org
t. (912) 350-7641 ext. 304
f. (912) 350-2309
c. (864) 906-8496
www.rmhccoastalempire.org
4710 Waters Avenue
Savannah, Georgia, 31404