Rotary and Kiwanis Clubs of Skidaway Island Hosted a Fundraiser Benefiting the Savannah Early Childhood Foundation
(SAVANNAH, GA) The Rotary Club of Skidaway Island and the Kiwanis Club of Skidaway hosted "A Nashville Night," benefiting the Savannah Early Childhood Foundation (SECF) on Wednesday, July 18.
The fundraiser featured the Michael and Jennifer McLain Bluegrass Band and a live auction to benefit the SECF. Over 200 tickets were sold, and in combination with items auctioned, the event raised $10,886 for the SECF throughout the evening.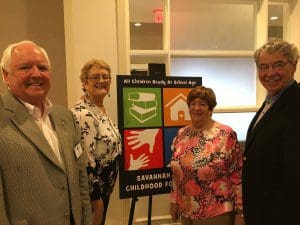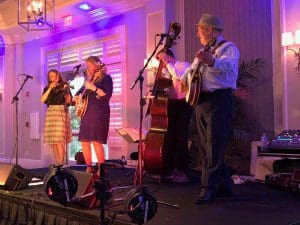 The SECF is dedicated to providing parents of children younger than five years of-age with the resources and support they need to cultivate stimulating and quality learning environments in the home.
According to SECF President Paul Fisher, the money raised will be matched by gift from Donald and Sandy Mayer. The funds will be used to expand reach and impact of the SECF by creating new modules for learning and implementing programs to reach more parents including a new male/father specific module.
"The Kiwanis–Rotary partnership represents a new beginning for both clubs," said Toni Marwitz, Rotary Immediate Past President. "The possibilities for future collaboration are endless. The night was a huge success. We look forward to jointly expanding our programs to benefit the Savannah community."
ABOUT KIWANIS
Helping the children of Savannah.
https://www.kiwanisofskidaway.com
ABOUT SAVANNAH EARLY CHILDHOOD FOUNDATION
Established in 2011, the Savannah Early Childhood Foundation (SECF) is a first-of-its-kind organization working to stitch together community resources to ensure that all Savannah children are ready for school. Combining public and private resources, SECF is uniquely focused on helping parents create high quality learning environments for their children starting at birth through age five. http://www.savannahecf.org
ABOUT ROTARY
Rotary International is a global network of 1.2 million neighbors, friends, leaders, and problem-solvers who come together to make positive, lasting change in communities at home and abroad. Our guiding principles have been the foundation of our values: service, fellowship, diversity, integrity, and leadership. Rotary members believe that we have a shared responsibility to take action on our world's most persistent issues. Rotary District 6920 consists of 63 clubs with a membership of over 3200 Rotary members throughout southeast Georgia including Macon, Augusta, Valdosta, Brunswick, Camden, Tift, and Savannah. http://www.rotarydistrict6920.org/