The Rotary Club of Savannah Matched Deposits into College Savings Accounts
(SAVANNAH, GA) The Rotary Club of Savannah matched deposits into college savings accounts established at Carver State Bank, by local students who are participants in the 100 Black Men of Savannah's mentorship program. This is the second consecutive year the 2016 Rotary District grant has made this partnership possible.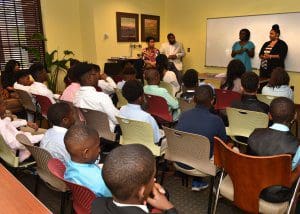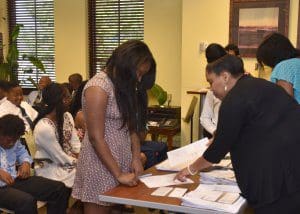 ABOUT CARVER STATE BANK
Carver State Bank was established on February 23, 1927, and was then known as the Georgia Savings and Realty Corporation. The original corporation served as a private bank as well as a real estate investment and management. Carver is a member of the National Bankers Association and Georgia Bankers Association. Carver is the only bank headquartered in Savannah that is certified by the United States Treasury Department as a Community Development Financial Institution. Carver State Bank is currently one of only 28 African- American-owned commercial banks in the United States.
ABOUT 100 BLACK MEN
Organized in 1996, the Savannah is an affiliate of the 100 Black Men of America, Inc. one of the preeminent African- American organizations that champion issues that face our communities. Our legacy has been one of hard work, innovative solutions, and an unwavering commitment to mentoring and empowering Savannah's young people. We lead the way by Mentoring the 100 Way Across a Lifetime through our mentoring, education, leadership, and economic empowerment programs and as an advocate for Savannah's youth.
ABOUT THE ROTARY CLUB OF SAVANNAH
The Rotary Club of Savannah is now comprised of 225 community leaders and volunteers. Over the past 100 years, The Savannah Club has championed local and regional developments including: completing the road to Tybee Island, improving the Savannah River for commercial traffic, enhancing the Dixie Highway system in southeast Georgia, and building bridges over the Savannah and Altamaha Rivers. The Rotary Club of Savannah also sponsored the organization of new Rotary clubs in Augusta, Brunswick, Statesboro, Blackshear, and Savannah West. Furthering the goals of Rotary International, the club has also supported wartime relief efforts, student scholarships, polio eradication and other global health initiatives.
Meetings are held most Mondays from 12:30 to 1:30 p.m., at the DeSoto Hilton Hotel, 15 E. Liberty Street. For more information, visit www.savrotary.org