Rotary Clubs Partner with MAP International to Give Medical Relief to Local Community
(BRUNSWICK/VALDOSTA) Rotary Clubs across Southeast Georgia are partnering with MAP International to provide medical relief to local citizens who have fallen through the cracks of the healthcare system. MAP International, a Christian nonprofit based in Brunswick that provides life-changing medicines and health supplies to people in need, will partner with Rotary District 6920 to provide free medicines for qualified patients in Brunswick and Valdosta. The free medications will be available at two volunteer community clinics in these cities and will focus on four classes of disease: hypertension, diabetes, cholesterol, and asthma.
Participation in the program is only available through the cooperating clinics. The program will provide medicines for approximately 1,500 uninsured or underinsured low-income adults, families, and pregnant women in Brunswick and Valdosta.
"These drugs are going to help maintain a quality of life that they wouldn't have had otherwise," says Dr. Hamsa Thota, 2017-18 Governor of Rotary District 6920.
The Coastal Medical Access Project (CMAP) clinic, a part of Southeast Georgia Health System, will supply the medications at its Brunswick clinic to adults living in Camden, Glynn, and McIntosh counties. In Valdosta, patients can visit the Partnership Health Center, a free primary healthcare facility staffed by volunteer physicians, nurse practitioners, nurses and administrative staff who serve the healthcare needs of the working uninsured in Lowndes County.
"This community partnership (Rotary and MAP) will help provide a sustainable solution, to meet the healthcare needs of people falling through the cracks of the current health system," says MAP International CEO, Steve Stirling.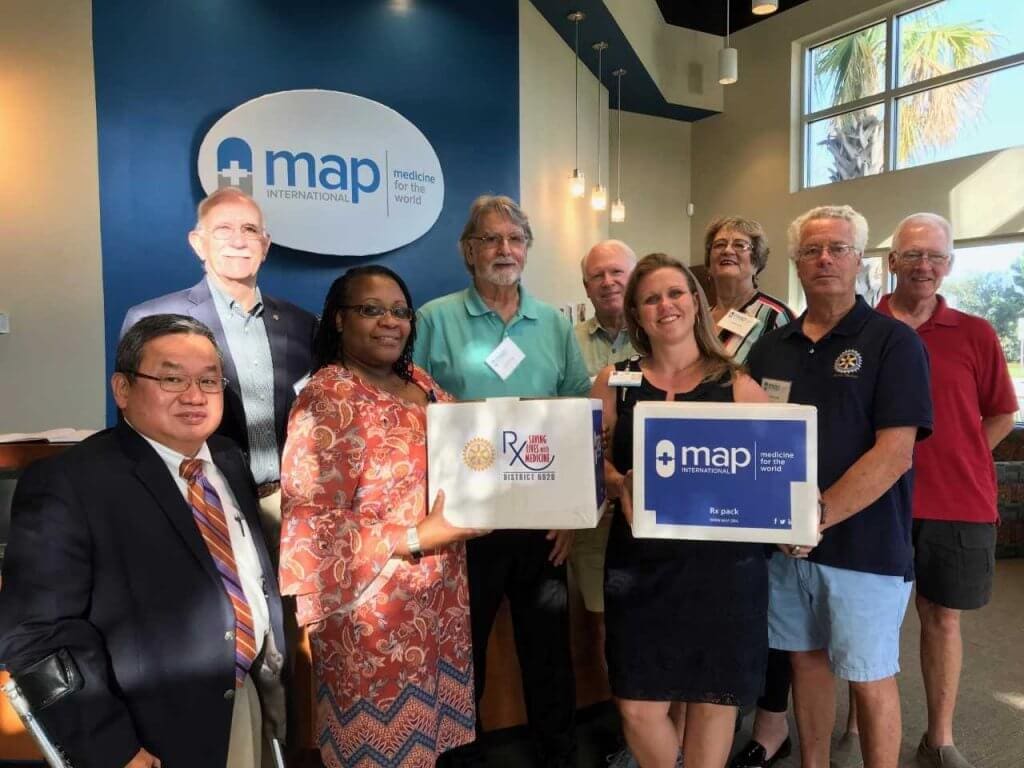 Rotary and MAP International Launch Partnership
About MAP International:
MAP International is a Christian organization providing life-changing medicines and health supplies to people in need. MAP serves all people, regardless of religion, gender, race, nationality, or ethnic background. For more information visit map.org
About Rotary International District 6920
Rotary International is a global network of 1.2 million neighbors, friends, leaders, and problem-solvers who come together to make positive, lasting change in communities at home and abroad. Our guiding principles have been the foundation of our values: service, fellowship, diversity, integrity, and leadership. Rotary members believe that we have a shared responsibility to take action on our world's most persistent issues. Rotary District 6920 consists of 63 clubs with a membership of over 3200 Rotary members scattered throughout southeast Georgia including Macon, Augusta, Valdosta, Brunswick, Camden, Tift, and Savannah.