Sandfly Business Owners Present Toy Donation to Urban Hope and the West Broad Street YMCA
(SAVANNAH, GA) During the month of December, Dr. Angela Canfield and ten businesses in the Sandfly community held a toy drive for the children of Urban Hope and families at the West Broad Street YMCA.
Used toys were collected at Sandfly Family Dental for the Kids Helping Kids Program of the West Broad Street YMCA. The Kids Helping Kids Program started in 1981. Traditionally operating through the Savannah Chatham County Public School System, the program collects used toys and then distributes these toys at no cost during the annual Miracle on May Street holiday toy giveaway.
"The West Broad YMCA, located at 1110 May St., is focused on serving the children and families of Savannah's west side public housing communities," said Tom Campbell, who founded the Kids Helping Kids Program in 1981. "To see the excitement on the family's faces when they get a toy for their child right before Christmas solidifies that this service is making a difference. In the last 36 years, the Kids Helping Kids Program has collected well over 300,000 toys for Savannah families."
New toys were also collected for Urban Hope. Urban Hope has a 17-year history of reaching out and embracing the children of Savannah's at-risk communities. By providing a warm, caring, structured and safe environment Urban Hope provides the children who participate in it's free After School or Summer Camp programs the opportunity to receive academic and developmental support through a variety of means.
The following Sandfly Women Business Owners' businesses participated in the new toy drive as dropoff locations for Urban Hope: Advertising Specialty Services; Savannah Power Yoga; Herb Creek Landscape Supply; Cents & Sensibility; Tequila's Town; Driftaway Cafe; Sandfly BBQ; Sandfly Framing; and Annabelle's.
Wishlist items for Urban Hope included children's books, coloring books, toy trucks, building blocks, multicultural dolls, musical toys, play dough sets, large piece puzzles, pull toys, sports equipment, board games and art supplies, including glue sticks, markers, scissors and stickers.
"Christmas is such a happy time of year for so many of us," said Dr. Angela Canfield, a coalition member. "There are some children in our community who aren't in the same situation as us and who may not receive a Christmas present. Both of these programs are so impactful in our community."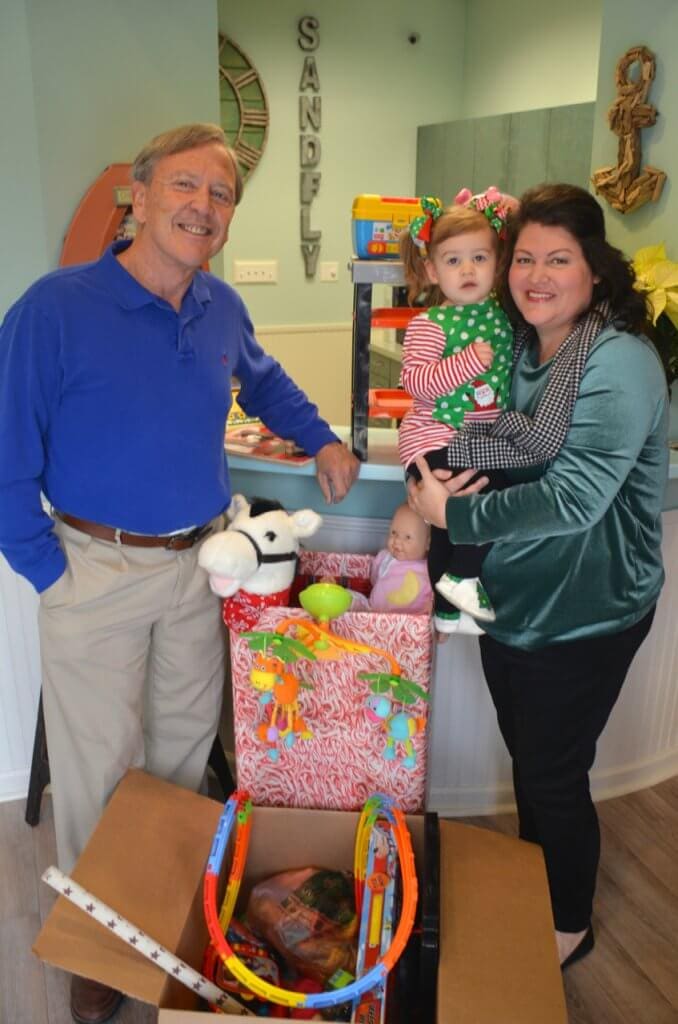 ABOUT WEST BROAD STREET YMCA 
Established in 1942 to address the recreational and social needs of the then-segregated African American communities, the West Broad Street YMCA now serves several thousand children and families each year, offering education, recreation, health and social support to those who need it most. The West Broad Street YMCA places special focus on serving the children and families of Savannah's west side public housing communities by providing affordable and high-quality education and health-focused programs designed to serve and engage children, teens, adults and senior citizens. For more information, please visit http://www.westbroadstreetymca.org/
ABOUT URBAN HOPE
Urban Hope has a 17-year history of reaching out and embracing the children of Savannah's at-risk communities. By providing a warm, caring, structured and safe environment Urban Hope provides the children who participate in it's free After School or Summer Camp programs the opportunity to receive academic and developmental support through a variety of means. For more information, please visit https://www.urbanhopesavannah.org/
ABOUT DR. ANGELA CANFIELD
Dr. Canfield is licensed by the Georgia Board of Dentistry and the National Board of Dentist. She owns and practices at Premier Dental Designs in Rincon, 5871 Hwy 21 South, and Sandfly Family Dental in the Norwood Market in Savannah. Both offices provide Family/Preventative Dentistry, Cosmetic Dentistry, Restorative Dentistry, Orthodontic Dentistry, Digital X-Rays, E4D One Day Crowns, Electronic Claims, Intra Oral Camera and Paperless Charting. The offices are open Monday through Friday and offer evening appointments. For more information, call 912.826.4037 or visit http://www.premierdentaldesigns.com/ or http://www.sandflyfamilydental.com/
MEDIA CONTACT
Cynthia Wright
Carriage Trade Public Relations®
Cecilia Russo Marketing
cynthia.wright@carriagetradepr.com
912.856.9075