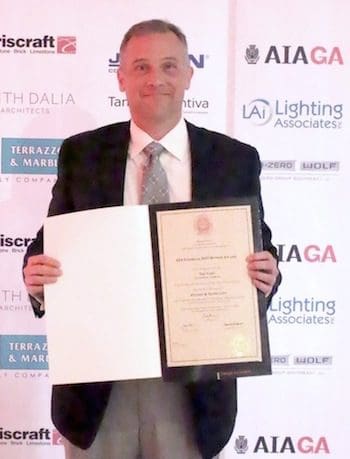 Georgia Architects' Association Grants Design Award to Felder & Associates
Savannah Architecture Firm Honored for Work on The Grey
(SAVANNAH, GA) Felder & Associates is pleased to announce the architecture firm has been recognized with the AIA Georgia 2015 Design Award in Renovation for its rehabilitation project of the historic Greyhound Bus Depot, now a new restaurant, The Grey. The Georgia Association of The American Institute of Architects (AIA) presented its 2015 Honor and Design Awards on April 11 in Atlanta.
Located at 109 Martin Luther King Jr. Boulevard within Savannah's Historic District, the property was originally designed by architect George D. Brown in the Streamline Moderne style of architecture and was constructed between 1937-1939.
"The Grey is a rare and excellent example of this style of architecture in Savannah and I am very pleased that our work in rehabilitating this property was recognized by AIA Georgia," said Brian Felder, AIA, managing principal of Felder & Associates. "Our priority was to preserve the distinctive features, finishes and construction techniques, and match new features to the old in design, color and texture."
Replacements of old missing features were substantiated by pictorial and documentary evidence, and included replication of historic materials as recommended by the National Park Service and following the Secretary of Interior Standards for Rehabilitation. Gretchen Callejas, the project architect for Felder and Associates, ensured the proposed interior and exterior modifications remained true to the original design and those designs met the Department of Interior guidelines for preservation. The space was conceived by New York–based firm Parts and Labor Design with Bloomquist Construction Company, Inc., serving as general contractor.
Owned by New York entrepreneur John O. Morisano and offering up a distinctively modern southern cuisine masterminded by executive chef Mashama Bailey, The Grey opened last December. In February, the restaurant was named a semifinalist for the James Beard Award in the best new restaurant category. It has been prominently featured in Architectural Digest and the Washington Post.
The AIA Georgia Honor Awards Program is part of a long-standing tradition of recognizing individuals and organizations for their outstanding achievements in support of the profession of architecture and the AIA. Through these awards, the Association aims to celebrate the accomplishments of its members and increase the public awareness of AIA Georgia and the profession of Architecture.
For a complete list of all of the winners, visit https://www.aiaga.org/design-awards/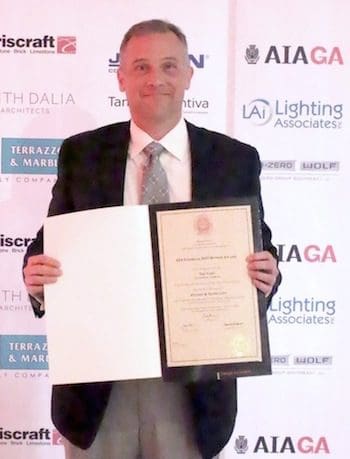 Brian Felder Accepts AIA Award
ABOUT FELDER & ASSOCIATES
Established in 2012, Felder & Associates specializes in historic preservation, commercial architecture, adaptive reuse architecture, corporate interior design, high-end residential design, green building, and neo-traditional building. The firm has a staff of LEED accredited architects and interior designers who focus on sustainability. Locally, Felder & Associates is a member of the Savannah Chamber of Commerce and Historic Savannah Foundation. The firm is also nationally connected in the American Institutes of Architects, the American Society of Interior Designers and the United States Green Building Council. Felder & Associates is a member of the International Interior Design Association. In 2014, Felder & Associates received an historic preservation award from the Historic Savannah Foundation and the best architecture firm award from Savannah Magazine. Felder & Associates recently completed the Greyhound bus depot in the Savannah historic district. The firm is located at 2514 Abercorn St. Suite 110, Savannah, GA 31401. For more information or to contact Felder & Associates, call (912) 777-3979, or visit www.felderassociates.net
ABOUT AIA GEORGIA:
For more than 150 years the American Institute of Architects has served as the voice of the architecture profession and a resource to its members in service to society. Chartered in 1953, AIA Georgia consists of close to 2,000 members distributed over seven local chapters: AIA Atlanta, AIA Augusta, AIA Golden Isles, AIA Middle Georgia, AIA Savannah, AIA Southwest Georgia and AIA West Georgia. The vision of the American Institute of Architects and AIA Georgia is Driving Positive Change through the Power of Design. For more information, call 678.553.0500 or visit www.aiaga.org .
For more information, contact:
Brian Felder
912-777-3979
brian@felderassociates.net
www.felderassociates.net
Media inquiries, contact:
Marjorie Young
CarriageTrade PR
912-844-9990
marjorie@carriagetradepr.com