(SAVANNAH, GA) Colonial Group, Inc. has announced that Cory VanVoorhis has received the Savannah-based company's second annual Robert H. Demere, Jr. Soaring Eagle Award. The award's 2022 recipient was revealed at the annual company party held at the Marriott Savannah Riverfront on Saturday, January 21, 2023.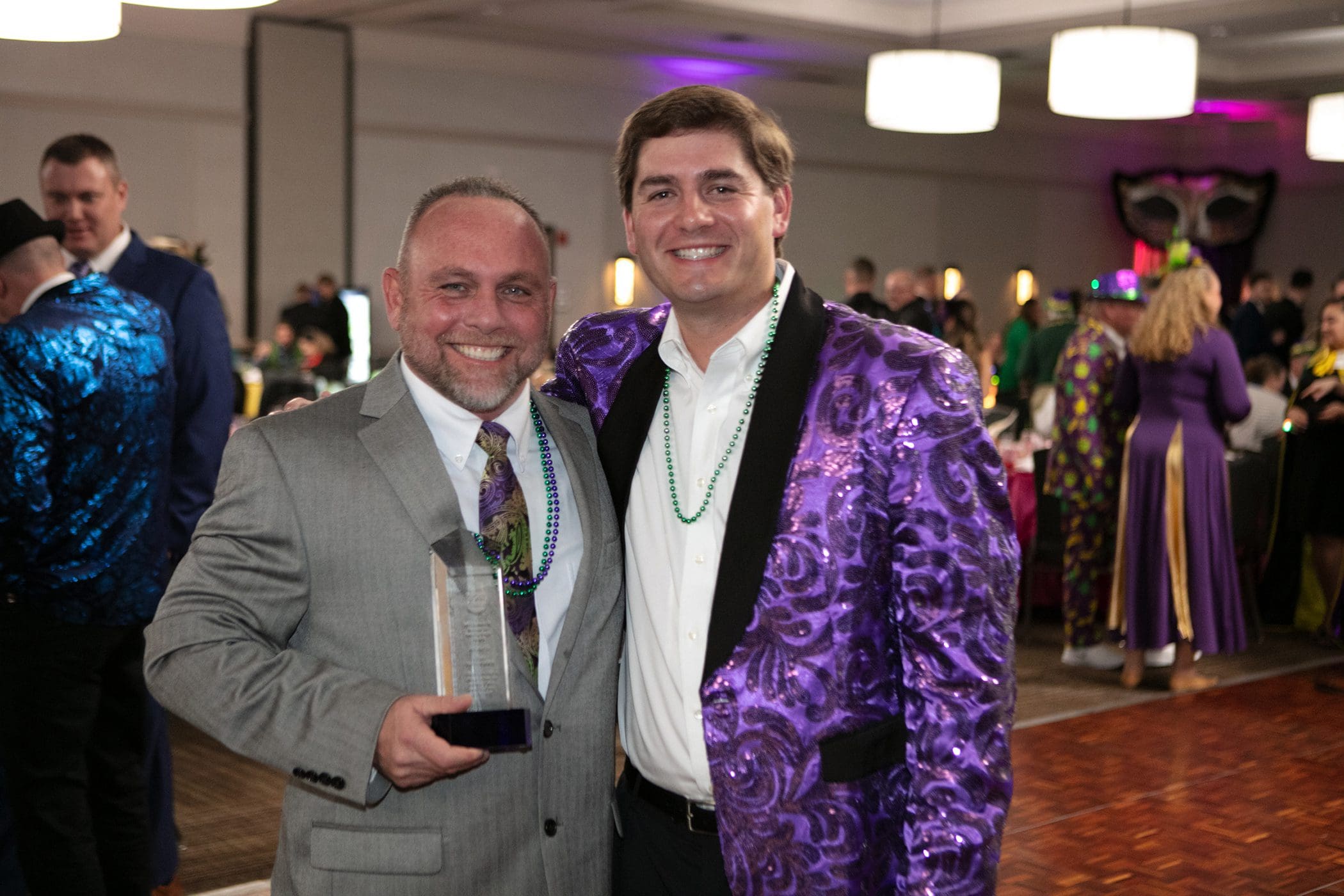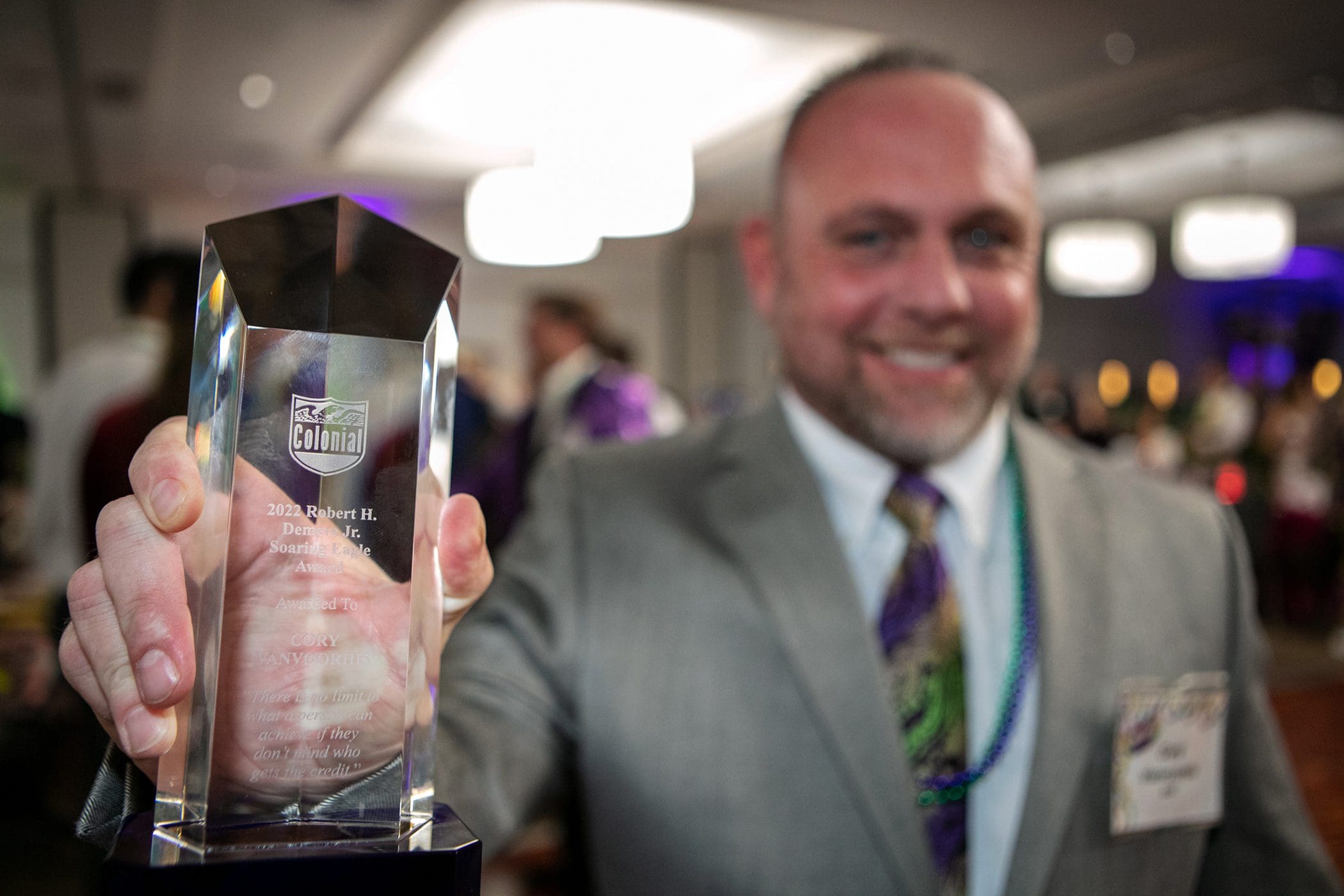 The award was named in honor of the company chairman, Robert H. Demere, Jr., who also had served as its president and chief executive officer from 1986 to 2021. Colonial Group has continued to operate as a privately held business since 1921 through the chairmanships of its founder, Raymond Demere; his son, Robert H. Demere, Sr.; and Robert's son, Demere Jr. In 2018, Christian B. Demere became president of the company and then succeeded his father as CEO in December of 2020.
Demere presented the award during Colonial Group's "Mardi Ball" themed annual company party. The award was first developed in 2021 to commemorate the company's centennial celebration and employees participated in the nomination and voting process.
VanVoorhis started working for the company in February 2014 as a field technician for Enmarket and was promoted to Retail IT Manager in 2018.
"Cory truly embodies the Colonial motto that there is no limit to what a person can achieve if they don't mind who gets credit," said Demere. "He truly leads by example and is always one of the first to volunteer to pitch in. Cory is highly respected by not only his team, but also by his peers, supervisors, and everyone he interacts with across all divisions."
Colonial's more than 2,000 employees had the opportunity last fall to select one of their own who, throughout their career at Colonial, has exemplified service, integrity, entrepreneurship and family. VanVoorhis and future award winners will each receive a $7,500 bonus and one extra week of vacation. The company plans to continue to bestow the award to one employee each year who consistently embodies Colonial Group's core values.
ABOUT COLONIAL GROUP INC.
A fourth generation family-owned business founded in 1921, Colonial Group Inc. ("Colonial Group") is a diversified energy and port-related company headquartered in Savannah and one of America's largest privately held companies. In 2021, the company marked its 100th anniversary by celebrating
with its dedicated team of more than 2,000 employees, giving to hometown causes and observing historical milestones. Over the years, the business has diversified to be the umbrella company of Colonial Oil, Colonial Terminals, Colonial Fuel & Lubricant Services, Enmarket, Colonial Energy, Colonial Chemical Solutions, Colonial Towing, Savannah Yacht Center and Aqua Smart. For more information on Colonial Group Inc., please visit www.colonialgroupinc.com.
CONTACT:
Tara Nobles
Marketing Manager, Colonial Group, Inc.
912-443-6670
TNobles@colonialgroupinc.com
MEDIA CONTACT
Marjorie Young
Carriage Trade Public Relations® Inc.
912-844-9990
marjorie@carriagetradepr.com