(SAVANNAH, Ga.) The Savannah Film Alliance Honors Gala, presented by I.A.T.S.E. Local 491, returns this fall from the pandemic-driven cancellations of the past few years, promising an evening of elegant entertainment in salute to Savannah's film and TV industry.
The Honors Gala will take place at 7:30 p.m. on Friday, November 17, 2023, when numerous creative individuals will be recognized and honored for their contributions to the growth of the Savannah film and television industry. With a theme of "Visionary Vanguards," entertainment, fun, and celebration will be the focal point of this red-carpet, black-tie event. The Savannah Film Alliance's membership of filmmakers, producers, musicians, actors, and other entertainers will be invited to show off their talents throughout the night.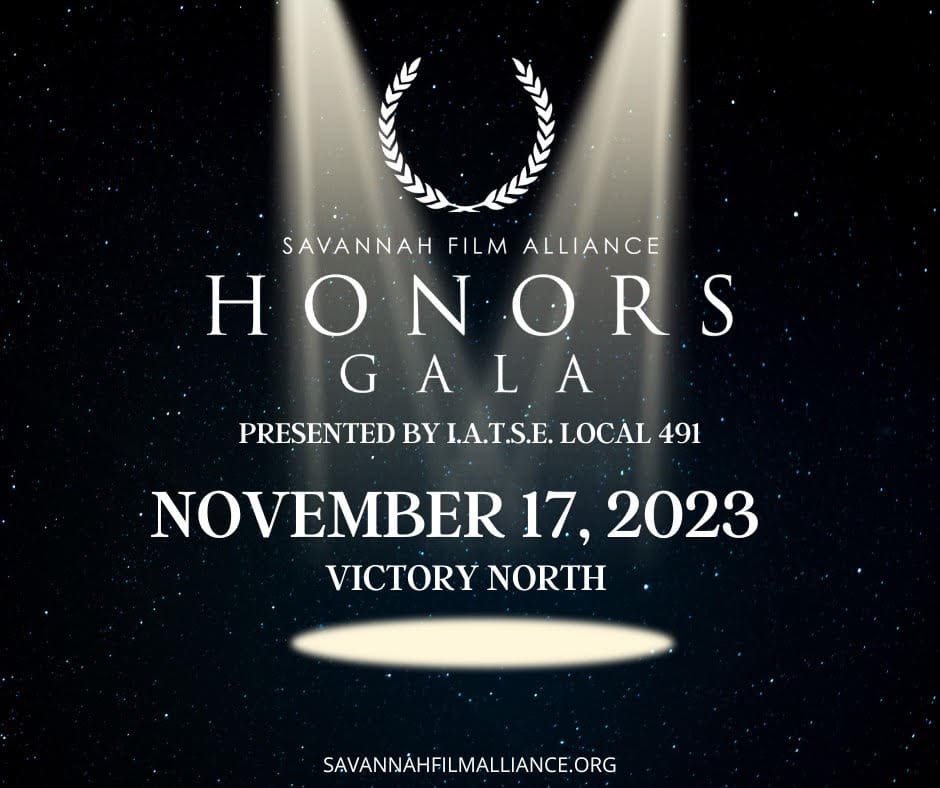 The Gala will be hosted by Steven Michael Quezada, who portrayed DEA Agent Steven "Gomie" Gomez on the TV series "Breaking Bad." It will feature live entertainment, an open bar, heavy hors d'oeuvres, and special guests and surprises throughout the evening. All attendees will have the opportunity to socialize and connect with prominent members of the entertainment industry, including directors, producers, filmmakers, actors, musicians, music executives, gaming professionals, crew members from all crafts, union and guild leaders, and studio executives.
All tickets are available for $150 at https://savannahfilmalliance.org/honors-gala. Fewer than 200 tickets remain. Everyone is invited to come help shine a spotlight on some very well-deserving local stars and celebrate Savannah's flourishing film and television industry.
"The excitement and buzz that has been generated since we announced the return of the Savannah Film Alliance Honors Gala has already risen to unprecedented levels. The return of this event is a true testament to the resilience of the local entertainment industry and the determination of its members to keep moving forward. I can't wait to honor some truly deserving individuals once again during an unforgettable, magical night of fun and entertainment," said Charles Bowen, founder of the Savannah Film Alliance
The event will be held at Victory North, 2603 Whitaker Street, Savannah, GA 31401. In addition to Presenting Sponsor I.A.T.S.E. Local 491, additional sponsors for the 2023 Honors Gala thus far include the Savannah Regional Film Commission, Goodwill Southeast Georgia, Creative Approach, The Vintage Vortex, Visit Savannah, Savannah Film Academy, Savannah/Hilton Head International Airport, Bowen Schmidt, Sapelo Insurance, The Coastal Empire Habitat for Humanity, Inc., and Georgia Matters LLC.
Free parking is available on several cross streets near the venue, and there is a paid parking lot directly across the street.
The entertainment industry has become one of the strongest pillars of the Savannah economy. When film and television productions come to town, their economic impact reaches far beyond a large amount of direct local hires. Productions utilize the services of almost every industry in town during their stay. The purpose of this night is to recognize and honor those individuals behind the scenes that have contributed greatly to the industry's growth and to making Savannah one of the world's premier filming destinations.
Savannah has developed a reputation as an excellent film destination globally and has been named a top three "Best Small City to Live and Work as a Moviemaker" by MovieMaker Magazine nine years in a row.
With the Georgia tax credit and Savannah's additional tax incentives offered by Savannah Economic Development Authority, the number of productions that were filmed in the Savannah area reached an all-time high of 145 in 2022.
For sponsorship opportunities or other information, contact either Angie Chedester (angie@angelabrite.com; 301-524-9947) or Charles "Bo" Bowen (cbowen@thebowenlawgroup.com; 912-544-2052).
ABOUT THE SAVANNAH FILM ALLIANCE
The Savannah Film Alliance is a grassroots organization founded in 2015 dedicated to the support and growth of the film and television industry in the Coastal Empire. The Savannah Film Alliance was founded by attorney Charles "Bo" Bowen with the support of the late Howard Morrison, Savannah Technical College, SEDA, Savannah Filmmakers, the Savannah Regional Film Commission, and numerous other industry leaders. Since its founding in 2015, the Savannah Film Alliances membership has grown to over 500 filmmakers, crew, government officials, producers, actors, service providers, and many other entertainment industry supporters. The Savannah Film Alliance offers a unique mutual support system through which its members meet four times a year to ensure Savannah's continued status as one of the world's premier filming destinations. The Savannah Film Alliance welcomes everyone with interest in the local entertainment industry. For more information or to join the Savannah Film Alliance, please visit our website at https://savannahfilmalliance.org/.
ABOUT I.A.T.S.E Local 491
I.A.T.S.E. Local 491 represents film and television production technicians in Savannah and the Carolinas. They are part of the International Alliance of Theatrical Stage Employees, Moving Picture Technicians, Artists, and Allied Crafts of the United States. They are generously contributing $10,000.00 to support the Savannah Film Alliance. For more about them, visit https://www.legacy.iatse.net/directory/local-491.
Media Contact:
Carriage Trade Public Relations® Inc.
marjorie@carriagetradepr.com
912-844-9990
Savannah Film Alliance