Savannah's
COMMUNiTY HEADLiNES
The Local Newswire
---
CHRIS TILTON LAUNCHES "INSPIRE YOUR COMMUNITY" PODCAST
(SAVANNAH, GA) Chris Tilton, one of two principals at the Dewitt Tilton Group construction firm, recently launched a podcast featuring stories of inspiration, kindness and positivity, and the company will reward people who help find those stories with a $300 donation to the charity of the winning nominator's choice. The podcast can be accessed at YouTube, Apple Podcasts, Spotify, Google Play, Stitcher, and everywhere else podcasts can be found. View the first episode here, 
https://www.youtube.com/watch?v=1EgdS0dh9UY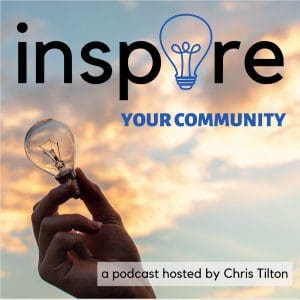 ---
CECILIA RUSSO TURNER NAMED 2019 COMMUNITY STAR
(SAVANNAH, GA) Cecilia Russo Turner was recognized at Savannah Technical College as a 2019 Community STAR for her service to Savannah and the southeast region. This award honors people who make our world a better place – through their dedication at work, community leadership, or volunteer service. Congratulations, Cecilia! For more information, please visit 
http://www.wtoc.com/2019/04/13/savannah-technical-college-honors-tribute-community-stars/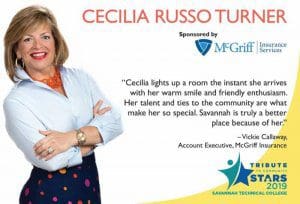 ---
MIKE HUGHES SPEAKS TO LOCAL ROTARY CLUB
---
PEACOCK AUTOMOTIVE CARS FEATURED IN HILTON HEAD MONTHLY
---
LEADERSHIP SOUTHEAST GEORGIA ANNOUNCES ALUMNI PROGRAM CHAIRS
(SAVANNAH/STATESBORO, GA) Leadership Southeast Georgia (LSEGA) has named two of its graduates – Jennifer Abshire, of Abshire Public Relations, and Tal Johnson, of Dabbs, Hickman, Hill & Cannon – as the chairs of the Leadership Southeast Georgia's Alumni Program. For more information about LSEGA, please visit 
www.lsega.com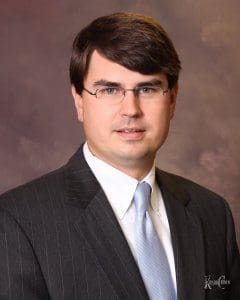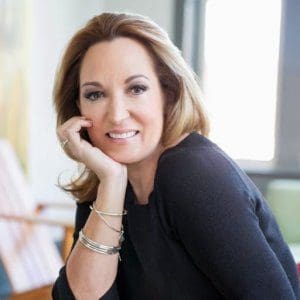 ---
HOW TO GET INTO THE FILM INDUSTRY – CHARLES BOWEN
---
MISSION POSSIBLE TEAM PREPARES FOR KOMEN RACE
---
PALLIATIVE CARE – HOSPICE SAVANNAH
(SAVANNAH, GA) Did you know that palliative care is NOT necessarily end-of-life care? There is so much help we can offer you, your friends and family members who have a progressive illness. Please watch this 60-second video as Dr. Benton, CEO of Hospice Savannah explains: 
https://youtu.be/Y3ykDAQNcgU 
---
SALACIA SALTS PARTNERS WITH LSS 
(SAVANNAH, GA) Salacia Salts has partnered with the Will Gruver LLS All-Star Campaign for the month of April! Use the code 'LLS2019' to shop online at 
salaciasalts.com
 or at their retail location (208 West Hall Street Savannah), and 20% of your sale will be donated back to support the Leukemia & Lymphoma Society to find a cure for blood cancers.
---
GMAIL FEATURES YOU NEED TO KNOW ABOUT
---
ROTO-ROOTER PLUMBERS OF SAVANNAH PRESENTS $7,896.48 TO LOCAL RONALD MCDONALD HOUSE
(SAVANNAH, GA) Roto-Rooter Plumbers of Savannah presented $7,896.48 to the Ronald McDonald House of the Coastal Empire to support their mission to provide a restful, comfortable place for children and their families to find refuge and support as they receive medical treatment at nearby hospitals. The funds were raised during the organization's inaugural Royal Flush Casino Night attended by more than 200 people on Feb. 28 at the Savannah Station. For the full story, please visit 
https://www.wtoc.com/2019/04/02/roto-rooter-plumbers-presents-check-ronald-mcdonald-house/
---
BETHESDA ACADEMY AND GEORGIA SOUTHERN PARTNER TO CONDUCT RESEARCH
(SAVANNAH, GA) Students at Bethesda Academy, a residential and day school for boys in grades six through 12, are joining forces with chemistry students from Georgia Southern University – Armstrong Campus to try to answer questions on how gardening methods impact the nutritional value of produce. Bethesda will offer the local organic testing ground and, in exchange, students will get the opportunity to engage with chemists in hands-on learning activities. For more information, please visit 
http://savannahceo.com/news/2019/04/bethesda-academy-and-georgia-southern-university-partner-agricultural-research/
---
ROUSH'S DELIVERY SERVICE TO BREAK GROUND ON NEW WAREHOUSE FLEX SPACE
---
MEDITATION FOR STRESS RELIEF LECTURE APRIL 30
(SAVANNAH, GA) The first of four 2019 Enmarket Encourage Health education events, scheduled for Tuesday, April 30, will feature a free lunchtime lecture on the benefits of meditation for stress relief. The lecture will be presented at the Charles H. Morris Center, 10 East Broad St. The session will be presented by longtime meditation instructor Cleveland Beach who has been leading such classes for more than 25 years. For more information or to register, please visit 
www.healthysavannah.org
---
10TH ANNUAL NIGHT OF CHAMPIONS
(SAVANNAH, GA) Mark your calendars for Thursday, May 9! Our favorite event, Night of Champions, is back for its 10th year! Night of Champions is LDSS' 10th Annual integrated workforce advocacy event. It shares local success stories of the businesses that take a chance on employees who exceed expectations. This year we are joined by national success-makers: John & Mark Cronin (John's Crazy Socks) and Amy Wright (Bitty & Beau's Coffee). For more information, please visit 
https://ldssga.us10.list-manage.com/track/click?u=31c9dac9bc122b5c21e069c62&id=20f4ede193&e=74ce931be4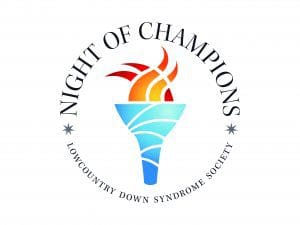 ---
YOUNG NAMED AS HOSPICE SAVANNAH OFFICER
(SAVANNAH, GA) Hospice Savannah has named its 2019-20 Board of Directors and Officers. William Keightley was named as Chair and Marjorie Young, founder and CEO of Carriage Trade Public Relations, was named as the Secretary for the coming year. For a full list of the officers and board members visit, 
https://www.augustachronicle.com/business/20190330/newsmakers-hospice-savannah-names-board-officers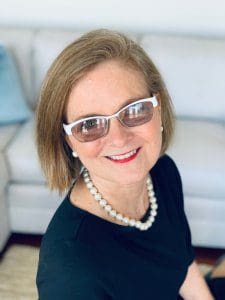 ---
CHARLES BOWEN HONORED BY GEORGIA STATE SENATE
---
WARNER PEACOCK NAMED JASPER COUNTY'S BUSINESS PERSON OF THE YEAR
---
CYNTHIA CRADDUCK APPOINTED TO STATE JAYCEES EXECUTIVE COMMITTEE
(SAVANNAH, GA) Cynthia Cradduck, a Savannah-based marketing and public relations professional, has been elected to the Georgia Jaycees' state executive committee, where she will serve as Vice President of Communications. She is joined on the executive committee by Danielle Fields, President; Katie Harris, Vice President of Community Development; Allen Farley, Vice President of Membership and Chad Brown, Chairman of the Board. Congratulations, Cynthia! We are so proud of you! For more information on the Georgia Jaycees, please visit 
www.georgiajaycees.com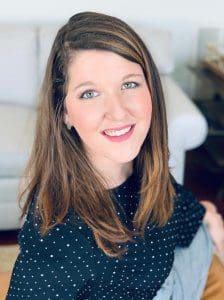 ---
THE ULTIMATE GUIDE TO GOOGLE ANALYTICS
(OPEN FOR BUSINESS®) Are you confused or intimidated by Google Analytics? The platform is useful and powerful, but users have to really understand how to navigate it. The ultimate guide to learning how to use Google Analytics in 2019 can be found here: 
https://blog.hubspot.com/marketing/google-analytics 
---
10 STORIES, 10 WEEKS, 1 CAUSE 
(SAVANNAH, GA) Will Gruver is running as an All Star Alumni Candidate in the annual Man & Woman of the Year campaign. Will initially ran as a Candidate in the spring of 2014. Since that time, he has been heavily involved with the campaign. He decided to run again as an All Star candidate, in which he will represent Savannah on a National stage, competing against others from around the United States. As part of the "awareness" portion of his campaign, Will has created a video series intitled '10 Stories, 10 Weeks, 1 Cause'. To go along with the ten week fundraising competition, he has chosen ten local individuals who each have a chance to tell their story about how cancer has affected their life. Now in it's seventh week, the videos have created a buzz on Facebook with people excited to hear the next one each Wednesday at 2:00 p.m. This week's video can be viewed here:  
https://www.facebook.com/willgruverallstar/videos/568983983586863/ 
---
VOLUNTEER WITH DAWN'S DAUGHTER LEADERSHIP ACADEMY
---
ENMARKET OPENS ON POOLER PARKWAY
(SAVANNAH, GA) Enmarket, a Savannah-based chain of convenience stores, built a new 6,366-square-foot store on Pooler Parkway across the street from the soon-to-open St. Joseph's/Candler Pooler Campus.The new store features the chain's first drive-through window, serving fresh food and beverages from Enmarket's proprietary restaurant, The Eatery. It also features touchless restrooms, exposed ceilings, spacious parking and outdoor seating. For more information, visit 
https://csnews.com/enmarket-opens-its-first-store-drive-thru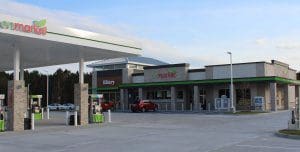 ---
CELEBRATE TRIUMPHS OF THOSE WITH DOWN SYNDROME
---
FREE ORAL HEALTH SCREENINGS
(SAVANNAH, GA) Did you know that the month of April is Oral Cancer Awareness Month? In the United States, one person dies every 60 minutes because of oral cancer. In an effort to help people detect the disease early on which can increase survival rates to as much as 90 percent, Angela Canfield of Sandfly Family Dental and Premier Dental Designs is offering free cancer screenings at both locations on Thursday, April 25. The exams only take a few minutes, but they normally cost as much as $80. While the screenings will be free, an appointment is necessary. For more information in Rincon, please contact Premier Dental Designs by calling (912) 826-4037 or visiting 
http://www.premierdentaldesigns.com/
. For Savannah residents, please call (912) 349-0472 or visit 
http://www.sandflyfamilydental.com/ 
---
SAVANNAH NAMED #2 ON SOUTHERN LIVING'S "BEST CITIES IN THE SOUTH" LIST
---
HOSPICE SAVANNAH CELEBRATES 40 YEARS OF THE ART OF LIVING
(SAVANNAH, GA) Hospice Savannah's  Board members invite the community to celebrate 40 years of "The Art of Living"  at a Summer Nights Party and Art Auction featuring paintings, sculpture and jewelry from 40 of Savannah's finest artists.This fun event will take place on Thursday, May 23 at Cha Bella, 102 E. Board Street between 5:30 and 8:30 p.m. There will be an open bar, heavy hors d'oeuvres and D.J. Basik Lee will be spinning tunes!  The 40 artists include Betsy Cain, Preston Russell, Daniel E. Smith, Bellamy Murphy, Kristen Baird, Susie Chisholm and many more. For more information, including the entire list of artists, or to buy a ticket please visit 
https://artauction.eventbrite.com 
---
THANK YOU ADVANCED DOOR SYSTEMS
(SAVANNAH, GA) Advanced Door Systems is one of the Excellence Sponsors for the 2019 Leadership Southeast Georgia (LSEGA) program. With over 31 years of experience, Advanced Door Systems knows how to satisfy customers best. For more information, please visit 
https://www.advanceddoorsystemsga.com/ 
(SAVANNAH, GA) Coastal Pet Rescue introduces Minette! Minette is a three-year old female Jack Russel mix. She is such a snuggle bug and loves to lean in for a good rub. Minette is happy to meet new people (and pets!) and would be a perfect addition to any home. Plus! She has the cutest little mohawk that makes her the most adorable fur friend. For more information on Minette or any of Coastal Pet Rescue's other cats and dogs for adoption, please visit 
http://coastalpetrescue.org/adopt/view/2019-d-025-minette/