Savannah's
COMMUNITY HEADLINES™
The Local Newswire
---
CARES ACT – HELP FOR SMALL BUSINESSES
(SMALL BUSINESS ADMINISTRATION) Small businesses are facing an unprecedented economic disruption due to the Coronavirus (COVID-19) outbreak. On Friday, March 27, 2020, the President signed into law the CARES Act, which contains $376 billion in relief for American workers and small businesses.
---
SPANX DONATES $5 MILLION TO FEMALE ENTREPRENEURS
(RED BACKPACK FUND) Spanx founder Sara Blakely has announced she is donating $5 million to support female entrepreneurs during the coronavirus pandemic as part of her Lucky Red Backpack campaign:
---
8 THINGS YOUR SMALL BUSINESS NEEDS TO DO – COVID-19
---
SMALL BUSINESS AND PODCASTING
(OPEN FOR BUSINESS) Big take-aways on how small businesses are podcasting during this pandemic – and making money. Podcast GURU Terrass Misher talks about how to get sponsorships, how to position yourself as the authority and how to get started. Watch: OPEN FOR BUSINESS with RAZZ!
(UNITED WAY) United Way of the Coastal Empire has received generous support for families impacted by the COVID-19 crisis.  Ryan Price, Savannah Division Manager of JE Dunn Construction, delivered a $10,000 contribution to the COVID-19 Rapid Response Fund with hope that others will join the efforts. 
https://untdwy.org/2IVKXV3
---
SMALL BUSINESS AND HEALTH INSURANCE
(OPEN FOR BUSINESS) This is my interview with Bill Lucas Insurance, the Health insurance specialist… (35 years this July) He does individual and employee benefits. A big take away from this 24 minute Q&A – if you are a solo entrepreneur – and your income is expected to go below $46,750 because of the Covid-19 – you can apply to get reduced monthly rates. There are a lot of factors that go into this, but Bill Lucas can help guide you or you can go online 
https://www.healthcare.gov/
 Also, if you feel you will have a hard time paying your current premium, he suggested calling your health insurance provider to see what they can do to help.
(TYBEE ISLAND, GA) The Science Center plans to reopen May 1st. All programming and events are cancelled until then. One team member is going in everyday to care for the resident animals. They have given Admiral, their loggerhead sea turtle, several new toys and more than her fair share of shrimpsicles. Work at the new facility on the North Beach is still in progress for our planned September opening. 
www.tybeemarinescience.org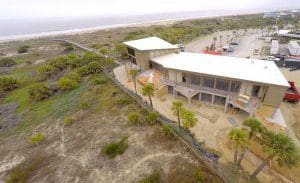 (SAVANNAH, GA) Union Mission will postpone Raising Hope scheduled for April 23, 2020 at the DeSoto Savannah, due to the uncertainty surrounding COVID-19.
---
5 WAYS TO RETAIN CUSTOMERS DURING COVID-19
(OPEN FOR BUSINESS Even if you need to close due to health and safety concerns, there are ways to keep serving your customers during the coronavirus outbreak.
---
ENMARKET SAVANNAH BRIDGE RUN
(PUBLIC RELATIONS SOCIETY OF AMERICA) Get free crisis communications resources – including a webinar series called Communicating in a Time of Covid-19 – from PRSA. 
GUIDE
---
ENMARKET BOOSTS EMPLOYEES PAY BY $2.50
(SAVANNAH, GA) As an essential business selling fuel, grocery items and prepared foods, Enmarket's stores across a three-state region continue to remain open to serve the public during the COVID-19 pandemic. Now, those employees are receiving a temporary pay boost of $2.50 an hour, reflecting the importance of their role during this crisis, and the chain also will install plexiglass shields at its checkout counters as further protection for employees and customers. Meanwhile, Enmarket's adoption of self-checkout technology in 2019 is proving its value during the current pandemic. For example, Skip Frictionless Checkout enables users to check out on their phones, without direct interaction with a cashier. www.enmarket.com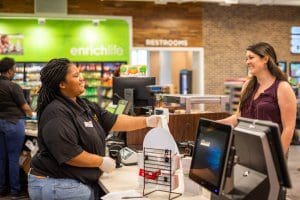 (SAVANNAH, GA) Now more than ever, the homeless need extra help, as some are not able to do odd jobs like they once did and many of the area coffee shops and restaurants they once frequented are now closed.  The biggest need is bottled water, tissue, paper towels, non-perishable foods and snacks. Donations are being collected in partnership with Divine Rest. Contact Cathy Rodgers if you have any donations to be picked up.  
Cathyrodgers912@gmail.com
---
CAPTAIN CORONA STORYBOOK BECOMES ANIMATED MOVIE
(SAVANNAH, GA) Savannah story book author, Dr. Melissa Gratias, collaborated with local voice actor, Akil Jackson, to produce an animated movie version of her free eBook, Captain Corona and the 19 COVID Warriors. The video is available on YouTube:  https://youtu.be/_tBjeJ7Ts-M
(SAVANNAH, GA) During this time of social distancing, PPO would like to invite you to their library right outside of their doors. You can either take a book  or leave a book for others, the choice is yours.
#practicesocialdistancing
#read
#community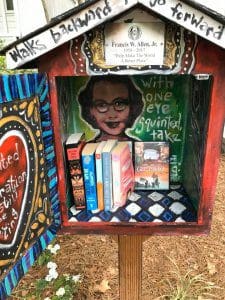 ---
FACES OF THE SOUTH
(LOWCOUNTRY DOWN SYNDROME SOCIETY) LDSS's mission and vision featured in South Magazine 
FACEBOOK LINK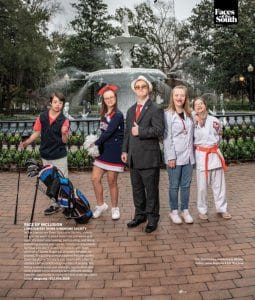 ---
REACH ENCOURAGES HEALTHY FOOD DONATIONS
(SAVANNAH TRIBUNE) Many people have heard the saying, "You are what you eat," without understanding the concept behind it. What and how much a person eats has a profound impact on continuing health. Eating a nutritional, well-balanced diet helps prevent health disparities. REACH (Racial and Ethnic Approaches to Community Health) Savannah is encouraging families to avoid processed foods and turn to nutritional foods like fruits and vegetables. 
https://www.savannahtribune.com/articles/reach-savannah-encourages-healthy-food-donations/