Local Singles Auctioned Off to Benefit Local Nonprofit Organizations
(SAVANNAH, GA) The Savannah Jaycees' fourth annual Charity Date Night Auction will be held on Thursday, July 20 at 7 p.m. at Savannah Smiles Dueling Pianos, located at 314 Williamson Street. The Savannah Jaycees have chosen six local charities to whom 50 percent of the proceeds from the auction will be donated. Those organizations include the Ronald McDonald House of the Coastal Empire, Reed House, Art Rise Savannah, Blessings in a Bookbag, One Love Animal Rescue and Savannah Jaycees.
A social hour will be held from 7 p.m. to 8 p.m. where attendees will have time to talk and meet the participants. Promptly at 8 p.m., eligible bachelors and bachelorettes will be auctioned off with date packages. During the event, Savannah Smiles will provide entertainment.
"It's inspiring to see, year after year, Savannah's most eligible singles come out to the Charity Date Night Auction to support those non-profit organizations that are near and dear to their hearts," said Cynthia Wright, 2017 president of the Savannah Jaycees. "If you're looking for a love, a great date package, or to meet some of Savannah's young professionals, we invite you to join us."
The participants include; (name, company, and title if applicable):
Crystal Bridges: Communications Liaison
James Hall: Savannah-Chatham Metro Police Crime Analyst & GSU Professor
Willie Turral: Advanced Mathematics Elem. Teacher Beaufort County School District
Derell Echols: Veteran / Grad Student / Freelance Photographer
Nic Erickson: Shipping logistics and port operations in the ports of Savannah
Mahogany Bowers: On-air Personality, I HEART Media / Blessings In A Book Bag, Founder
Randall Mathews: Chatham Emergency Management Agency (CEMA)
Ben Torres: Piano Entertainer at Savannah Smiles
Kelly Zealy: House of Mata Hari Mixologist / Quality Bike Specialist
Stephanie Kickhaefer: Volt Workforce Solutions
Josh Oppenheim: United States Army
Daniel Gattone: The Ordinary Pub on Broughton Street
Matthew Ciofani: House of Mata Hari / Abe's On Lincoln
Rocky Bettis: Rocky Bettis Art / The Ordinary Pub
Sarah Martin: Vice President, Commercial Banking for SunTrust Bank
Brad DePriest: Ronald McDonald House Charities of the Coastal Empire
Daniel Eastwood: Professional Photographer / Service Brewing Co. / Critz BMW
Jennifer Hagan: Brand Manager, Thompson & Thompson Group, Inc & Rooter-Man Plumbers
Melody McCarthy: Savannah Morning News
Hilary Diebold: Richmond Hill Middle School, English language teacher / Richmond Hill Community Theatre, Board Member
Tickets are $10 and can be purchased at the Savannah Jaycees website at savannahjaycees.com. Tickets will also be available at the door. The event details are listed on Facebook at http://bit.ly/2016SavannahJayceesDateNightAuction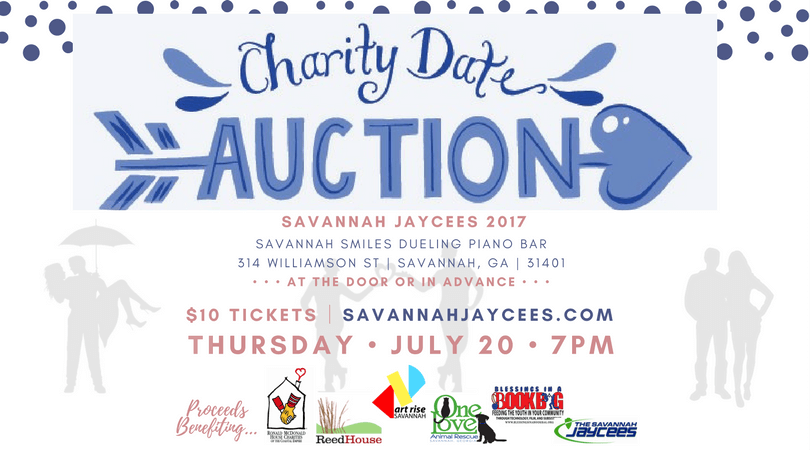 ABOUT THE SAVANNAH JAYCEES
The Savannah Jaycees is a nonprofit organization of young professionals, between the ages of 21 to 40, whose mission is to inspire leadership development through community involvement. The Savannah Jaycees have been an organization since 1942 and are celebrating their 75th Anniversary this year. Among the Savannah Jaycees' most notable projects were the installation of voting booths throughout Chatham County, spearheading efforts to build the Civic Center, helping to build the Kicklighter School and Chatham Nursing Home, founding Toys-for-Tots with the Marines and the fire department, renovating the Forsyth Fountain, and creating Jaycees Park on Tybee Island. The United States Jaycees was founded in 1920 with vision is to be the leading global network of active young citizens. To learn more, visit http://savannahjaycees.com/ or https://www.facebook.com/savannah.jaycees?ref=br_tf
MEDIA CONTACT
LeAndrea Mikell
Savannah Jaycees
VP of Communications
leandreamikell@yahoo.com
843.783.3042