The Rotary Club of Savannah to Host Musical Fundraiser to Benefit Mayor Eddie DeLoach's Summer 500 Student Internship Program
(SAVANNAH, GA) The Downtown Rotary Club of Savannah announces the eighth annual "Play It Forward" musical and food extravaganza fundraising event to be held on Monday, May 22. Proceeds from the event will support Mayor Eddie DeLoach's Savannah Summer 500 Youth Employment Program which places area high school students in paid internship positions during the summertime.
Sponsors are needed to support the fundraising event and packages begin at $250.
"Play It Forward" will take place at the historic Savannah Theatre with a sponsor reception in Bryson Hall preceding the show. The 5:30 p.m. sponsor reception will include food, beverage, and live music performed by Savannah Philharmonic musicians Sinisa Ciric (Violin), Krisin King (Harp), and Erica Monkman (Violin).
The show will begin at 7:00 p.m. with the Savannah Theatre Troupe entertaining guests inside the Savannah Theatre, located at 222 Bull Street, Savannah, GA. Individual tickets are $30 each. General admission tickets will be available at the door, night of the performance, on a first-come first serve basis.
"This event has become a successful tradition for the entire Savannah community," said Terri O'Neil, Chairman of Play It Forward and member of Savannah Rotary Club. "The evening is such a treat but more importantly, the funds raised help nonprofit organizations in Savannah. This year, the event will provide support to the Mayor's Summer 500 Youth Employment Program, which is a perfect blend of education and entrepreneurship coming together to help students and youth in our community."
The Mayor would like to place 500 high school juniors and seniors into summer internships with local businesses. If your business would like to participate please visit Savannah Summer 500 Youth Employment Program, visit http://www.savannahga.gov/summer500.
Contact the "Play It Forward" committee directly via email at RotariansPIF@gmail.com to become a sponsor or to purchase individual tickets. For more information, visit
https://www.facebook.com/events/1786913378304595/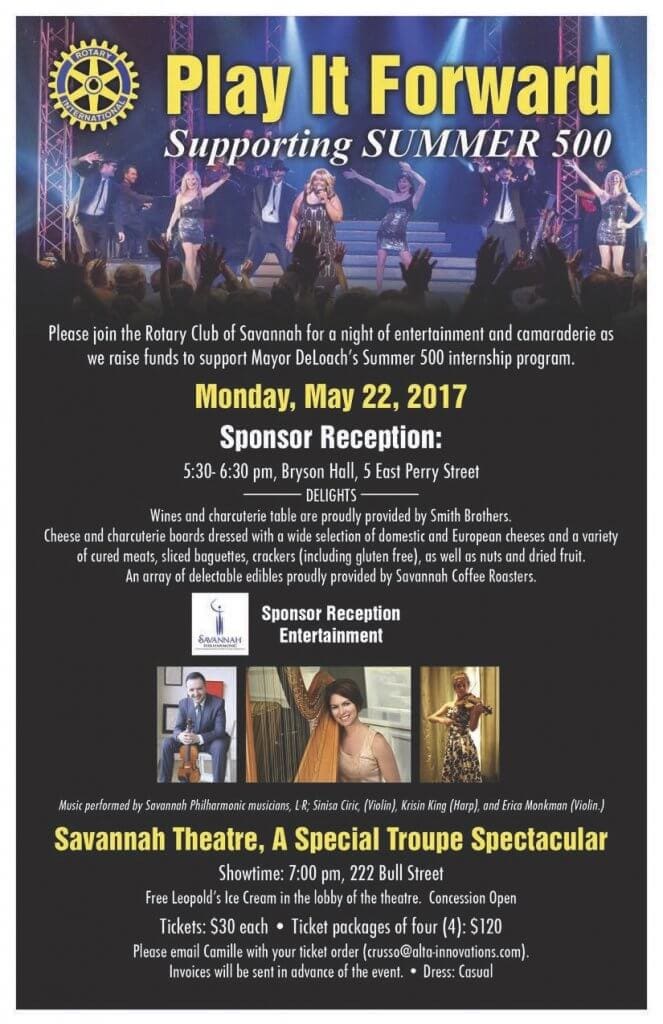 CONTACT INFO:
Terri O'Neil
912-844-8783
RotariansPIF@gmail.com