(SAVANNAH, Ga.) The Enmarket Charity Classic returned on March 23, raising $250,000 to be split evenly between the 200 Club of the Coastal Empire and Make-A-Wish Georgia.
This was the fourth presentation of the annual Enmarket Charity Classic, which is part of the company's sponsorship of the Club Car Championship at The Landings Club. More than 280 golfers took part in the charity tournament this year.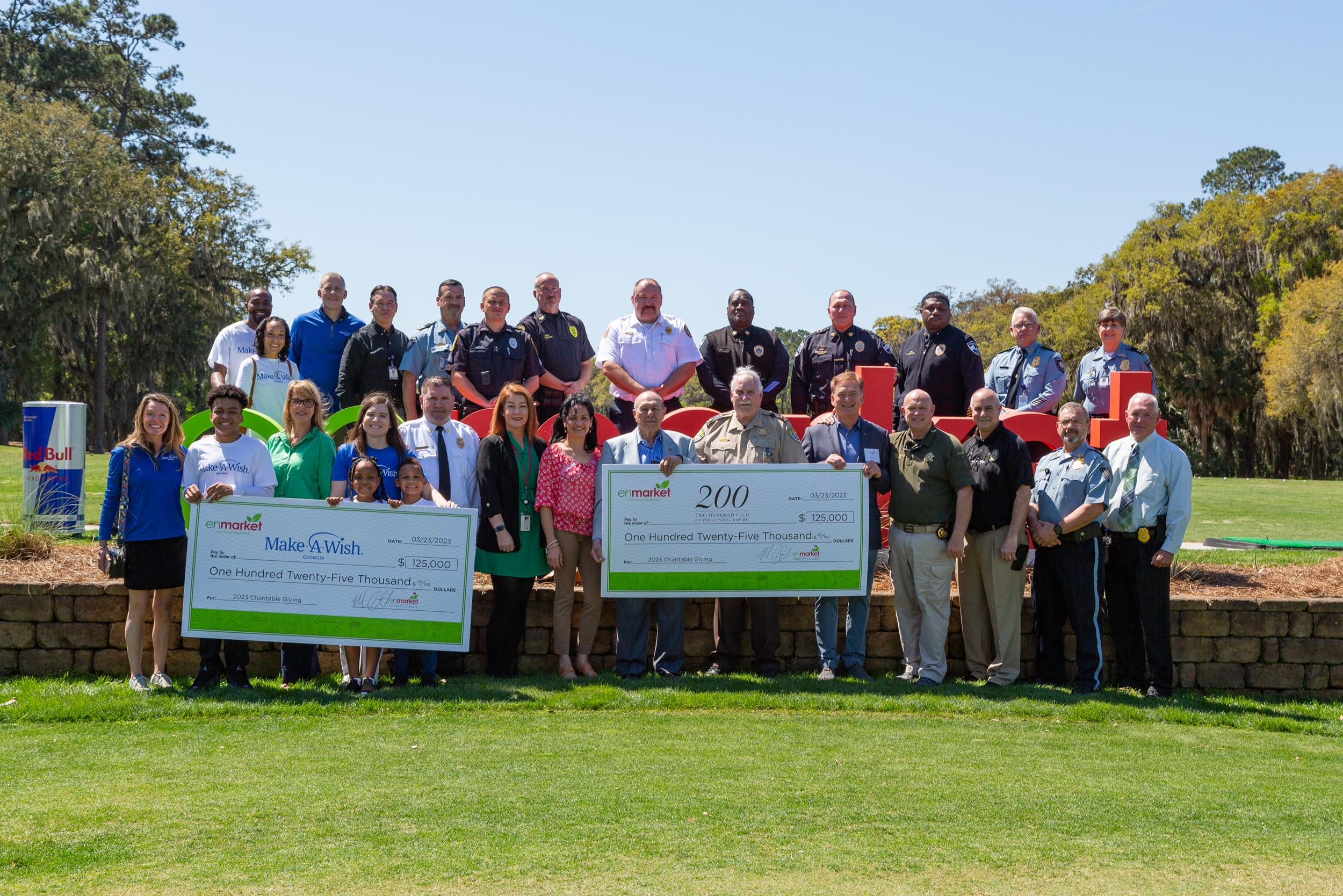 "This event benefits two remarkable nonprofit organizations, and Enmarket couldn't be prouder of our role in helping both the 200 Club and Make-A-Wish Georgia," said Matt Clements, Enmarket's president. "We recognize how vital it is to be a good corporate citizen, but beyond that, events like the Enmarket Charity Classic also illustrate the joys of living in the Coastal Empire."
"Enmarket and the Enmarket family have a long history of generous support for the 200 Club," said Mark Dana, president of the organization, which supports the families of fallen police officers and firefighters. "This backing makes it possible for us to support the families of those who have made the ultimate sacrifice to protect our community."
"We bring hope to our local wish kids and their families, and we couldn't do it without the generous support of companies like Enmarket and the Enmarket Charity Classic sponsors. Our vision of granting the wish of every child in our area is only possible through the dedicated commitment of long-term supporters like Enmarket," said Meghan Lowe, southeast development director for Make-A-Wish Georgia.
The 200 Club serves the families of fallen first responders in our area, while Make-A-Wish Georgia grants wishes of critically ill children.
Thanks to our vendor partners, the event set new records for player numbers and dollars raised, Clements said.
Participants in the Enmarket Charity Classic played the Marshwood and Magnolia courses at The Landings Golf and Athletic Club.
ABOUT ENMARKET
Enmarket, Savannah's largest convenience store chain, employs more than 1,300 people and operates 130 convenience stores, 14 quick-serve restaurants and two fast-casual restaurants in Georgia, South Carolina and North Carolina. The company was founded as Interstate Stations by Robert Demere in 1964. Enmarket is committed to giving back to the community through many charitable contributions and volunteer efforts; and to offering fresh food, healthy snacks, and competitively priced quality fuel as part of its mission to enrich life. Enmarket secured the naming rights in 2021 for the Enmarket Arena. www.enmarket.com
CONTACT
Jeannie W. Amerson
Vice President of Marketing
Enmarket
JAmerson@enmarket.com
MEDIA CONTACT
Marjorie Young
Carriage Trade Public Relations® Inc.
912.844.9990
www.carriagetradepr.com
marjorie@carriagetradepr.com