(SAVANNAH, GA) A collection of community leaders gathered to help Center Parc Credit Union officials and members celebrate the ribbon-cutting of its flagship financial center at 5698-A Ogeechee Road on Friday, Nov. 4.
While the new branch stands in unincorporated Savannah, both Savannah Mayor Van R. Johnson and Pooler Mayor Rebecca Benton attended the ribbon cutting to show support of the members who are served by Center Parc in both cities.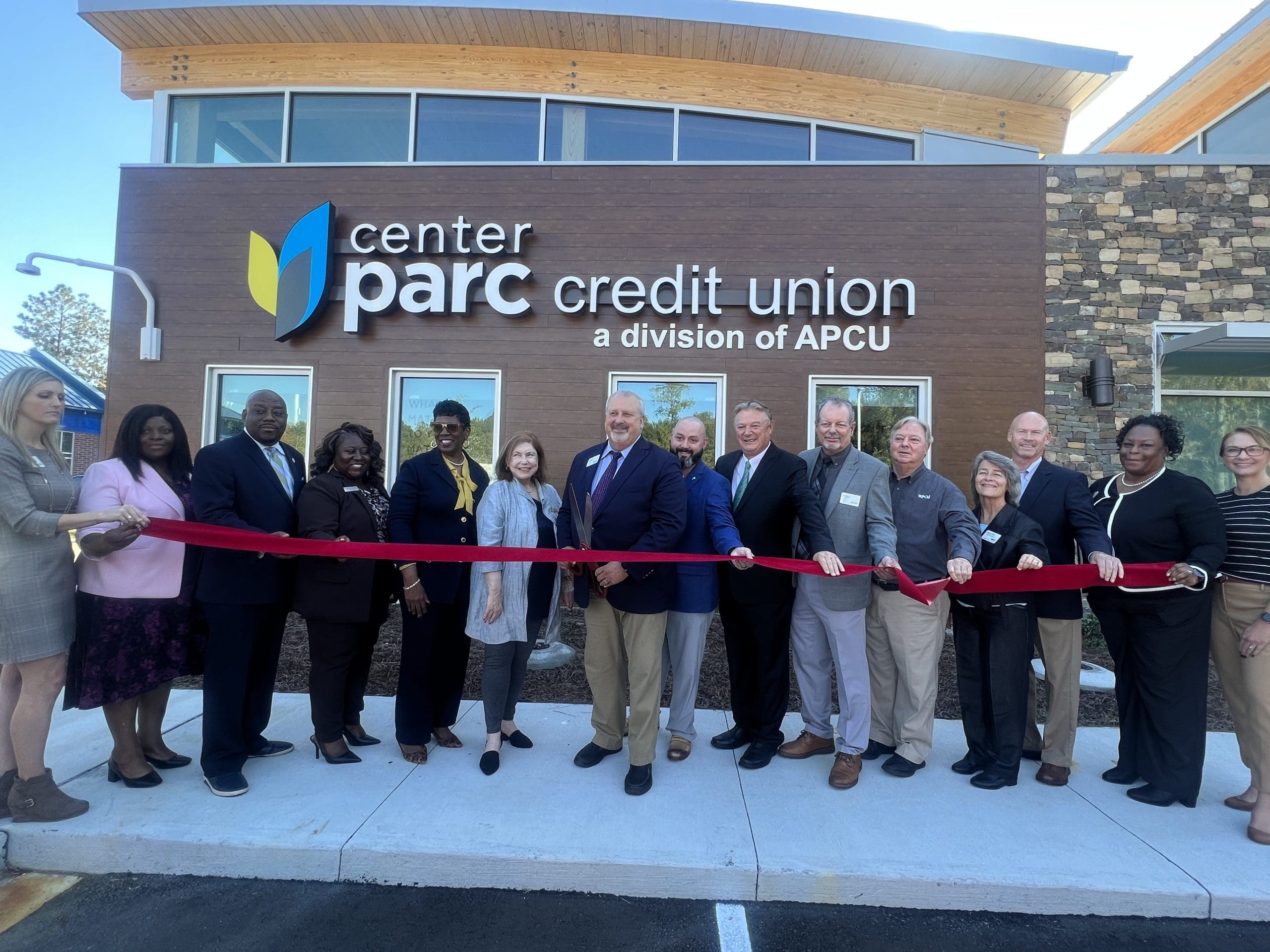 The new financial center, located in an outparcel of the Berwick Marketplace, becomes Center Parc's first stand-alone facility in the Savannah area. Two existing branches in Chatham County are located inside the Pooler Walmart at 160 Pooler Parkway and the Savannah Walmart at 6000 Ogeechee Road.
"With this modern, purpose-built facility, we are more prepared than ever to serve our members and our community," said Chuck Head, CEO of APCU and Center Parc Credit Union. "We invite members and potential members to come see what this member-owned financial institution can do to help them reach their financial goals."
For his vision in helping achieve this flagship branch, Center Parc named a conference room in Head's honor. They also honored retired COO Theresa Stonecypher by dedicating the branch's welcome center in her name.
Since Center Parc Credit Union makes supporting the communities a priority, the new 6,200-square-foot building includes several community-oriented features. For instance, groups can use its community room for meetings without charge.
The flagship location is open from 9:30 a.m. to 5:30 p.m. weekdays and from 9 a.m. to 1 p.m. on Saturdays. Drive-up ATM and ITM services are available on a 24-hour basis. Anyone who lives or works in Chatham, Effingham, Bryan or several other counties in Georgia qualifies to become a member of Center Parc.
ABOUT CENTER PARC CREDIT UNION
Center Parc Credit Union is a division of APCU, the oldest chartered credit union in the state of Georgia. In September 2020, two new Center Parc Credit Union locations opened in the Savannah area: at the Pooler Walmart, 160 Pooler Parkway, and the Savannah Walmart, 6000 Ogeechee Road. The new financial flagship office is now open in Berkwick Market Place. The member-owned, not-for-profit financial cooperative is dedicated to helping hardworking people save money and prosper. Each member's funds are insured for up to $250,000 by the National Credit Union Administration (NCUA). For more information, call 800.849.8434, email info@centerparc.org or visit online at www.centerparc.org
CONTACT
Regina Pointer, Savannah Marketing Growth Specialist
Center Parc Credit Union
5698-A Ogeechee Road
Savannah, GA 31405
rpointer@centerparc.org
MEDIA CONTACT
Marjorie Young, President
Carriage Trade Public Relations® Inc.
912.844.9990
www.carriagetradepr.com
marjorie@carriagetradepr.com