(SAVANNAH, Ga.) Healthy Savannah and the YMCA of Coastal Georgia are reminding area residents that there's still time to get a flu vaccine. December 5-11 is National Influenza Vaccination Week, a national awareness week focused on highlighting the importance of influenza vaccination.
The organizations are also recruiting community members to continue a community-based health awareness initiative designed to raise COVID-19 and flu awareness and increase vaccine access in communities at high risk of severe illness, hospitalization, and death due to COVID-19 or flu.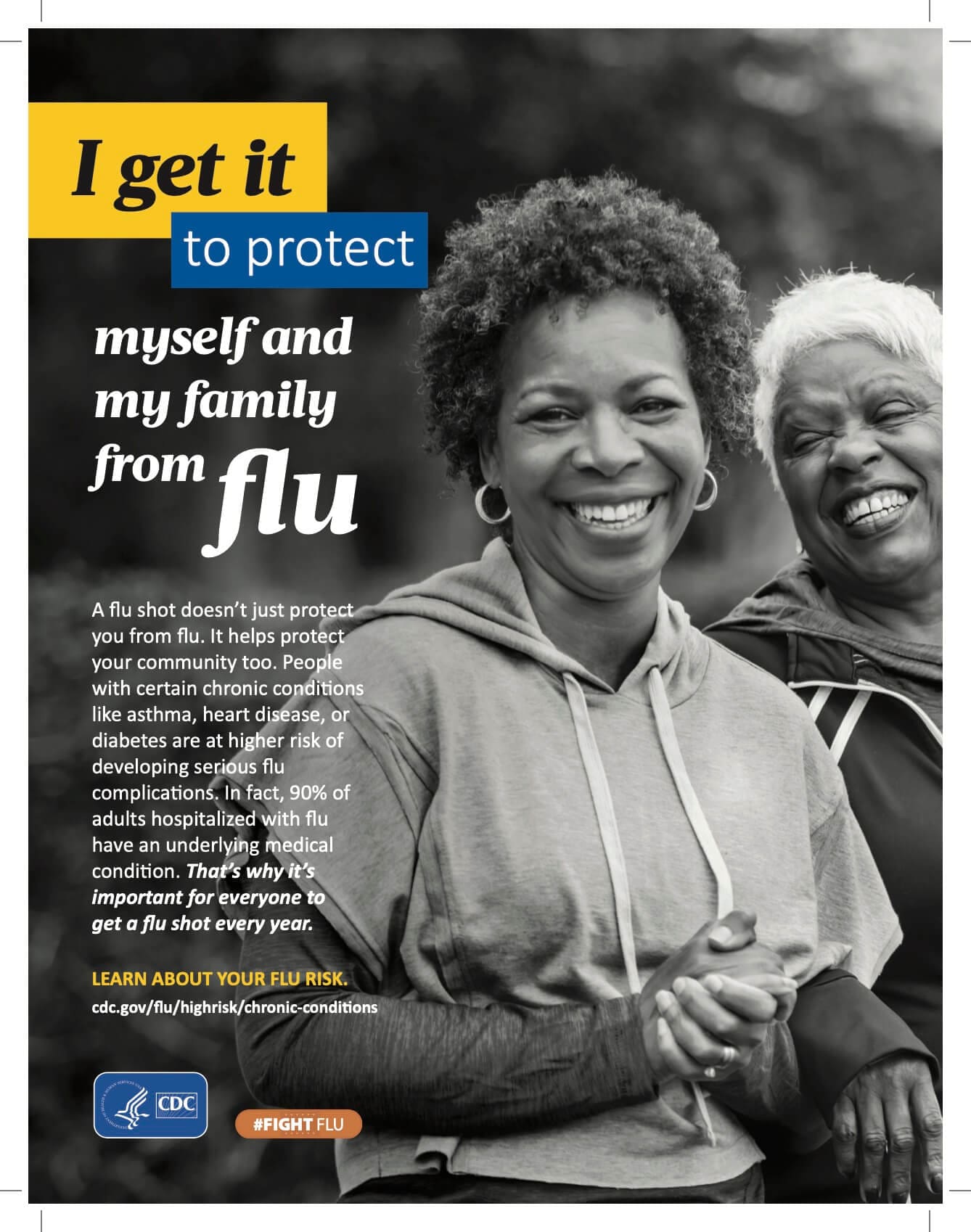 "COVID-19 vaccinations are important, but everyone six months and older and especially those who are at higher risk of developing serious flu complications should get a flu shot every year," said Nichele Hoskins, communication manager at Healthy Savannah. "In past flu seasons, nine out of 10 adults hospitalized for flu had at least one underlying medical condition such as asthma, diabetes, and heart disease. These conditions affect Black and Hispanic communities at disproportionately high rates."
Hoskins is a member of the team formed by Healthy Savannah and the YMCA of Coastal Georgia to administer a supplemental grant from the Centers for Disease Control and Prevention to foster awareness and acceptance of both the COVID-19 and influenza vaccines. The program is intended to broaden the initiatives of the five-year, $3.4 million grant called the Racial and Ethnic Approaches to Community Health (REACH) grant, also funded by the CDC.
"The more people vaccinated against flu, the more people are protected from flu," said Dr. Elsie Smalls, operations manager at Healthy Savannah. "Since the flu virus strain that causes the greatest number of illnesses worldwide changes each year, getting a flu vaccine annually is the best way to prevent flu. COVID vaccines cannot protect against flu. Flu vaccines are proven to reduce the risk of flu illness, hospitalization, and death."
In their work to raise awareness of COVID-19 and flu prevention, Hoskins and Smalls are also seeking community health advocates for the sponsoring organization's Winter 2022 class. The advocates will undergo online training to be able to take easily understood, science-based information into the community. A similar group of community leaders was trained to help promote COVID-19 awareness at faith-based COVID-19 awareness and acceptance events during October and November.
"College students or anyone considering careers or health advocacy work, public health or counseling are encouraged to apply as the training program and community outreach provide practical skills that can be added to a resume," said Hoskins. "People on health committees in organizations such as sororities, fraternities, and faith-based groups should also consider this as a service opportunity for members."
"This would also be a good way for retirees to give back from their vast life knowledge and career skills," said Smalls. "Those completing the course requirements will also receive a $500 stipend."
Those interested in getting more information or applying to the program can contact Dr. Smalls at elsie@healthysavannah.org or (843) 323-9997.
Coastal Health District Departments of Public Health are offering COVID-19 and flu vaccines. Call your local health department or visit https://www.gachd.org/counties/ to schedule an appointment. Or, to find a vaccine location in your area, visit vaccinefinder.org. For information about safely celebrating this holiday season, log on to https://www.cdc.gov/coronavirus/2019-ncov/daily-life-coping/holidays/celebrations.html.
ABOUT THE YMCA OF COASTAL GEORGIA/HEALTHY SAVANNAH GRANT FOR RACIAL AND ETHNIC APPROACHES TO COMMUNITY HEALTH: In September 2018, Healthy Savannah and the YMCA of Coastal Georgia were awarded a five-year, $3.4 million grant called Racial and Ethnic Approaches to Community Health. This funding, awarded by the Centers for Disease Control and Prevention, has been deployed by the Savannah/Chatham County project team to reduce health inequities experienced by Black residents in low-wealth neighborhoods. The local project is called Healthy Opportunities Powering Equity, or HOPE. Its aim is to increase the availability of high-quality nutrition, increase physical activity by creating greater access to safe places to walk, run, bike and play, and foster stronger connections between people and the healthcare providers who serve them. Working with more than 200 community partners and organizations, the team's work elevates the health and wellness of our community through policy, systems, and environmental change.
healthysavannah.org ymcaofcoastalga.org.
MEDIA CONTACT
Marjorie Young
Carriage Trade Public Relations® Inc.
912.844.9990
www.carriagetradepr.com
marjorie@carriagetradepr.com