(SAVANNAH, Ga.) Hire Dynamics, a commercial staffing company serving the Southeast including the Savannah area from a location in Pooler, cut the ribbon Tuesday on its "storefront" in the Junior Achievement (JA) Colonial Group Discovery Center, located on the Armstrong campus of Georgia Southern University.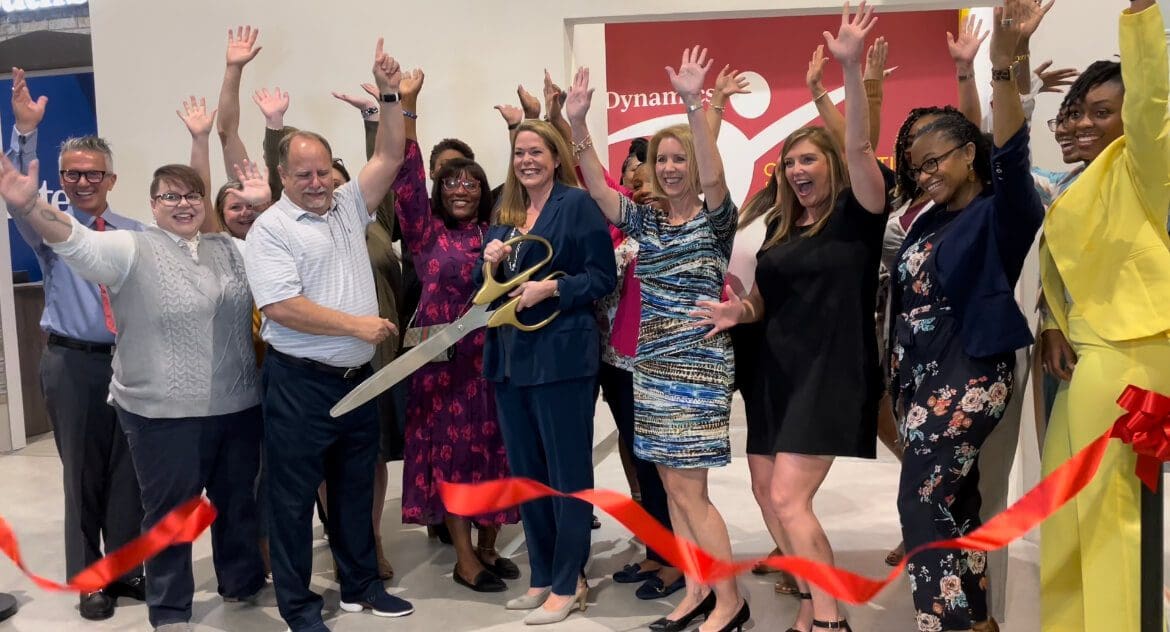 "Since the company's inception in 2001, Hire Dynamics has been empowering individuals through educational, networking and roundtable discussion events. By providing career advocacy and continuous training, we attract and retain great people at every level of the organization," said Market VP South Georgia Lori Pitt. "The mission of Junior Achievement (JA) aligns with Hire Dynamics' commitment to education. Teaching children about employment is a huge step in ensuring financially responsible and aware adults. The JA BizTown program helps young people learn how to manage finances and experience entrepreneurial thinking."
The discovery center offers middle school students participating in the Junior Achievement programs JA Finance Park and JA BizTown hands-on experience in how the business world operates by utilizing a realistic business setting. At least 29 business entities have signed up to take part in the experience-based business education curriculum, which is available to some 15,000 middle school students from throughout Coastal Georgia.
The Junior Achievement Colonial Group Discovery Center serves students from Bethesda Academy, Bryan County Schools, Bulloch Academy, Effingham County Schools, Evans County Schools, Hancock Day School, Savannah Christian Preparatory School, Savannah Classical Academy and Savannah-Chatham public schools.
ABOUT HIRE DYNAMICS – NOW A PART OF THE EMPLOYBRIDGE FAMILY
In addition to placing some of the best talent in Savannah/Pooler, GA (nearly 1,000/week), Hire Dynamics has been recognized by Staffing Industry Analyst's "Best Staffing Firms to Work For," and is a ten-time winner of Clearly Rated's "Best of Staffing" Awards, ranking them in the Top 2% of staffing companies based on client and talent satisfaction. Its mission is to be the #1 staffing company you would refer to a friend. Hire Dynamics specializes in matching workers with jobs in manufacturing, contact centers, administrative support, and e-commerce/logistics at warehouses and distribution centers throughout the Southeast. Voted 2021's "Best of the Best" by Savannah Morning News readers, Hire Dynamics also has been ranked a "Best Place to Work" for 13 years in a row by its own employees. For more information, go to https://hiredynamics.com/locations/savannah-pooler-ga/ or call 912-988-3102. Hire Dynamics is located in the Savannah area at 135 Canal St., Suite 100, Pooler, GA 31322. Download the app at https://app.work4hd.com/ www.hiredynamics.com
MEDIA CONTACT
Marjorie Young
Carriage Trade Public Relations® Inc.
912.844.9990
www.carriagetradepr.com
marjorie@carriagetradepr.com