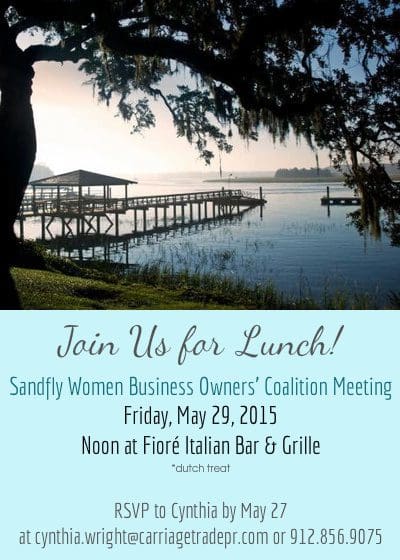 Networking Event Scheduled for Women Business Owners in Sandfly
(SAVANNAH, GA) The next meeting for the Sandfly Women Business Owners Coalition will be held on Friday, May 29 at the Fioré Italian Bar & Grille. The networking event is scheduled at noon with a dutch treat option for attendees.
Organized by Dr. Angela Canfield of Sandfly Family Dental, the coalition meets quarterly for the common purpose of promoting business growth and support in the Sandfly community.
Dr. Canfield said, "We started these meetings when I was first opening my dental office in Norwood Market as a way for me to meet other women business owners in the neighborhood. It has grown from a group of eight to now almost 30 women business owners."
The group intentionally keeps the meetings in the Sandfly area. Previous meetings have been held at Driftaway Café and Cutters Point Coffee.
Any business owner who wishes to attend the May 29 meeting, RSVP to Cynthia Wright at cynthia.wright@carriagetradepr.com by Wednesday, May 27.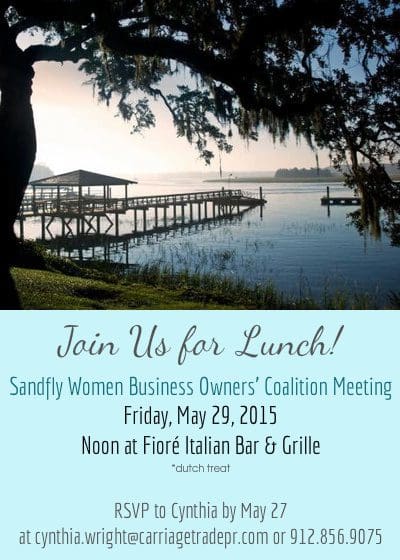 ABOUT DR. ANGELA CANFIELD
Dr. Canfield is licensed by the Georgia Board of Dentistry and the National Board of Dentist. She owns and practices at two dental offices: Premier Dental Designs located in Rincon, GA at 5871 HWY 21 South, and Sandfly Family Dental located in the Norwood Market in Savannah, GA. Both dental offices provide Family/Preventative Dentistry, Cosmetic Dentistry, Restorative Dentistry, Orthodontic Dentistry, Digital X-Rays, E4D One Day Crowns, Electronic Claims, Intra Oral Camera and Paperless Charting. The offices are open Monday through Friday and offer evening appointments. For more information, call 912.826.4037 or visit http://www.premierdentaldesigns.com/ or http://www.sandflyfamilydental.com/ .
For more information, contact:
Angela C. Canfield DDS
molar799@yahoo.com
912-713-1398 Cell
912-826-4037 office
http://www.premierdentaldesigns.com
Media inquiries, contact:
Cecilia Russo
Cecilia Russo Marketing
912-665-0005
info@crussomarketing.com
Marjorie Young
Carriage Trade Public Relations, Inc.
912-844-9990
marjorie@carriagetradepr.com