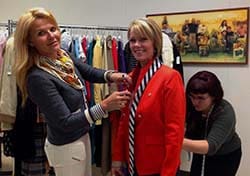 (SAVANNAH, GA) The Pooler Goodwill will host a "Re-Tailoring Your Wardrobe" workshop at the Job Connection Center Saturday, Jan. 18, in celebration of the store's Grand Opening week.
The workshop will be held from 11 a.m. to 1 p.m., where celebrity stylists, Ashley Borders and Paige Striebig, will offer advice on how redo and make-over Goodwill purchases. Borders and Striebig are also the stylists for the Goodwill Fashion Show Thursday, Jan. 16.
Borders, professional wardrobe stylist, designer and owner of her own clothing line "Bedouin", advocates that being stylish isn't just about having a designer wardrobe. Being stylish is about being socially responsible, ecofriendly and creative, all of which fits in with shopping at Goodwill. Borders has worked in the fashion industry for 14 years. Starting her own clothing line at 16, then working for a high fashion company in Europe after graduating International Business School, then to styling for Film/TV in the Middle East and USA, Borders has bridged many cultural, economic and social gaps in the clothing industry. She has also worked on over 60 Film/TV projects and been featured in many international publications.
Borders often pulls pieces from Goodwill stores for her work. Borders said, "Life is a big game of dress up. It should be creative and fun. I am so excited to put this fashion show together and promote Goodwill's message and mission. Also, I am really happy to share my experience as a stylist/designer and promote shopping the fabulous selection of second hand goods that are easily sourced through Goodwill's stores."
Striebig is a textile designer and custom apparel maker who has been sewing and reworking clothing for over 10 years. A graduate from SCAD with a major in fibers and a minor in fashion, Striebig currently owns a yarn shop, Wild Fibre, and has started her own line of handmade one of a kind accessories and bags for knitters. Striebig said, "Body styles are different; popular fashion styles come and go, but when your pieces fit you, your confidence can transcend your wardrobe despite the ebb and flow of dictated fashion."
The Goodwill Pooler Job Connection normally offers employment training classes, but this is a special event coordinated by community volunteers. After the grand opening celebrations, the Job Connection Center will offer job seekers access to leads and provides the technology resources to prepare job seekers for successful job searches.
About Goodwill of the Coastal Empire, Inc.
Goodwill of the Coastal Empire, Inc. is a 501c3 not-for-profit organization with over 800 employees. In 2013, Goodwill provided services to 19,518 people and placed 1,672 into employment. Goodwill serves 33 counties in Georgia and South Carolina, operating 17 retail locations, and eight Job Connection Centers. Goodwill accepts tax deductible donations of clothing, household items, computers, and car donations, as well as operates an online store at www.shopgoodwill.com . When community members donate, shop, or make a monetary contribution Goodwill is able to serve more individuals. For more information on Goodwill of the Coastal Empire, please visit www.goodwillsavannah.org . Find us on Facebook: Savannah Goodwill or follow us on Twitter: @SavGoodwill.