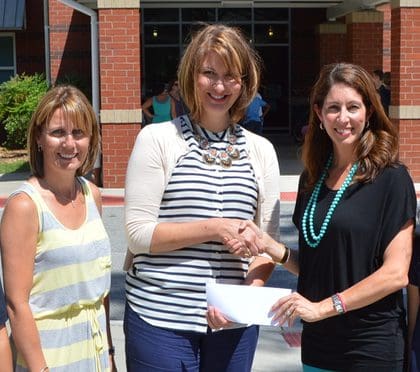 Matilda Jane Clothing Donates $1,000 to Pritchardville Elementary School
(BLUFFTON, SC) As a community partner to the Lowcountry community, Matilda Jane Clothing recently donated $1,000 to the Pritchardville Elementary School PTO in Bluffton, South Carolina. The large gift was the culmination of a two week giving program known as "Janes Give Back."
During the last two weeks of March, non-profit organizations around the country directly benefited from Matilda Jane Clothing trunk shows, receiving up to 20% of sales. In addition to hosting a trunk show, Pritchardville Elementary was one of six non-profits in the country to also receive an additional $1,000 as part of a random drawing. The PTO will be able to spend the dollars on special programs that celebrate students' successes, providing an immediate positive impact for the students.
"There is nothing better than picking up a little something for yourself or daughter and knowing that your purchase is going to help someone else," said Robyn Shirley, Matilda Jane Independent Trunk Keeper for this area. "Matilda Jane is committed to supporting the communities where our customers live and work."
Matilda Jane Clothing builds relationships throughout the United States and Canada using a Trunk Keeper model. The female clothing collections are sold through a nationwide network of women. Locally, Shirley hosted the trunk show for Pritchardville Elementary and was thrilled the school received a percentage of her sales. Shirley was even more ecstatic to learn of the additional gift from the community-minded clothing company.
"This truly was a win-win for all. I know these dollars will be put to good use, and I look forward to partnering with other non profit organizations in our area," said Shirley.
For more information, contact Robyn Shirley at robyns@matildajaneclothing.com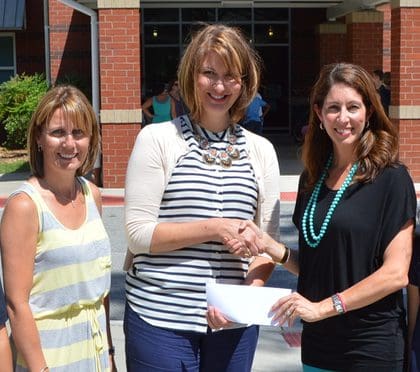 (RIGHT TO LEFT) Robyn Shirley, Independent Trunk Keeper for Matilda Jane, presents a $1000 check to Mary Beth Roulston, Assistant Principal, and Susan Batten, PTO president, of Pritchardsville Elementary School
MORE INFORMATION ON MATILDA JANE CLOTHING
Matilda Jane Clothing (MJC) was founded by Denise DeMarchis in 2006 as a kitchen table startup that has quickly grown into a national children's clothing business. Available in girls and adult sizes with designs that are youthful, playful and expressive, the brand's whimsical approach to texture, pattern and color results in designs that capture the spirit and imagination of childhood. MJC sales are made directly though a Trunk Keeper, a representative who gets to know her customers personally. The exclusive sale of clothing by Trunk Keepers is a direct selling model allowing business opportunities for entrepreneurial women driven by creativity and relationship building. For more information, visit www.matildajaneclothing.com
For more information, contact:
Robyn Shirley
Team Leader & Trunk Keeper
Matilda Jane Clothing
843-384-3842
robyns@matildajaneclothing.com
Media inquiries, contact:
Marjorie Young
Carriage Trade PR
912-844-9990
marjorie@carriagetradepr.com